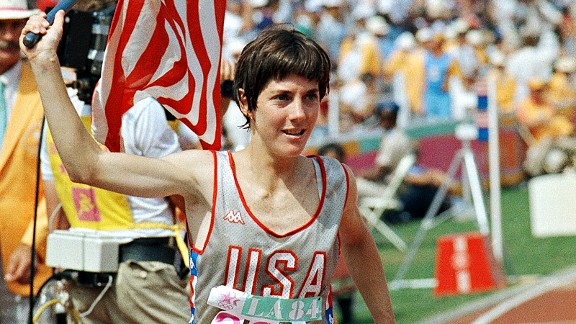 AP Photo/Lennox McLendon
No. 31
Joan Benoit
In the 26th mile of the inaugural women's Olympic marathon, Joan Benoit, the leader by an enormous margin, hesitated for the first time in what had been a day of bold front-running. As she neared the tunnel leading into the Los Angeles Coliseum, Benoit considered the significance of her impending victory. Your life's never going to be the same once you run in there, she thought to herself. Are you ready for this?
The Maine native had already established herself on the big stage, winning the Boston Marathon twice -- in 1979, as an unknown competitor wearing a Red Sox cap, and again in 1983, when she set a world record that lasted two years and a course record that stood for a decade.
But a gold medal in L.A. would turn the 27-year-old Benoit into an icon. Prior to 1984, the longest Olympic event for female runners was the 1,500 meters. Now here she was on that August morning, after two-plus hours of courageous solo racing, captivating millions of television viewers with a stirring performance that introduced elite women's distance running to a global audience.
It was remarkable that Benoit had even made it to the starting line. In May, she'd won the Olympic trials marathon a mere 17 days after undergoing arthroscopic knee surgery. Despite the recent injury, Benoit entered the L.A. Games as one of the top contenders for gold, along with Norwegians Grete Waitz and Ingrid Kristiansen and Portugal's Rosa Mota. All of the participants knew what was at stake. "There was a great camaraderie amongst the runners," says New Zealand's Lorraine Moller, who would finish fifth in L.A. and take bronze at the 1992 Barcelona Games. "We all felt a part of something that was very special."
Wearing a white painter's cap to shield herself from the sun, Benoit moved to the front impossibly early -- only 14 minutes into the race -- and couldn't believe that she didn't have company. By Mile 15, she led the pack by nearly two minutes. "I remember her turning around and then kind of rolling her eyes up to the heavens with a look of disbelief that this was actually happening," recalls Peter Gambaccini, a marathon historian. "I think she really was quite surprised that no one came with her."
By the time Waitz started to narrow the gap, it was too late. Benoit entered stadium, no pursuers in sight, and ran the circuit of the track to a thunderous ovation. "I watched from the press section in the stadium with tears in my eyes," says Amby Burfoot, the 1968 Boston Marathon men's champion and now editor-at-large for Runner's World. "There was no holding back. It was so emotional."
A few hundred meters from the finish line, the typically reserved Benoit took off her cap and waved it to acknowledge the crowd. She finished nearly a minute and a half ahead of the second-place Waitz, with a time of 2:24:52, a mark that stood as an Olympic record until 2000.
In 1985, Benoit would outduel Kristiansen to win the Chicago Marathon in 2:21:21, an American record that lasted almost 18 years and cemented her status as the greatest female marathoner in U.S. history. And yet it was her temperament, more than her times, which endeared Benoit to her New England brethren.
Deeply competitive, but with an unassuming and understated style, Benoit was a beloved figure in Boston, inspiring respect even among the working-class alpha males who didn't usually concern themselves with women's athletics. During Boston Marathon week in the early 1980s, the topic of conversation at the local Irish bars would shift from Carl Yastrzemski and Dwight Evans to "Joanie" Benoit and how tough she was. "She really captured the imagination of even the older Irish guys," says Gambaccini.
Benoit would go on to enjoy remarkable longevity. She qualified for seven straight U.S. Olympic trials from 1984 to 2008, and is the only woman in history to run a sub-three-hour marathon in five decades. The 2:47:50 she recorded at the 2010 Chicago Marathon is the fastest time ever run by a woman over the age of 52. (She turns 55 on May 16.)
Now she is inspiring the next generation, sharing the road with 24-year-old daughter Abby, one of her two children with husband Scott Samuelson. In April, Joan and Abby ran the Boston Marathon together to celebrate two anniversaries: 40 years since women were officially allowed into the race, and 40 years since the enactment of Title IX.
But Benoit's legacy will always be how she performed in the 1984 Olympic marathon, when the whole world was watching. "She prepared in her environment and in her way, and then unleashed it all on the starting line," Burfoot says. "She simply had a gritty, quiet toughness that was impossible to beat."
-- Abigail Lorge, espnW