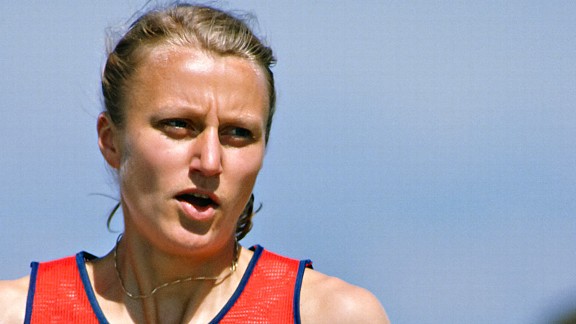 David Madison/Getty Images
No. 28
Grete Waitz
Grete Waitz found her first marathon experience so miserable, as the oft-told story goes, that after crossing the finish line in world-record time, she hurled her shoes at her husband and vowed never to race the distance again.
Thank goodness she changed her mind. The shy Norwegian with the blond pigtails and the smooth stride wound up winning the New York City Marathon nine times, starting with that astounding debut performance in 1978. Encouraged by her husband, Jack, the 25-year-old Waitz entered the race as a presumed pacesetter, not a serious front-runner. (She was wearing the unpromising bib number 1173.) Severely undertrained for a 26.2-mile effort, and better versed in kilometers than miles, she wasn't fully comprehending of the distance ... and yet somehow wound up lowering the world record by more than two minutes.
"When I came to New York in 1978, I was a full-time schoolteacher, determined to retire from competitive running," Waitz recalled years later. "But winning the New York City Marathon kept me running for another decade."
As the first legitimately world-class female marathoner, Waitz would bring the record down a total of nine minutes, into the 2:25 range, by 1980. She won silver in the inaugural women's Olympic marathon, at the 1984 L.A. Games, and set a personal record of 2:24:54 in winning the London Marathon in 1986. She also won five world titles in cross country, and her success on the track and in shorter road races made her one of the most versatile and accomplished female distance runners in history.
Waitz cultivated her exceptional talent by applying a "quiet, steely, determined attitude" to her training, says Amby Burfoot, the 1968 Boston Marathon men's champion. A few years after Waitz's first New York victory, Burfoot visited her in Oslo, in the middle of winter, to report on a story for Runner's World. He was impressed, and a little alarmed, to observe Waitz charging through uphill intervals on a dangerous frozen sidewalk near her house, at 6 a.m., before heading off to her elementary school teaching job. "Not the way we imagine the glamour of training at all," Burfoot says.
But while brutal, predawn workouts in the Scandinavian winter hardened Waitz as a competitor, her disposition remained warm and obliging throughout her career. "There was nothing to not love about Grete," says Burfoot. "She was understated, yes, but there was no edge. She was smiling and she was friendly."
Waitz's generous spirit manifested itself in her charity work and in the "Active Against Cancer" foundation she established in her native country following her own diagnosis in 2005. (She chose never to disclose publicly the type of cancer that afflicted her.) When she died in 2011, at the age of 57, she was mourned in Norway, where she was a national hero, and also in New York, where she was admired for both her lack of pretension and her surfeit of Central Park triumphs.
"I think everyone, New Yorker or not, treasures the quiet champion," Burfoot says of Waitz's universal appeal. "Grete had the right qualities for everyone who wanted to take her under their wing and cherish her. And we all did."
-- Abigail Lorge, espnW