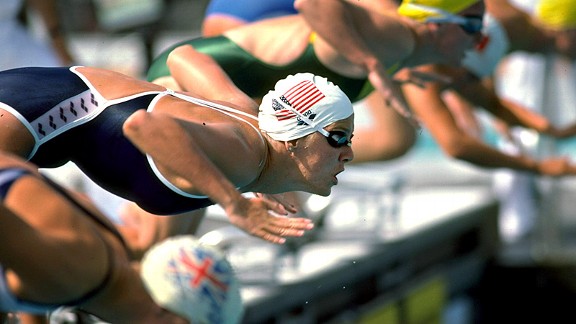 Getty Images
No. 23
Tracy Caulkins
As if winning three gold medals at the 1984 Summer Olympics wasn't enough, swimmer Tracy Caulkins contributed to the haul for the U.S. men, too.
Earlier that summer, Rowdy Gaines was brooding at a McDonald's in Indianapolis, site of the U.S. Olympic swimming trials. He had missed qualifying for the Los Angeles Games in the 200-meter freestyle and was down to his last chance, in the 100 free. "Tracy came into the restaurant, saw me, then sat down and gave me a pep talk," Gaines says. "That's one of my fondest memories of her. She had her own events to worry about, but she was helping me."
That was just Tracy being Tracy. Considered by many people in the sport, including Gaines, to be the most versatile female swimmer of all time, Caulkins may have also been the friendliest. "Even her fiercest rivals loved her because she was the sweetest person in the world," Gaines says.
Until she got into the water. "She had that killer instinct," Gaines continues. "She was the most amazing all-around swimmer I've ever seen. Think about it: She set American records in every stroke."
Caulkins won 48 national titles, set 63 American records and conquered five world marks. Her list of accolades would be even longer if the U.S. hadn't boycotted the 1980 Summer Olympics in Moscow, when Caulkins was 17 and in her prime. As a 15-year-old, she won five gold medals at the 1978 world championships, helping her to become the youngest-ever winner of the Sullivan Award, as America's outstanding amateur athlete.
The Moscow boycott was an obvious source of frustration for Caulkins, who slowed a bit in the early '80s, but the Tennessee native refocused her training while competing for the University of Florida, where she won 12 NCAA titles. And she put all of her skills on display at the L.A. Games, capturing gold in the 400-meter individual medley, the 200-meter IM and the medley relay, where she swam the breaststroke leg.
"When you gave her instruction, she did precisely what you told her to technique-wise and effort-wise," says Randy Reese, Caulkins' coach at Florida and for the '84 Olympics. "She wasn't overly gifted as an athlete out of the pool, as far as coordination. But she was in the pool."
With 12 NCAA titles already to her credit, Caulkins bypassed her final college season (1984-85), retiring to focus on her academic work. She married fellow swimmer Mark Stockwell in 1991, moving to his native Australia, where they still reside with their four children.
Oh, and guess who defeated Stockwell in the 100 free at the L.A. Games? Yep, Rowdy Gaines, who qualified after Caulkins gave him that pep talk at McDonald's. "That's the funny thing," Gaines says. "Mark got the silver behind me in 1984. I stay in touch with Tracy, and we're all very good friends to this day. Can you imagine a mix of an Aussie accent and a Tennessee accent? That's what Tracy has now."
But she'll always be an American icon.
-- Mechelle Voepel, ESPN.com
---
Tracy Caulkins won the Honda Award in 1982, '83 and '84 as the nation's top swimmer. Click here for more on the awards.