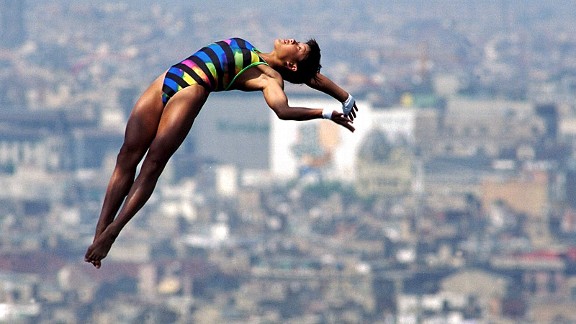 AP Photo/Santiago Lyon
No. 40
Fu Mingxia
Diving etiquette dictates that at practices before international competitions, les plongeurs must take their plunges according to a prescribed order. But on a training day at a meet in Florida in the early 1990s, Fu Mingxia, a young Chinese diver who weighed barely 80 pounds soaking wet (as she often was), inadvertently cut the line.
Mary Ellen Clark, the American who would win two Olympic bronze medals, considered the language barrier for a moment, then opted to take matters into her own hands. She walked over to Fu, picked her up as casually as she might a gym bag, carried her a few feet back and deposited her in her rightful spot. The tiny teenager looked up at Clark, momentarily startled by her abrupt and involuntary transplantation, then dissolved into giggles on the pool deck.
It would be one of the few times in her legendary career that Fu was at the mercy of her competitors. Inarguably the greatest female diver of the past half-century -- and, along with Pat McCormick, one of the two best ever -- Fu won every individual Olympic event she entered, collecting four gold medals over her three Games.
Her introduction to international audiences came when she won the 10-meter platform at the 1990 Goodwill Games, at the staggering age of 11. "We were aghast at the dives she was doing and the proficiency with which she was doing them," remembers television analyst Cynthia Potter, a bronze medalist at the 1976 Summer Olympics in Montreal. "I just couldn't believe what we were watching."
Fu claimed her first world title the next year, then dominated the platform competition at the 1992 Barcelona Games, taking Olympic gold as a 13-year-old. But it was her competitive record over the ensuing eight years that transformed her from a prodigy to a master for the ages. Diving with a bigger, more mature body at the 1996 Atlanta Games, she successfully defended her platform title, then three days later added the 3-meter springboard gold. The Olympic double, the first by a woman in 36 years, was a phenomenal feat in the age of specialization -- "unheard of," says Laura Wilkinson, who won the platform gold during the 2000 Sydney Games.
Following the Atlanta Games, Fu retired to study economics, but she returned to compete in the 3-meter event in Sydney. There, after trailing springboard superstar Guo Jingjing for most of the competition, Fu delivered a clutch performance in the last three rounds, scoring 8.5s and 9s on her final dive to win her fourth Olympic gold, at age 22.
"When you see that kind of competitive mentality, you know there's a whole lot more than just talent and knowing how to do the dives," Potter says of Fu's stirring victory. "She did her last dive with style and with a competitiveness that was unparalleled."
But Fu's desire to win, in Sydney and everywhere else, never obscured her genuine enjoyment of the sport -- that same enthusiasm she showed as the smiling girl who couldn't wait for her turn at practice. "She had a grace about her," Potter says. "Fu Mingxia was always seemingly pretty happy to climb those steps up to the 10-meter tower."
-- Abigail Lorge, espnW