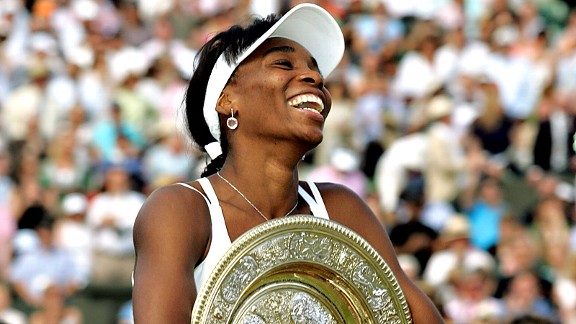 Alan Grieves/US Presswire
No. 21
Venus Williams
There is a YouTube video of Venus Williams as a little girl in cornrows and a white polo shirt, giddily talking about her life goals. "I'd like to win Wimbledon, as many times as anyone else could win it," she says. "More than any woman, man or junior did."
Williams, now 31, has five Wimbledon trophies to her credit, still four shy of Martina Navratilova's record nine. But even if she retires tomorrow, Williams has left her indelible mark on tennis.
Her background is familiar even to the most casual fans: Venus and younger sister Serena learned the game as kids in Compton, Calif., under the watchful eye of their father, Richard, who encouraged his girls to have fun and keep tennis in perspective. Venus turned pro as a 14-year-old. At 17, she reached her first U.S. Open final, where her potent groundstrokes and limitless endurance -- not to mention the clacking of her hair beads -- were impossible to ignore.
Together, Venus and Serena revolutionized the game. Women's tennis is collectively bigger, stronger and faster now because players have had to change the way they train to keep pace with the Williams sisters.
Venus has collected 43 WTA Tour titles, including 21 Grand Slam titles (seven in singles, 12 in doubles, two in mixed doubles), and three Olympic gold medals (one in singles, two in doubles). Her 129-mph serve is the fastest ever recorded on the women's tour, and she did it twice: at the French Open in 2007 and at Wimbledon in 2008. Most significant of all, she was the first black woman to be ranked No. 1 in the world in the Open era, a position she has held at three different points in her career.
"When I was young, I had a poster of Venus on my bedroom wall," says 19-year-old Sloane Stephens, who is also African-American, and currently ranked No. 79 in the WTA standings. "I looked at that poster every day and dreamed of being just like her. She is a great role model, a strong businesswoman and a champion of women in all sports."
That final label might be the most underrated contribution Williams has made to the game. As a 10-year veteran of the WTA Player Council and an ambassador for the WTA/UNESCO Gender Equality Program, Williams has fought for equal pay for female athletes. Without her efforts, Wimbledon and the French Open might still be awarding more prize money to male champions than to their female counterparts.
"Venus is our modern-day Billie Jean King," WTA president Stacey Allister says. "She has been a driving force behind the U.S. and global growth of women's tennis. She has given our sport so much."
The little girl who dreamed of winning Wimbledon made the world take notice.
-- Lindsay Berra, ESPN The Magazine