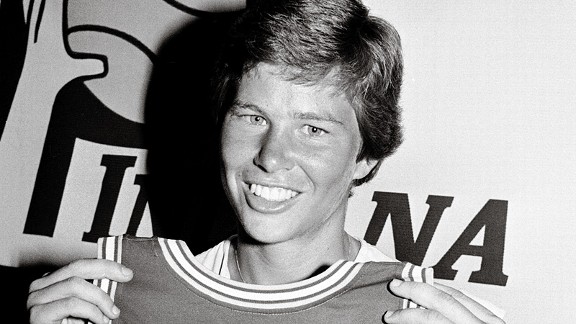 AP Photo/Reed Saxon
No. 17
Ann Meyers Drysdale
The game of women's basketball was built, in no small way, on the fluid jump shot of Ann Meyers.
Back in the 1970s, when the national spotlight first turned toward women's hoops, Meyers was exactly what the sport needed: a likeable personality with game to spare. She entered college as the first woman to earn a full athletic scholarship to UCLA, and left as a four-time All-American. While in Westwood, she led the Bruins to the 1978 AIAW national title as a senior. She also still holds school records for career steals and blocked shots -- the latter especially impressive for a 5-foot-9 guard.
Meyers' do-it-all skill set was honed on the playgrounds and in the backyards of Southern California, where she grew up smack in the middle of 11 kids. Surrounded by five brothers and five sisters, she quickly learned to balance competitiveness and teamwork, excelling at many sports but eventually gravitating toward the hardwood. Basketball was, after all, the family game: Her father, Bob, had starred at Marquette, older brother David played at UCLA (and later in the NBA), and older sister Patty won a national title at Cal State Fullerton in 1970.
Former Cal State Fullerton coach Billie Moore remembers how young Ann would grab a ball and run onto the court to shoot whenever there was a break in the action during Patty's games. "You could see even in those brief moments that Annie had something special," says Moore, who later coached Ann Meyers at UCLA and on the 1976 U.S. Olympic squad. "She was very gifted."
That something special -- a mix of strength, finesse and unyielding competitive zeal, not to mention that sweet midrange jumper -- helped propel women's basketball during the early Title IX era. Meyers' former teammates recall a player who stepped onto the floor with unusual determination and focus, a leader by example. "Annie paved the yellow brick road," says Nancy Lieberman, who won a silver medal alongside Meyers at the 1976 Montreal Games. "There aren't too many players in the history of the game who did what Annie did. She was a pioneer."
After blazing a trail at UCLA, Meyers made headlines again in 1980, when she signed with the Indiana Pacers, becoming the first woman to try out for an NBA team. She didn't make the roster, but she did make people pay attention -- at a time when few female ballers could. As Moore puts it, "She had a great deal to do with jumpstarting women's basketball and getting it onto the national stage."
And then she helped to keep it there. Meyers, who is now 57, had a successful broadcasting career before taking over as general manager of the WNBA's Phoenix Mercury, who've won two league titles under her watch, in 2007 and 2009. She is also enshrined in every basketball hall of fame that matters, while still being recognized as one of the game's greatest ambassadors.
"Annie has been successful at every level, and she's done it with humility and class," Lieberman says. "It doesn't matter if you didn't see her play in her prime. She's more than just an athlete. She's an icon."
-- Kate Fagan, espnW
---
Ann Meyers Drysdale won the Honda Award in 1978 as the nation's top basketball player. Click here for more on the awards.