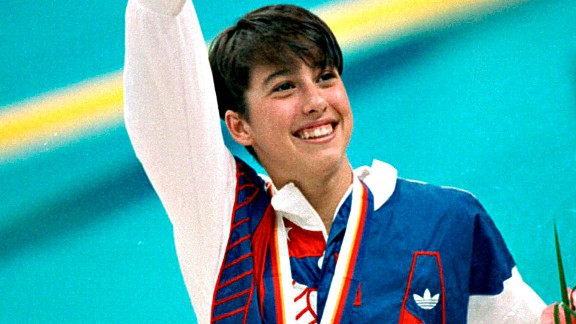 AP Photo/Ronald Kennedy
No. 15
Janet Evans
Janet Evans rewrote swimming history with a stroke that looked as if she were chopping wood but was actually a marvel of underwater engineering. She set world records that stood for as long as 19 years -- older when they were broken than she was when she raced for them. The kid from Placentia, Calif., was a 100-pound David in a pool full of Goliaths.
It may be hard to believe in an era when the sport overflows with American stars, but the 17-year-old Evans was one of just two U.S. swimmers -- and the only woman from outside the Eastern Bloc -- to win individual gold medals at the 1988 Summer Olympics in Seoul. She collected three of them, in the 400- and 800-meter freestyle and the 400-meter individual medley, a feat made even more remarkable after revelations of East Germany's systemic doping.
"An athlete comes along once in a generation who stands out -- a Mark Spitz or a Michael Phelps," says swimming commentator Rowdy Gaines, who won three golds at the 1984 Los Angeles Games. "Janet was that amazing icon. She was just a dinky little thing, but she hated to lose, and she was completely fearless."
Fans were drawn to her moxie and incandescent smile. Insiders admired her work ethic in the lane less taken. Distance specialists are the swimming family's overlooked siblings: Kids balk at the tedious workouts, most college scholarships go to sprinters, and television coverage cuts away from long races, even at the biggest meets. And yet Evans made staying power seem cool. At the 1992 Barcelona Games, she repeated as champion in the 800 free -- the first woman ever to do so -- and just missed gold again when she was out-touched in the 400.
But she wasn't an automaton. By the time the 1996 Atlanta Games rolled around, Evans was feeling bored and burned out in the water. Nonetheless, she reveled in her dramatic role at the opening ceremony, when she handed the torch to Muhammad Ali. She retired on a much lower-key note after finishing sixth in the 800 free. She got married in 2004, had a son and a daughter, and filled her calendar with corporate and motivational speaking engagements.
Then, on the cusp of 40, Evans decided to return for a very delayed encore. She was fulfilled in her private and business life, but her athlete's soul remained restive -- and few swimmers were coming close to the time standards she'd set as a teen. A text from her longtime coach, Mark Schubert, during the national championships in the summer of 2010 prodded Evans to try to rejoin the elite ranks, and she began training with him near her home in southern California.
A year of predawn wake-up calls and rigorous training paid off this past January, at the Austin Grand Prix, when Evans easily made the cut for the Olympic trials in the 400 and 800 free. The swimmers who challenge her in practice these days are half her age (she turns 41 in August), and to be fair, the odds of Evans making the U.S. team this summer are slim. But there is more to her comeback than that. "I see doing this now as a real privilege," Evans said recently. "It's something that not a lot of married women with two kids have the opportunity to do and the physical ability to do."
With her legacy secure, she's enjoying the miles she has to go before she sleeps.
-- Bonnie D. Ford, ESPN.com