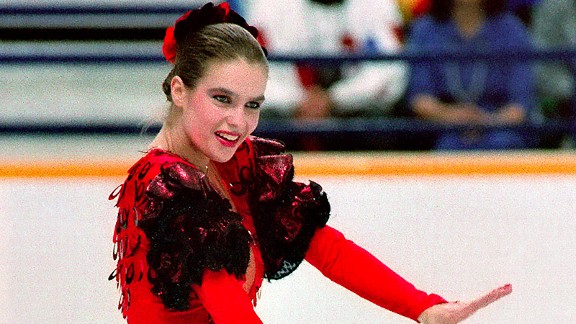 Daniel Janin/AFP/Getty Images
No. 14
Katarina Witt
The setting was the 1987 world figure skating championships in Cincinnati, and Debi Thomas, the defending champion, had just delivered a lights-out performance that inspired a thunderous ovation. No sooner had Thomas taken her final bow than the gate opened and a game-faced Katarina Witt skated directly to center ice, impervious to the flowers and teddy bears that had rained from the rafters.
The East German could barely wait for her "West Side Story" music to start playing. "She's the gutsiest thing," Brian Boitano, the reigning men's champ, would say afterward. "You saw it in her first step, when she clenched her teeth."
Witt took that determined opening stroke and proceeded to produce a brilliant long program, one that included five flawless triple jumps and left no doubt that she was the superior skater to Thomas. Always a consummate performer, Witt proved in victory that she was also a formidable competitor.
"She wasn't going to jump out of the building, but she was very good at putting out there what she had," says John Powers, a veteran Olympics reporter for the Boston Globe. "It was rare that you saw Katarina screw up."
The icy-veined ice queen began beguiling global audiences as an 18-year-old at the 1984 Winter Olympics in Sarajevo, where she upset the favorite, Rosalynn Sumners of the U.S., to win gold. Witt was largely unknown then, but by the time she arrived in Calgary to defend her title four years later, she was a sex symbol of international renown -- a glamorous seductress whose intrigue was magnified by the fact that she hailed from a notoriously drab communist country known more for producing speed skaters and bobsled pilots than camel-spinning supermodels.
Witt triumphed again at the Calgary Games, and she remains one of only two women (along with three-time gold medalist Sonja Henie) to have won multiple Olympic titles in ladies' figure skating. She also won four world championships and claimed six straight European crowns from 1983 to 1988. Although there was nothing particularly remarkable about the technical content of her programs -- she was on par with the skaters of her day -- Witt's ability to connect with spectators and judges was unmatched.
"She captivated an audience because she was great at playing the crowd," says Philip Hersh, the longtime Olympics columnist for the Chicago Tribune. "She could reach the 143rd row of an arena."
Smart and savvy, Witt understood the power of her beauty and knew how to work the system, both on and off the ice, whether she was sporting a scandalously short costume for her short program in Calgary or charming East German president Erich Honecker and other state officials who allowed her to travel abroad. Speaking excellent English and exuding a playful air, Witt also enchanted the international media. "I liken her to Scarlett O'Hara," Powers says. "She made you think you were the wittiest and the funniest and most engaging person she'd ever talked to."
The privileges that Witt enjoyed behind and beyond the Iron Curtain yielded resentment by some of her countrymen after the fall of the Berlin wall in 1989. But she shook off those criticisms and continued to maintain a residence in Berlin. "She certainly was able to navigate a very complicated situation," Hersh says. "It was part of her genius."
Witt returned to competitive skating for the 1993-94 season so she could compete at the Lillehammer Games. There, improbably, she qualified for the final group of six in the free skate. Though she slipped to seventh place overall, her tribute to war-torn Sarajevo -- the site of her first Olympic victory -- reflected a keen understanding of the world around her.
After retiring, Witt (now 46) remained in the public consciousness, making a cameo appearance in the 1996 movie "Jerry Maguire" and posing nude for Playboy in 1998; the magazine sold out on newsstands for only the second time in its history. But none of that fame would have been possible if she hadn't excelled on the ice, where her competitive credentials were unimpeachable.
"I was an athlete," she once said in an interview. "And I proved I didn't win just because I was pretty. I was good, too."
Many times over.
-- Abigail Lorge, espnW