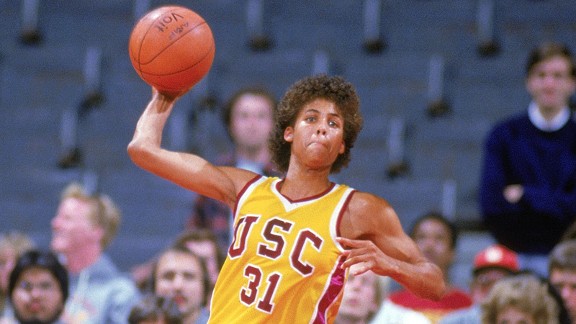 Rick Stewart/Getty Images
No. 13
Cheryl Miller
You could say that Cheryl Miller, with her versatile athleticism and unapologetic flare, stood the women's college basketball world on its head. But that only begins to describe a player who once literally stood on her head.
"Cheryl was so funny, she could loosen things up and help you relax," says Linda Sharp, former coach at the University of Southern California. "It was a way of showing leadership. One day I came in, and she was wearing a motorcycle helmet, standing upside-down in a locker, pretending to be floating in outer space."
In the galaxy of great female athletes, Miller's playing career blazed like a passing comet: brief, but spectacular. During her high school days in Riverside, Calif., she received national acclaim as a four-time, first-team Parade All-American who scored 105 points in one game, as a senior in 1982. At USC, the 6-foot-2 forward joined a trio of stars -- Cynthia Cooper and twins Pam and Paula McGee -- to win NCAA titles in her freshman and sophomore seasons (1983 and '84), both times earning the tournament's Most Outstanding Player award.
"Cheryl came to college as sound as any player I've ever coached," Sharp says. "I first saw her play in seventh grade, and I knew she was going to be great."
Miller was a big reason the U.S. women's basketball team grabbed gold at the 1984 Summer Olympics in Los Angeles. She then led USC to another Final Four, where the Trojans lost in the championship game to undefeated Texas in 1986. She finished her Southern Cal career as a four-time All-American and three-time Naismith College Player of the Year, with 3,018 points (fifth in NCAA history) and 1,534 rebounds (third all time).
When she graduated, the WNBA wasn't even on anyone's to-do list, and Miller had little interest in heading overseas, as many of her peers did. Her future was decided for her when she suffered a serious knee injury while training for the 1988 Summer Olympics. With her playing career over, she stayed in the game as head coach at her alma mater for two seasons, going 42-14, followed by a four-year run as coach and GM of the Phoenix Mercury, leading them to the WNBA Finals in 1998.
She also dabbled in broadcasting, which eventually became her full-time job. It's in this role -- as a wise-cracking and insightful NBA reporter and Reggie Miller's big sister -- that a whole generation of players now know her. They should all be required to watch a video of the 1983 NCAA final, in which Miller overpowered defending champ Louisiana Tech with 27 points and nine rebounds in a 69-67 victory.
At least some young stars have done their homework. "I know her story," says Maya Moore, who won two NCAA titles at UConn before becoming the WNBA's reigning Rookie of the Year. "She was super-athletic. People marveled at her. She's got credibility -- a legend of the game." As befits a legend, Miller is enshrined in the Naismith Hall of Fame and the Women's Basketball Hall of Fame.
Fans can argue all day about which of her fellow inductees might have had more game, but no player had more fun. "One thing Cheryl had besides the skills and athleticism was showmanship," Sharp says. "She stepped on the court and just did her thing. She had character; she entertained. She's still that way."
Keeping it real.
-- Mechelle Voepel, ESPN.com
---
Cheryl Miller won the Honda Award in 1984 and 1985 as the nation's top basketball player. Click here for more on the awards.