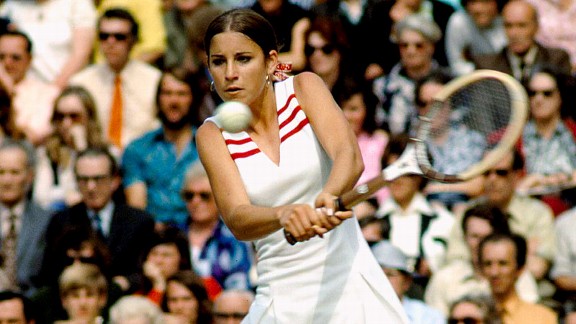 US Presswire
No. 7
Chris Evert
In 1970, at a North Carolina tournament so small it was barely a blip on the tennis calendar, a Florida teen made her first mark on the sport. Chris Evert, 15, blonde and ponytailed, inexperienced but gutsy as hell, beat the world's top player, Margaret Court, 7-6, 7-6, as Bud Collins recounts in his book, "The Bud Collins History of Tennis."
That was the young Chrissie: precocious and never in awe of the moment. A year later, she entered her first Grand Slam event and became the youngest player ever (at the time) to reach the U.S. Open semifinals. Along the way, a stone-faced Evert saved six match points in a second-round tilt against fellow American Mary Ann Eisel, aggressively counterattacking in a come-from-behind, 4-6, 7-6 (5-1), 6-1 victory. The fans in Forest Hills loved the fight packed into Evert's trim, 5-foot-6, 125-pound frame. She was gritty and graceful, brash and beautiful. The "Ice Maiden" melted hearts as America's new sweetheart.
And by the time she retired in 1989, she was also an icon. Evert won her first major championship at the French Open in 1974 and her last at Roland Garros in 1986. During that period, she captured at least one Grand Slam title a year (including a record seven French Opens), for a total of 18 in her career, tying her with Martina Navratilova for fourth all time, behind Court (24), Steffi Graf (22) and Helen Wills Moody (19). Evert owned a spot in the world's top 10 for 19 years, including five stints at No. 1. Her 125-match win streak on clay is the best by any player on any surface. And her career .900 winning percentage in singles matches (1,309-146) is the best in tennis history, for women or men.
Of course, it is nearly impossible to talk about Evert without also mentioning Navratilova. Their rivalry captivated the tennis world for 16 years, as the duo squared off a whopping 80 times and came out nearly even (with Navratilova winning 43 of their matches). The fact that each cost the other numerous Grand Slam titles, or that they seemed to be polar opposites on and off the court, didn't prevent them from forming a bond that remains tight today. And the starkest contrast between their games -- Navratilova's backhand was a smooth, one-handed slice, while Evert featured a strong, controlled two-hander -- was also the area in which Evert made her most notable contribution to tennis.
When Evert burst onto the scene in the 1970s, virtually no one in the game, on the men's or women's side, used a two-handed backhand. Evert had learned the shot from her father, tennis pro Jimmy Evert, as temporary compensation for her slight stature. "She was too small and weak to swing the backhand with one hand," he explained years later. "I had hoped she would change." She didn't. But the rest of the world did. By routinely punishing opponents from the baseline, Evert started a trend, and today the vast majority of tennis pros use a two-handed backhand.
"So many players from the United States had two-handed backhands because they were trying to emulate Chrissie," says former top-10 player Pam Shriver, now an ESPN analyst. But they didn't just study Evert's backhand. Her baseline style and near-absence of unforced errors -- she once had just four in an entire match -- set the standard for women's tennis.
"Chrissie never gave her opponents a lot of points," Shriver says. "With that kind of game, she'd still do really well today, even though the game has changed a lot over the last 35 years."
Thanks, in no small part, to Evert herself.
-- Lindsay Berra, ESPN The Magazine