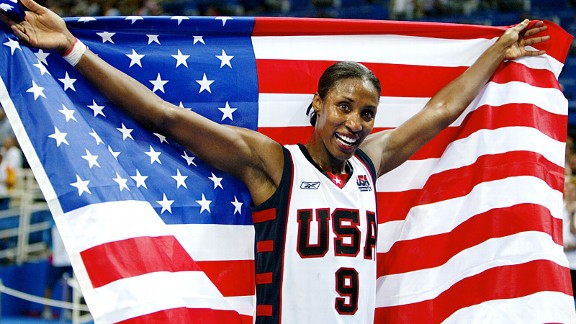 Lucy Nicholson/Reuters
No. 5
Lisa Leslie
She separated the benefits of her basketball career into two categories: awards and rewards. Lisa Leslie won a ton of the former. She's still reaping the latter.
As she likes to put it: "Once I realized you get a trophy if you win, I thought, this is awesome! I got so many, I could fill my house with them. But the rewards are having the opportunity to be a role model, to travel the world. It was an honor to play this sport."
Leslie was born in July 1972, two weeks after the signing of Title IX, and few athletes better represent the full flowering of the Title IX generation than she does. Her mother, Christine, started a trucking business to support the family, so it's easy to trace the roots of Lisa's strong work ethic. Her love of sports, though, took a while to germinate, sprouting only when she did.
She had already topped 6 feet by junior high, but it took a friend's encouragement to get Leslie to try out for the basketball team. She was a natural, drawing pleas from colleges all over the country by the time she entered Morningside High in Inglewood, Calif. There, during her senior season, Leslie gained even more attention by scoring 101 points in a game the opposition eventually forfeited -- at halftime. She went on to become a three-time All-American at USC, finishing her career there with 2,414 points and 1,214 rebounds.
After graduation, she played for a U.S. team that was stunned by the Brazilians at the 1994 world championships. The painful loss left an impression. "I will never put this uniform on again and experience losing," Leslie vowed. And she never did.
The 6-foot-5 center led Team USA to Olympic gold in 1996, 2000, 2004 and 2008, as well as to world championships in 1998 and 2002. In fact, the Americans' only loss since 1994 -- to Russia, in the 2006 worlds -- occurred at the only major international event Leslie missed during her long career. (She was home with an uncle who'd been injured in a car accident.) "I always felt like the biggest honor was to represent our country," she says. "The desire to not lose was so strong, almost stronger than the desire to win, if that makes sense."
Back home, Leslie couldn't have picked a better time to rise to the top of her sport. Women's basketball in the U.S. was percolating with change, and when the WNBA launched in 1997, she was ready. She played in the league's first game, a win for the Los Angeles Sparks over the New York Liberty, and remained the face of the WNBA for more than a decade. Along the way, she led the Sparks to consecutive championships, in 2001 and 2002, and was a three-time MVP. She was also the first player to dunk in a WNBA game.
Relentless at both ends of the floor, the multiskilled star could hit the 3 and dominate on the block. Leslie didn't have slumps or even many bad games; the only thing that stopped her was a pregnancy, in 2007. (Today, she and her husband have two children.)
Leslie had a plan for each stage of her life, and she followed through seamlessly. So it's no surprise that once she decided to retire at the top of her game, that's exactly what she did. When she walked away in 2009, she had averaged 17.3 points and 9.1 rebounds per game for her career, and the league she was instrumental in building had become a mainstay for women's basketball.
But it was the way she carried the flag on the international stage that most stands out for her peers, such as USA Basketball teammate Dawn Staley, who won three gold medals with Leslie. "For me," Staley says, "Lisa is the best who's played the women's game."
And praise like that is just one more reward in a life full of many.
-- Mechelle Voepel, ESPN.com