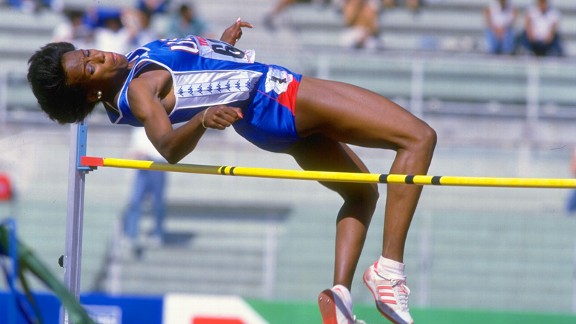 Tony Duffy/Getty Images
No. 3
Jackie Joyner-Kersee
The year was 1962, and Evelyn Joyner wanted to name her great-granddaughter after Jacqueline Kennedy, the first lady of the United States, because (as the popular story goes) she believed the newborn baby in her arms would one day become "the first lady of something."
Of course, that something was track and field, in particular the heptathlon, a seven-discipline event that Jackie Joyner-Kersee made her own on the way to becoming one of the greatest female athletes of the 20th century.
Joyner grew up in poverty-stricken East St. Louis, the oldest of four children, and from a young age she seemed destined to make a prophet out of her grandmother. She was fast. She could jump. And she was the star of every basketball team she played on, including at Lincoln High and, in the early 1980s, UCLA. Joyner became a two-sport sensation for the Bruins, starting as a forward for the hoops squad in the winter and competing as a long jumper in the spring.
She oozed potential, so much that assistant track coach Bob Kersee went to UCLA's athletic director and demanded to oversee her training. Kersee, who was then just 27, had visions of turning Joyner into a multi-event juggernaut while also nurturing her budding talent as a jumper. And Joyner bought in. She sat out the 1983-84 basketball season to concentrate on track, training eight hours a day and ultimately qualifying for the 1984 Summer Olympics in Los Angeles, where she took silver in the inaugural heptathlon. (Those seven disciplines: 100-meter hurdles, high jump, shot put, 200-meter dash, long jump, javelin and 800 meters.)
Joyner married Kersee in 1986, and the pair blossomed into track-and-field royalty. By the time her reign had ended a decade later, Joyner-Kersee was a three-time Olympic gold medalist, having won the heptathlon and long jump in 1988 and the heptathlon again in 1992. (She took bronze in the long jump in 1992 and 1996.) She also won four world championships -- two in the long jump and two in the heptathlon -- and repeatedly set world records in the latter event. In fact, Joyner-Kersee holds the top six scores in heptathlon history.
"What separated Jackie, and what people are beginning to see now as we get older and time goes by, is that no other track athlete had that type of all-around talent," says her brother, Al Joyner, who won Olympic gold in the triple jump at the L.A. Games. "I haven't seen it -- still, to this day. She didn't have any competition except herself. She kept setting records, making it look easy."
And she did it with humility and class. For all her talent, Joyner-Kersee's calling card might have been her bright smile and approachability. She exhibited none of the diva posturing that occasionally creeps into solo sports. On the contrary, former sprinter Gail Devers, who also won three Olympic golds, describes Joyner-Kersee as a model teammate during their days at UCLA. "Bobby used to explain something, and then Jackie would come over and walk me to the side and say, 'Look, this is what it is,'" Devers recalls. "For her to take me under her wing, I was like, 'Oh, I got this.'"
Joyner-Kersee also showed the country a new kind of greatness: the all-around kind. "She was such an ambassador," says Jeanette Bolden, another former Bruins teammate and now UCLA's head coach for women's track and field. "Everyone is always thinking about, 'Who's the world's fastest?' But when you really consider it, Jackie brought the multi-event to the forefront, with grace and style. The way she was and how she competed, it was her way of saying, 'Come on, let me show you what I do.'"
Come, let the first lady of track and field show you how it's done.
-- Kate Fagan, espnW
Jackie Joyner won the Honda Award in 1983 as the nation's top track-and-field athlete. Click here for more on the awards.