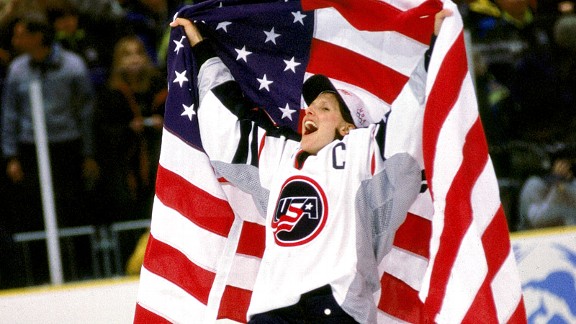 Bruce Bennett Studios/Getty Images
No. 37
Cammi Granato
On Nov. 8, 2010, at the age of 39, Cammi Granato became the first woman inducted into the Hockey Hall of Fame. "I dreamed of being in the NHL my entire life," she said at the time. "This certainly makes up for those dreams."
Granato was a gifted scorer who also made passes from her position at center ice more deftly than anyone not named Gretzky. When she retired in 2006, she had played a total of 54 games for Team USA, with 54 goals and 42 assists, making her the all-time leading scorer in women's international hockey.
But her influence was felt beyond the box score. "Cammi was more than just a prolific scorer," says longtime teammate Angela Ruggiero. "She was a great person and a great leader who led with both words and actions."
Older brother Tony Granato played 14 years in the NHL, but when Cammi entered Providence College in 1989, women's hockey was still a small-time sport. As a freshman, she made her debut with the first-ever U.S. women's national team, which took silver at the inaugural women's world championship in 1990. She would go on to break all of Providence's scoring records as a three-time ECAC Player of the Year.
And then she would become a national icon. The Americans were underdogs in 1998 when women's hockey made its Winter Olympics debut. Canada had beaten the United States in the finals of the first four world championships. But at the Nagano Games, the U.S. pulled off the upset, beating the Canadians 3-1 to capture gold. Team captain Granato had four goals and four assists in six tournament games.
With the U.S. win came unprecedented exposure for women's hockey. Granato ended up on a Wheaties box, wrote her first book and began broadcasting games for the NHL. Meanwhile, thousands of girls began asking their parents to take them to the rink. Hockey programs, camps and clinics for women and girls began cropping up all over the country. In 1990, just 6,000 girls were registered with USA Hockey; today, there are more than 62,000.
Granato, who grew up in Downers Grove, Ill., never realized her childhood dream of playing for the Chicago Blackhawks. But the path she paved inspired new dreams for the next generation of girls.
"She was the face of the sport when the game burst onto the international scene," says USA Hockey executive director Dave Ogrean. "There wasn't a lot of women's hockey in this country pre-Cammi. She can take credit for so much."
-- Lindsay Berra, ESPN The Magazine