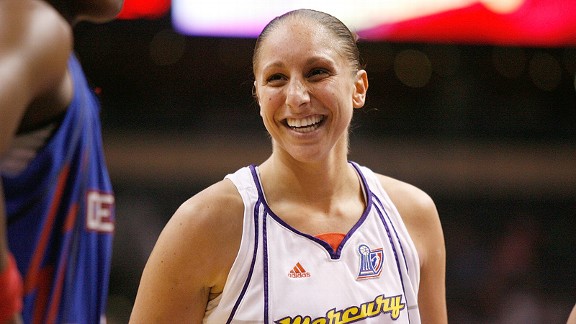 Jeff Bottari/NBAE/Getty Images
No. 35
Diana Taurasi
When asked why he thought his Connecticut Huskies would win the 2004 NCAA women's basketball championship, Geno Auriemma offered a simple answer: "We have Diana and you don't."
Hard to argue with the man. Diana Taurasi, the versatile, all-everything guard, helped deliver three consecutive national titles to UConn, including that one in 2004. And while Auriemma has coached plenty of All-Americans, he has said time and again that he would want the ball in Taurasi's hands with the clock ticking down and the game in the balance.
There's a bit of magic in how she plays, a sense of the moment, a bravado and unrestrained enthusiasm that has elevated Taurasi from top-shelf to one-of-a-kind. She possesses a certain "je ne sais quoi," an indefinable quality that she has exhibited at every level. In college, she won back-to-back Naismith Awards; in the WNBA, she has collected two championships and an MVP award with the Phoenix Mercury; and this summer in London, she'll go for her third Olympic gold medal with Team USA. "I want to see another athlete accomplish what she has at every level," says former UConn teammate Tamika Williams Raymond. "She keeps redefining herself."
Before Taurasi blossomed into the player she is today, before she developed a physique to match her well-honed game (she posed for ESPN The Magazine's Body Issue in 2010), she arrived on the UConn campus in 2000 as "muscle-less, not athletic and chubby," says Williams, who remembers Taurasi needing help across the finish line during the team's mile run. Of course, none of that mattered once they stepped onto the court. "Wow," Williams recalls. "When we started playing, the Magic in her appeared."
The comparison to Magic Johnson is fitting: Taurasi, who's 29, grew up in Chino, Calif., idolizing the Lakers point guard. She modeled her game and style -- the no-look dishes, the easy smile -- after Magic's. There might be no other woman playing today who can impact a game the way Taurasi can. Her shot-blocking ability gives her an added dimension on defense, and she moves effectively without the ball on offense, seemingly one step ahead of every play. With the ball, the six-foot Taurasi is a triple threat, thanks to her deft passing, reliable pull-up jumper and sweet outside shot. As Ann Meyers Drysdale, general manager of the Mercury, puts it, "You just can't wait for her to have the ball in her hands, to see what might happen."
Like when Taurasi poured in 47 points against the Houston Comets in 2006, setting a WNBA record. Or when she scored a game-high 26 in Phoenix's decisive Game 5 victory over the Indiana Fever in the 2009 WNBA Finals. Or any of the countless times her freewheeling, instinctive game has wowed even casual women's basketball fans. In March 2011, SLAM Magazine listed Taurasi as the best player in the WNBA. She owns 11 league records and is the Mercury's franchise leader in 16 categories. "People always ask who the best player in the world is," former UConn teammate Sue Bird told SLAM. "Diana is the first person I think of. Her flair for life is infectious, both on and off the court."
Taurasi slides on her knees after a game-winning shot, busts out a two-step during warm-ups, and always says exactly what she's thinking.
She plays to entertain. And to win.
-- Kate Fagan, espnW
---
Diana Taurasi won the Honda Award in 2003 and 2004 as the nation's top basketball player. Click here for more on the award.