8:30 PM ET, October 18, 2013
Busch Stadium, St. Louis, Missouri
ST. LOUIS -- With the red-clad crowd roaring more loudly with every pitch, Matt Carpenter became more determined to get a hit and help lead the St. Louis Cardinals back to the World Series.
On Clayton Kershaw's 11th offering, Carpenter lined a double to right field. It turned out to be the start of something really big.
Carlos Beltran followed with another key hit in a four-run third inning that stunned the Dodgers ace, Michael Wacha was again magnificent on the mound and St. Louis advanced to its second World Series in three seasons by roughing up Los Angeles 9-0 in Game 6 of the National League Championship Series on Friday night.
More On Game 6

Everything that makes the St. Louis Cardinals special was on display in the third-inning barrage that fueled their Game 6 win, Jayson Stark writes. Story
---

The Dodgers went out with their best, who went out with his worst. Clayton Kershaw shouldered the blame, but pain will linger, Mark Saxon writes. Story
---

The Cardinals blasted Dodgers ace Clayton Kershaw, and now they're on their way to the World Series, David Schoenfield writes. SweetSpot
• Knisley: Finally, Beltran in Series
• Bowden: Dodgers can get better


• Stats & Info: Cards crush Kershaw
• Rapid Reaction | Dodgers Blog
• ESPN Los Angeles

"I'm so happy right now. We did it as a team," Beltran said. "We fought hard, we worked hard all season long and thank God we're here."
Wacha, 22, was selected MVP of the NLCS after throwing 13 2/3 scoreless innings and beating Kershaw twice in the series. The first rookie to win the award since Livan Hernandez in 1997 for the Marlins pitched seven innings of two-hit ball Friday.
"We want to see it a few more times, a couple at least," manager Mike Matheny said.
With four runs in the third and five more in the fifth, the Cardinals quickly removed all the tension surrounding a team that squandered a 3-1 series lead in the NLCS last fall against San Francisco.
Game 1 of the World Series is Wednesday at the winner of the American League Championship Series between the Boston Red Sox and Detroit Tigers. The Cardinals won their 19th NL pennant and will be trying for their third World Series title since 2006, having last won in 2011.
The glamorous Dodgers, with the second-highest payroll in baseball at $220 million, failed to reach the World Series for the first time since they won it all in 1988.
"Going through spring, the long season and then it just comes to a crash," Dodgers manager Don Mattingly said. "So, it's disappointing for all of us."
After losing Game 5 in Los Angeles, the Cardinals turned to the 22-year-old Wacha once again. The right-hander was even better in outpitching Kershaw for the second time this series.
It was 52 degrees at game time, a 23-degree drop from the Kershaw-Wacha matchup in Game 2 six days earlier, and Kershaw never got warmed up.
The lefty wasn't in the mood to talk about a season in which he had a majors-best 1.83 ERA, either.
"If you don't win, what's the point?" Kershaw said. "It doesn't really matter. All this stuff."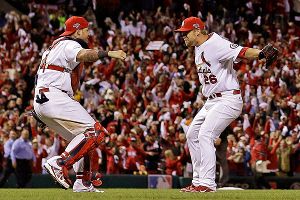 AP Photo/Jeff Roberson
Cardinals catcher Yadier Molina and closer Trevor Rosenthal react after winning Game 6 of the NLCS.
The top NL CY Young Award candidate was knocked out of a start without finishing the fifth inning for the first time this season.
"I think the first time we faced him he was very tough," Beltran said. "This time he was a little off, but that doesn't mean anything."
Beltran, 36, had three hits, drove in two runs and made a spectacular catch in right field, helping him advance to the World Series for the first time in his 16-year career.
Perhaps showing the Cardinals weren't stressed by the possibility of a second straight postseason meltdown, Games 1 and 5 starter Joe Kelly had a post-national anthem staredown against Dodgers reserve outfielder Scott Van Slyke that was broken up by fed-up plate umpire Greg Gibson after several minutes.
Kelly blinked first then, but when it counted, St. Louis wouldn't budge.
"It was just something fun to start the game off," Van Slyke said. "I don't think I've ever talked to Joe."
Beltran followed Carpenter's gritty double with an RBI single for a 1-0 lead.
Mattingly thought Carpenter's grinding at-bat was the key.
"From there," Mattingly said, "it just seemed like the floodgates opened. ... Took a lot out of him."
Not In The Cards
As the numbers below indicate, the Cards were the one team Clayton Kershaw couldn't solve in 2013. That includes Friday's 9-0 loss in Game 6 of the NLCS.

Cardinals
Others
IP
23
236
W-L
0-4
17-7
ERA
5.09
1.64
-- ESPN Stats & Information
With two outs, Yadier Molina added an RBI single. Shane Robinson drove in two runs with a single in his first career postseason start after replacing slumping Jon Jay -- and advanced to second base on Dodgers rookie Yasiel Puig's first of two errors in the Cardinals' big innings.
The Cuban defector, who stood in the outfield during the eighth inning with his arms crossed, also struck out twice and was booed heartily. Hanley Ramirez, a last-minute addition to the Dodgers' lineup, went 0-for-3 while playing with a broken rib.
Kershaw needed 48 pitches to get out of the third, the most pitches of his career. He took exception with one pitch in particular, complaining to Gibson after Matt Adams' full-count walk loaded the bases.
The Dodgers' bench also was vocal after the call on a pitch that might have been an inch or two low of the strike zone.
The Cardinals knocked Kershaw out in the five-run fifth.
Molina and David Freese led off with singles, and Adams followed with a double to chase Kershaw. Wacha drove in a run with a fielder's choice grounder, and Carpenter had a sacrifice fly. Beltran capped the inning with an RBI single -- his 37th postseason RBI in 45 career games.
Wacha has a minuscule 0.43 ERA in three postseason starts, one of the gems coming in Game 4 of the division series to keep the Cardinals alive. In his last regular-season start and with the NL Central up for grabs, he no-hit the Nationals for 8 2/3 innings.
Beltran was the star of the Cardinals' 3-2, 13-inning Game 1 victory, driving in all three runs plus making a perfect throw to keep it tied in extra innings.
Kershaw was charged with seven runs on 10 hits in four-plus innings Friday. The lefty led the majors in ERA the past three years but has lost five straight starts against St. Louis.
SportsNation: Cards Win NLCS

Who was the Cardinals' MVP? Would they rather play the Red Sox or Tigers in the World Series? Vote!
None of his outings this year was shorter than five innings, and the most runs he allowed was five, on two occasions. The four-run fourth was his worst inning since July 24, 2012, at St. Louis, when Kershaw yielded eight runs in 5 2/3 innings -- six in the sixth.
"He's the best pitcher in baseball. He's a real tough at-bat," Carpenter said. "He got ahead of me like he almost always does. I struck out my first at-bat. And honestly, when he got two strikes on me the second at-bat, my mindset immediately changed. I'm not striking out."
The Dodgers didn't have much of a chance again Wacha.
Carl Crawford led off the game with an infield hit but was erased on Mark Ellis' double-play ball. A.J. Ellis doubled to start the sixth and didn't advance.
Game notes
Cardinals Hall of Fame SS Ozzie Smith threw the first pitch. ... Beltran has a .331 career postseason average. ... Ramirez batted .133 (2-for-15) in the NLCS with a pair of singles and one RBI.
Copyright by STATS LLC and The Associated Press