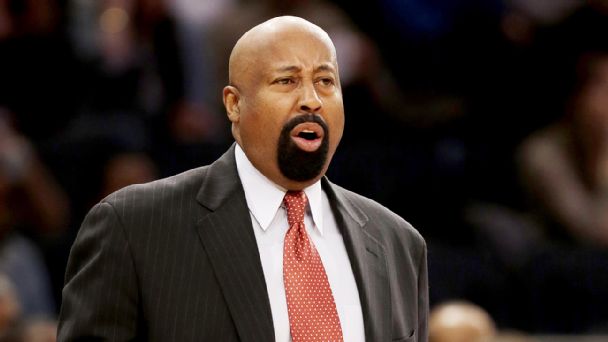 Woodson Out
The Knicks fired Mike Woodson and his coaching staff on Monday. Story » Broussard: Next Knicks coach?

Vote: Right move? » Rumors

MEDIA
TV
NBA On ESPN

Friday, April 25
Raptors-Nets, 7 ET (ESPN2)
Bulls-Wizards, 8 ET
Rockets-Blazers, 10:30 ET

Podcasts
Michael Wilbon
Play Podcast Michael Wilbon discusses seeing the greatest upset in history and his relationships with President Barack Obama and with Michael Jordan.
Fantasy Focus Basketball
Play Podcast Doug Kezirian and Tom Carpenter discuss the gems which can be found on struggling teams for the remainder of the season, begin their end-of-year awards and much more.
NBA Lockdown
Play Podcast Israel Gutierrez and Bruce Bowen dish on the Pacers' inability to play consistently, the Knicks' re-emergence as a playoff team and the postseason picture in the Western Conference.
Radio
Chris Paul, Clippers
Play Podcast Clippers G Chris Paul covers Los Angeles' upcoming matchup with the Warriors in the NBA playoffs, Blake Griffin's development, Doc Rivers' impact on his team and more.
Tim Legler, NBA
Play Podcast ESPN NBA analyst Tim Legler talks about which team is the biggest threat to the Pacers and Heat in the East, the playoff picture in the West, Andrew Bogut's injury and more.
Isiah Thomas, NBA
Play Podcast Basketball Hall of Famer Isiah Thomas talks about whether he wants to get back into the NBA, the criticism of his tenure with the Knicks and more.