Coverage: TNT
7:00 PM ET, May 15, 2013
AmericanAirlines Arena, Miami, FL
MIAMI -- Knowing his team needed him at his best, Dwyane Wade retreated to the Miami Heat locker room after the third quarter for some quick treatment on his aching right knee.
When he came back, he was good as new.
And now he can rest until the Eastern Conference finals.
LeBron James scored 23 points, Wade added 18 and had a brilliant 45-second sequence that proved crucial, and the Heat clawed back from an 11-point second-half deficit to beat the Chicago Bulls 94-91 on Wednesday night and close out their second-round series in five games.
More on Bulls-Heat

Dwyane Wade showed his age in the Heat's series-clinching win over the Bulls on Wednesday night, but not in the way most might think, Michael Wallace writes. Daily Dime
---
"We gave it everything we had," James said. "I have no energy left."
The Heat outscored Chicago 25-14 in the fourth quarter to escape and advance.
"I knew the fourth quarter was going to be tough so I wanted to re-tape my knee," said Wade, who has been battling bone bruises on his knee for several weeks. "I knew I was going to come back into a grind. Our trainers did a great job of getting it taped it enough so I could come out and play."
Did they ever.
Wade had a blocked shot, a defensive rebound, an offensive rebound and a putback slam -- all in a late 45-second span -- to help cap a wild night of wild comebacks. The Heat blew an early 18-point lead, then pulled off a late rally to finish off the depleted Bulls, who still had two chances on their last possession to force overtime.
But Nate Robinson and Jimmy Butler missed 3-pointers, time expired, and Miami moved on to face Indiana or New York next week.
"Dwyane is uncanny," Heat coach Erik Spoelstra said. "When the competition is at its highest, and its fiercest, he finds a way."
Dominating Finish
The Heat trailed by eight points entering the fourth quarter in Game 5 but outscored the Bulls by 11 points in the final period to win the game and the series. Miami controlled the fourth quarter throughout the series, outscoring the Bulls by 22 points in the five games. Here's a look at the fourth quarter of Game 5:
Bulls
Heat*
Points
14
25
FG
6-18
8-16
FT
1-2
7-11
Off eff
70.4
126.0
* Trailed by 8 points entering fourth quarter
- ESPN Stats & Information
---
The Bulls have been eliminated from the playoffs by LeBron James in three of the last four seasons.
Year
Eliminated By
Round
2013
Heat*
Conf. semis
2012
76ers
1st round
2011
Heat*
Conf. finals
2010
Cavaliers*
1st round
* LeBron James team
--ESPN Stats & Information
Carlos Boozer finished with 26 points and 14 rebounds for the Bulls, who were without Derrick Rose for the 99th straight game, as well as Kirk Hinrich (calf) and Luol Deng (illness). Robinson scored 21 points, Butler had 19, and Richard Hamilton 15 for the Bulls, who dropped the final four games of the series.
"Obviously we're disappointed in losing the series," Bulls coach Tom Thibodeau said. "But I was never disappointed in our team. I thought our team fought hard all year long. There was no quit in them."
True -- all the way to the end.
A team that played without the 2011 NBA MVP in Rose, and dealt with a slew of other issues along the way, was within a couple shots from forcing the reigning champions to fly back to Chicago for a Game 6 on Friday night.
"We've got warriors here," Boozer said. "If we're healthy next season, we're going to be pretty good."
The Heat say they have more than a few of those warrior-types as well, including Wade, who said privately before the game that he was amused about constant speculation surrounding his knee -- which has been banged up for weeks.
When the stakes were highest Wednesday, he was there for the Heat.
"I'll go on and on about how great he is," James said. "I really don't care for the trash talk that he receives."
Shane Battier opened the fourth quarter with a 3-pointer to get Miami within five. Another 3-pointer from Battier -- over Boozer, his fellow Duke alum -- came not long afterward, and he connected on a pair of free throws after being fouled on a 3-point try to cut Chicago's lead to 81-79.
Norris Cole had a pair of baskets, the second being a left-handed driving dunk, to put Miami on top, and the Heat found a way to close it out from there, even though it wasn't easy, by any measure.
Robinson's 3-pointer with 1:43 left got the Bulls to 94-91. No one scored again, even though there were plenty of chances both ways.
When it was finally over, the Heat lingered on the court in celebration. Wade held on to the game ball as he shook a few fans' hands, and he, James and Bosh exchanged some high-fives -- the last three Miami players to leave the floor.
"I had a good couple of minutes," Wade said. "I knew they've seen a lot of LeBron and Norris. I knew they weren't prepared for me to attack which is what I was able to do."
Miami will open the East finals at home next week, and it'll be a playoff rematch from its march to the title last season. If Indiana beats New York -- the Pacers lead that series 3-1 -- on Thursday night, then the Heat and Pacers will meet in Game 1 in Miami on Monday night. If the Knicks extend the Pacers to at least six games, then the East finals would open Wednesday night, regardless of opponent.
The Heat almost surely will be big favorites against either Indiana or New York, though it's certain either opponent would enter a series against Miami with plenty of confidence. The Knicks went 3-1 against the Heat this season, outscoring them by 11.5 points per game and winning both of their games at Miami convincingly. The Pacers went 2-1 against the Heat, winning twice in Indianapolis and losing their lone game in Miami.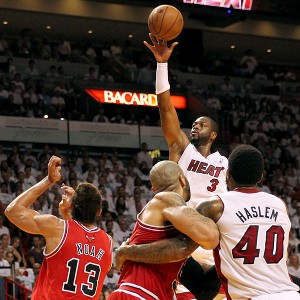 Pedro Portal/El Nuevo Herald/MCT
Dwyane Wade, battling through an injured knee, was clutch in the fourth quarter as the Heat eliminated the Bulls.
To put that in some more perspective, the Heat went 2-5 against the Knicks and Pacers, and are now 72-12 against all other NBA clubs this season.
"It only gets more difficult and more challenging," Spoelstra said. "That's what competitors want."
Then again, given how Miami has played over the last 3 1/2 months, the notion of the Heat losing to anybody four times might seem downright impossible. The Heat lost at Indiana on Feb. 1. They won at Toronto two days later, the first victory in what became a run of 27 straight wins -- and the start of a stretch that has seen Miami go 45-3 in its last 48 games.
More than half the league -- 17 of the other 29 teams -- didn't win 45 games, total, this season, even including playoffs.
"They're a great team. A great team," Thibodeau said. "They're not going to beat themselves. You have to beat them.
No one would have thought the ending would be so exciting after the way this one started.
Marco Belinelli took the Bulls' first shot, a woefully short airball. Joakim Noah took their second shot, a very long airball. Their third possession was a turnover, and the night was shaping up like a Chicago disaster.
It was 10-0 before half the crowd was in their seats, and 22-4 just past the midpoint of the opening quarter. Since the start of Game 4, in barely over 53 minutes of play, the Heat had outscored the Bulls by 40 points. Everyone in the building -- except for the 20 or so guys in red uniforms or wearing suits on the Chicago bench -- had to be thinking that the series was over.
If so, then they were all wrong.
Game 5 turned into a microcosm of the Bulls' season. They were unfazed, unflappable, unrelenting in the face of being counted out.
And before long, the massive deficit was a thing of the past.
"We kept fighting," Noah said. "And kept fighting."
Boozer went 6 for 7 in the opening quarter, his layup late in the period getting the Bulls within seven before James scored to end the first and give Miami a 30-21 lead. The Bulls were unbothered, and just kept getting stops on one end, making baskets on the other. Butler's 3-pointer with 4:46 left in the half gave Chicago its first advantage of the night, 38-36.
To recap, the game started with a 22-4 Heat run -- and in the 13 minutes that immediately followed, the Bulls rebutted with a 34-14 burst.
By halftime, it was 53-47. In the third, after Chicago briefly led by 11 -- remember, they were down 18, making that a 29-point turnaround -- the Bulls took a 77-69 edge into the final 12 minutes.
"We grinded it out," Boozer said. "We had chances. We just fell a little bit short."
And Miami moved on, now halfway home in its quest for a second straight title.
Game notes
Miami is 6-0 in its last six chances to close out a series. ... The Bulls had 16 turnovers, which Miami turned into 27 points. ... Hinrich's calf injury was improving, the Bulls said, but not to the point where he could play.
Copyright by STATS LLC and The Associated Press
Photo Wire
MIAMI, FL - MAY 15: Jimmy Butler #21 of the Chicago Bulls arrives before Game Five of the Eastern Conference...
(Photo by Jesse D. Garrabrant/NBAE via Getty Images)
Around The Association
MVP: LeBron James. If awards could go to losing teams, Carlos Boozer and Jimmy Butler would split the award for their "guns blazing" offensive production. But James kept Miami's ship steady through the Chicago storm, leading the Heat in points (23), rebounds (7) and assists (8).
X factor: Dwyane Wade's knee tape. Wade was struggling for most of the game, shooting a mediocre 4-for-10 through the first three frames. But after heading back to the locker room in the third quarter to retape his troublesome knee, Wade shot 3-for-3 with three rebounds in the critical final stanza.
That was ... inevitable: Chicago would have received all the "heart & moxie" platitudes even in a sweep. A team missing its best player for the season (Derrick Rose), another player for part of Round 1 and all of Round 2 (Luol Deng) and their defensive anchor hobbled by injury (Joakim Noah), the Bulls' competitive spirit challenged Miami more than anyone could have expected.
Research Notes
The Heat trailed by eight points entering the 4th quarter Wednesday but outscored the Bulls by 11 points in the final period to win the game and the series. Miami controlled the fourth quarter throughout the series, outscoring the Bulls by 22 points in the five games.
[+]
The Heat scored only 9 points when driving to the basket in the 1st half Wednesday, their low in a half this series. The Heat increased their production on drives in the 2nd half, scoring 24 points.
LeBron James
was the catalyst for Miami, driving 15 times in the 2nd half (4 drives in 1st half)
[+]
With the win in Game 5, the Heat are now: 12-1 in postseason since losing Game 1 of 2012 NBA Finals 15-3 at home in postseason over last 2 seasons 45-3 since February 3rd (regular and postseason combined) 9-2 in potential series-clinching games in Big 3 Era (since 2011 postseason)
The Bulls have been eliminated from the postseason by
LeBron James
in 3 of the last 4 seasons.
[+]
ESPN Stats & Information