Coverage: FSOHHD
7:00 PM ET, March 20, 2013
Quicken Loans Arena, Cleveland, OH
Top Performers
Mia: L. James 25 Pts, 12 Reb, 10 Ast, 3 Stl, 2 Blk
Cle: W. Ellington 20 Pts, 7 Reb, 4 Ast, 1 Stl
CLEVELAND -- Miami's winning streak was in danger of disappearing -- in Cleveland, of all places.
SportsNation: Heat's Streak At 24

The Heat engineered an amazing 27-point comeback over the Cavaliers to keep their winning streak alive. Will they break the 1971-72 Lakers' record?
• Cast your votes!
But LeBron James wouldn't give up.
"That guy right there doesn't want to lose in this building," teammate Dwyane Wade said, nodding toward James, who left many angry Cavaliers fans behind when he bolted for Miami as a free agent three years ago. "Not tonight."
James scored 25 points as the Heat overcame a 27-point deficit in the third quarter and won their 24th straight game, 98-95 over the short-handed Cleveland Cavaliers on Wednesday night to extend the second-longest winning streak in NBA history.
The Heat are within nine games of matching the record of 33 consecutive wins held by the 1971-72 Los Angeles Lakers. Once believed to be untouchable, the mark is now within reach.
James and his teammates have insisted the record isn't one of their goals, and for more than 30 minutes the defending champions seemed disinterested and on the verge of losing for the first time since Feb. 1. Miami trailed 67-40 with 7:44 left in the third quarter.
More Heat-Cavaliers Coverage

When the Heat are old men telling stories of these truly glory days, they will not forget Wednesday night, Brian Windhorst writes. Dime
But behind the irrepressible James, who added 12 rebounds and 10 assists in 42 minutes, the Heat inched closer to history and matched the NBA's biggest comeback this season, according to STATS.
"This was one of the most bizarre, unique days of my life with everything that happened," said James, referring to a homecoming in which a fan ran onto the floor and the opening tip was delayed 35 minutes by a leaky scoreboard. "It also was one of the best comebacks I've ever been a part of."
James had 14 points, seven rebounds, three assists and two steals in the fourth as Miami rallied to win for the second game in a row. The Heat were down 17 points -- 13 in the fourth quarter -- and stormed back to beat Boston 105-103 on Monday and surpass the 2007-08 Houston Rockets for the second-longest streak in NBA history.
"I knew there was a lot of time, so we never panicked," James said. "We were down 27 with 18 minutes left. That's a lifetime in basketball."
Although the Cavs were missing All-Star guard Kyrie Irving, Dion Waiters and Anderson Varejao -- their top three scorers -- they pushed Miami to the limit.
It wasn't until James, playing his fourth game back in Cleveland since leaving, made two free throws with 4.7 seconds left that Miami could relax, but just a little. The Cavs had one last chance to tie it, but C.J. Miles was long with a 3-pointer in the final second, letting Miami off the hook.
Following the game, James stopped to sign a few autographs as he made his way to Miami's locker room. This was much tougher than he and the Heat could have imagined. The win also completed a five-game road trip, dubbed "The Reunion Tour" by James because Miami visited Wade's home in Milwaukee, Chris Bosh's former team in Toronto and Ray Allen's in Boston.
Warming To The Occasion
The Heat woke up in the second half Wednesday night against the Cavaliers, turning a 27-point deficit into a three-point, streak-continuing victory. Here's a look at Miami's tale of two halves:
1st half
2nd half
Pts
34
64
FG pct.
37.5
50.0
3-pt FG
2-10
10-19
Score diff.
-21
+24
---
The Heat cuaght fire midway through the third quarter and into the fourth. Here's the anatomy of their comeback, spanning from 7:03 left in the third to 10:26 to go in the fourth:
Heat
Cavaliers
Pts
37
10
FG
12-18
3-11
Reb
12
3
TO
1
4
-- ESPN Stats & Information
"The streak wasn't on my mind, but us getting blown out was," James said. "I was going to be the only guy to take an 'L' on the reunion tour."
Mario Chalmers added 17 points and Wade had 11 for the Heat, who outscored the Cavs 30-18 in the fourth quarter and 64-40 in the second half.
Wayne Ellington had 20 points and Tristan Thompson 18 for Cleveland, which went from a stunning upset to blowing the biggest lead in a loss in franchise history.
"We knew it was coming," Thompson said of the Heat's comeback. "They were the NBA champions last season. They're not going to lay down. Champions don't lay down even when they're down by 27. We knew they were going to make a push. Guys went out and made plays, so you have to give them credit."
Down by nine to open the fourth, the Heat were up 95-86 with 3:02 left and seemed to have the Cavaliers on the ropes.
But Cleveland bounced back and closed to 96-95 on Thompson's two free throws with 44 seconds to go. Wade then missed a jumper, but Ellington misfired on a step-back 23-footer with 5.2 seconds to go.
James was fouled and the reigning MVP, with a sellout crowd of 20,562 roaring, stepped to the line and dropped both free throws to make it 98-95.
Miles was contested on his final shot, and once it clanked off the rim, the Heat headed home with a chance to extend their streak to 25 on Friday against Detroit.
This game had a little of everything, including a fan running on the floor in the fourth quarter. The young man was wearing a T-shirt that said: "We Miss You, 2014 Come Back," a reference to James' possible free agency and return to Cleveland, where he played seven seasons.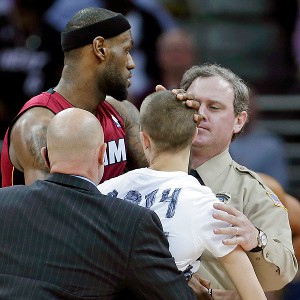 AP Photo/Tony Dejak
LeBron James said he wasn't worried when a fan stormed the court and asked him to return to Cleveland in 2014.
James went out of his way and patted the fan on the head as security rushed him off the floor.
"He said he missed me and come back, please," James said. "It happened once before in (Madison Square) Garden, so I wasn't worried. There are metal detectors here, so we were OK. I embraced it."
The start of the game was delayed because of a spill on the floor caused by condensation from a carbon dioxide container inside the scoreboard.
James scored eight straight points to open the fourth, hitting a 3-pointer to tie it 77-all. He then turned toward the crowd and delivered an icy stare, his way of saying, 'OK, enough is enough.'
"When he made that one and turned to the crowd," Wade said, "you knew it was coming."
Game notes

Starting with the Cavs, Miami's next 10 games are against opponents with a combined winning percentage of just .399. ... The Heat play the Pistons and Charlotte at home before going to Orlando, Chicago, New Orleans and San Antonio. ... It was the first time Miami overcame a 21-point halftime deficit to win. ... The Cavs will wait a week before they evaluate Waiters, who has loose cartilage, and decide whether he needs surgery. Cleveland coach Byron Scott hopes his young guard comes back in the final month. "If he gets back, I'll be thrilled to death," Scott said. ... Miami's three wins over Cleveland this season have been by a total of nine points.
Copyright by STATS LLC and The Associated Press
Around The Association
MVP: LeBron James didn't have his best night and put up 25 points, 12 rebounds and 10 assists. That might be all we need to know in order to give James his fourth MVP trophy.
X factor: Ray Allen is practically blasé about clutch triples at this point. He hit three of them and chipped in five steals to help Miami overcome a 27-point deficit.
That was … inevitable: The Cavs played extremely well early, but the Heat sleepwalked through the first two-and-a-half quarters. Once they woke up in the middle of the third period, the guillotine fell swiftly.
Research Notes
If LeBron went back to Cleveland, he'd be playing with another great player.
Kyrie Irving
's 22.2 PER this season is better than any teammate LeBron had in Cleveland.
Since leaving the Cavaliers for the Heat in the 2010 offseason,
LeBron James
has been by far the best player in the NBA. In fact, his 29.5 PER in that span is 11.9% higher than the next best player (
Kevin Durant
).
From Elias: The longest win streak for a team AFTER coming back from a 20+ point halftime deficit was 9 games by the Warriors in 1971-72. The Heat need to win another 10 games to BREAK the all-time record for consecutive wins.
This season, the Cavaliers are now 3 and 3 in games they led by at least 20 points. The rest of the league is 332-11. ** Pending results of late games (WSH/PHX, PHI/LAC) **
[+]
The Heat scored 145.7 points per 100 possessions in the second half Wednesday, their third-highest offensive efficiency in any half this season. Miami grabbed 50.0 percent of its missed shots in the second half and scored 16 of its 19 second-chance points after halftime against the Cavaliers.
[+]
Entering tonight, in the last 15 seasons, teams trailing by 27 or more in the second half were 5 and 2,013, a win percentage of .002 (two tenths of one percent). This type of comeback had happened essentially once in every 404 games that the opportunity came about in the last 15 seasons. The Heat, by the way, were 0-55 in those situations over the last 15 seasons. FYI, the comebacks:
[+]
NEXT LEVEL:
LeBron James
scored 14 fourth-quarter points and assisted on another 8 points, accounting for 22 of the Heat's 30 fourth quarter points. No player has accounted for a higher percentage of his team's fourth-quarter offense this season. Percentage of team offense = (Pts scored + team pts off assists)/total team points
[+]
This is turning into an NBA season of major comebacks. This is the third time a team rallied from a 27-point deficit to win. The Hawks overcame a 27-point deficit to beat the Celtics earlier this season (in 2OT) on January 25. The Bucks overcame a 27-point deficit to beat the Bulls earlier this season on November 26.
[+]
In 8 minutes and 37 seconds of game time, the Heat turned a 27-point deficit into a tie game. Trailed 67-40 with 7:03 remaining in 3rd quarter. Tied game at 77-77 with 10:26 remaining in 4th quarter.
[+]
ESPN Stats & Information