Coverage: ALT
8:00 PM ET, April 17, 2013
Pepsi Center, Denver, CO
Top Performers
PHX: L. Scola 17 Pts, 11 Reb, 4 Ast, 1 Stl
Den: W. Chandler 21 Pts, 6 Reb, 4 Ast, 2 Stl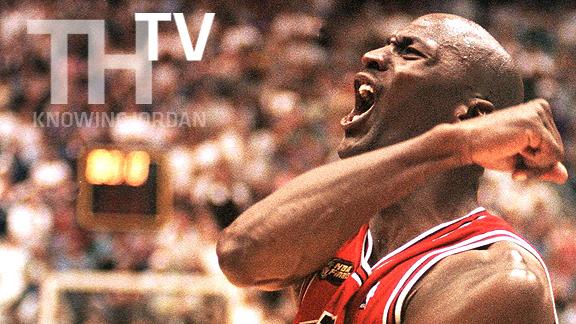 Knowing MJ
Tim Grover, Michael Jordan's groundbreaking personal trainer and confidant, has a new book "Relentless," where he shares new tales of a life close to His Airness.
Knowing MJ
VIDEO PLAYLIST
Knowing MJ

Knowing MJ

Tim Grover, Michael Jordan's groundbreaking personal trainer and confidant, has a new book "Relentless," where he shares new tales of a life close to His Airness.
DENVER -- The Denver Nuggets finally got a chance to bask in the glow of their stellar season with the third seed in the Western Conference playoffs wrapped up and the best home record in the league secure at last.
"Thirty-eight and three," Karl said, letting the sweet sound of it all roll off his tongue after Denver's 118-98 rout of the Phoenix Suns on Wednesday night. "I don't know how many teams have won 38 games at home."
The Nuggets are the 11th, and Karl is the only coach to do it with two different teams. His Seattle squad accomplished the feat in 1995-96.
Western Conference Matchups

The first-round Western Conference playoff matchups are set. The first round kicks off Saturday, with Golden State-Denver and Memphis-L.A. Clippers.
First-Round Matchups
Western Conference
| Higher Seed | Opponent |
| --- | --- |
| No. 1 Oklahoma City | No. 8 Houston |
| No. 2 San Antonio | No. 7 L.A. Lakers |
| No. 3 Denver | No. 6 Golden State |
| No. 4 L.A. Clippers | No. 5 Memphis |
"I think we can take tonight and just be really happy with what we've accomplished, how we've come together as a team," said Andre Iguodala, who scored 20 points to go along with Wilson Chandler's 21 as Denver extended its franchise record homecourt winning streak to 23 straight.
"It was just a big year for us. Tomorrow, it's time to buckle down and get ready for our next opponent."
The Nuggets weren't sure who that would be as they left the arena, knowing only that he'd begin the playoffs Saturday at the Pepsi Center, where they eclipsed the old franchise record of 36-5 set in 1976-77, their first year in the NBA.
They'll face Golden State or Houston, a matchup that wasn't determined until the late games on the West Coast wrapped up.
"They're both going to play fast, which I think is good for us," Karl said, adding: "I wish we had some time to celebrate but we don't."
After a hectic final week, Karl planned only a light workout Thursday for the Nuggets, who won an NBA franchise record 57 games overall, besting the 54-win seasons of 1987-88 and 2008-09.
Luis Scola's 17 points and 11 rebounds led the Suns, who wrapped up the second-worst season in franchise history with a mark of 25-57, the worst in the West. The only one that was worse for the Suns was their inaugural NBA season in 1968-69, when they went 16-66.
"Nobody ever wants to end a season like that, but it's all about taking steps," Suns interim coach Lindsey Hunter said. "Unless you go out and sign three max (contract) players then you're going to take steps. You have to build somewhere and you have to start with young guys and you grab some free agents and you change.
"Nothing worth anything happens overnight, so we have to keep building and keep working."
The Nuggets have won 40 of 50 this calendar year, putting Karl and vice president Masai Ujiri in the conversation for coach and executive of the year honors, respectively barely two years after Carmelo Anthony forced his way out of town.
SportsNation: NBA Playoffs

How do the 16 teams in the NBA playoffs stack up? Are the Eastern Conference squads stronger than the West? Rank 'Em
• Vote on each series outcome

"It's a great accomplishment to win that many games, especially with such a young team," JaVale McGee said. "Everybody's happy, happy with the production."
Yet, he senses the Nuggets still have to prove themselves to a skeptical public in the playoffs.
"I don't feel any expectations," McGee said. "I feel like we're underdogs and that people feel we're lucky with what our record is, but we'll show them."
Lacking a star, the Nuggets won more games than ever before by relying on teamwork, ball movement and a deep roster that's so far withstood the losses of Danilo Gallinari (ACL), who's out for the season, and Kenneth Faried (ankle), whom they're hoping can return in the first round of the playoffs.
Even though the Nuggets had their best record since joining the league out of the old ABA 37 years ago, they needed a win in their last game of the regular season to secure the No. 3 seed in the West.
The Nuggets gave Karl just what he wanted to sooth any nerves -- some breathing room with a 66-40 halftime lead. It helped that the Suns were missing guard Goran Dragic (ankle), who had 21 points and 14 assists in a win over Houston on Monday, his fourth straight double-double.
Denver raced out to a 35-20 lead after one quarter and were never threatened, allowing Karl to begin substituting freely with an eye toward preserving the health of his banged-up lineup.
"You could see they were trying to get it over with the sooner the better," Scola said. "They're a great team. I like the way they play."
The Nuggets had 11 players post double-digit minutes, including Anthony Randolph, who had 11 points and 14 rebounds and seldom-used center Timofey Mozgov with 10 and 10. After the game, the Nuggets said Mozgov fractured his left thumb and is day to day for the playoffs.
Game notes
The Nuggets held a moment of silence before the game to remember the victims of the Boston Marathon bombings. ... Hunter went 12-29 after taking over in January. ... Denver's 57 wins are the most for Karl since his Seattle team went 61-21 in 1997-98. ... The Nuggets made the playoffs for the 10th straight season.
Copyright by STATS LLC and The Associated Press
Photo Wire
DENVER, CO - APRIL 17: JaVale McGee #34 of the Denver Nuggets drives to the basket against the Phoenix Suns on...
(Photo by Garrett W. Ellwood/NBAE via Getty Images)
Around The Association
MVP: For a team supposedly lacking a true star, the Nuggets finished the regular season looking like they had one. Andre Iguodala scored 20 points and filled up the box score with 5 rebounds, 5 assists, 2 steals and 2 blocks.
Defining moment: Pregame. When the Suns held out Goran Dragic because of an ankle injury, it was clear their minds were on next season -- or even the NBA scoreboard with futile hopes of a second lottery pick.
That was … smashtastic: Maybe it wasn't that the Nuggets got in transition for a flurry of dunks to lead 66-40 at halftime, but how they did it. Denver held Phoenix to 29 percent shooting. For the game, the Nuggets scored an insane 80 points in the paint.