Coverage: ESPN/WatchESPN
7:00 PM ET, December 18, 2013
AmericanAirlines Arena, Miami, FL
Heat use late 10-0 run capped by Ray Allen 3 to overtake Pacers
MIAMI -- For so much of the night, just about everything was going wrong for the Miami Heat. They were missing every 3-pointer, arguing plenty of calls, even screaming at one another.
More Pacers-Heat Coverage

With home court in the playoffs so essential, Wednesday night was the exact reminder of why these Pacers-Heat games are so important in the regular season, Brian Windhorst writes. Daily Dime

Even with big man Roy Hibbert befouled by the Heat, the Pacers made life miserable for Miami, Israel Gutierrez writes. Story
• SN Poll: Are Heat better?
• Stats & Info: Wade, Heat Drive

Then one quick burst changed everything.
Dwyane Wade scored 32 points, LeBron James added 24 on a sore left ankle, and Chris Bosh and Ray Allen connected on huge 3-pointers within a 31-second span down the stretch. It all added up to the Heat erasing a 15-point deficit in the final 18 minutes to beat the rival Indiana Pacers 97-94 on Wednesday.
"It shows we're a team that's been there before," Wade said. "No matter what the score is we always feel we have an opportunity to win the game."
So even when Indiana led 68-53 midway through third quarter, hope remained.
And even when James and Mario Chalmers were getting in a heated exchange during one particularly bleak stretch the Heat didn't fall apart.
"It was a good win," James said. "Good, good, quality win against a very good team on our home floor. We had to overcome a lot."
Chalmers said after the game that the matter with James was forgotten. James, on Twitter, said he apologized.
I love @mchalmers15 like a blood brother! I was wrong and apologized to him! We good and will always be good. I ride wit him any & every day

— LeBron James (@KingJames) December 19, 2013
Paul George scored 25 points for Indiana but missed a 3-pointer that would have tied it with 4 seconds left, and insisted afterward that he was fouled by James on the play.
"I went into my shot, got pushed in the back, I thought it was a foul, nothing was called, and we lost the game," George said. "Aside of that we still should have taken care of business."
David West had 23 points and Lance Stephenson added 13 for the Pacers, who have dropped two straight and saw their lead over Miami in the Eastern Conference trimmed to one game. Both teams have won against the other on their home floor this season, and Miami topped Indiana at home in Game 7 of the East finals a year ago.
"It's December," Pacers coach Frank Vogel said. "I think you have two great teams going at it. It's going to be a fun series all season, the regular-season matchups, and hopefully we will both be able to reach a point in the playoffs where we can meet again."
Wade's World? Excellent
With a game-high 32 points on Wednesday night, Heat guard Dwyane Wade had his best game against the Pacers since the start of last year's Eastern Conference finals. Here's a look:
1st 8 Games
Wednesday
PPG
15.6
32
FG pct
44%
60%
FGA PG
13.5
25
-- ESPN Stats & Information
Miami got the 15-point deficit down to five by the end of the third quarter, and was still down 92-85 when West scored with 3:21 remaining.
Then, for the first time all night, the Heat put together a real run.
The Heat scored the next 10 points -- Bosh's 3-pointer, his first in 15 attempts, tied it at 92. And after George missed in the lane at the other end, James brought the ball the other way and found Allen for a 3-pointer that put the Heat ahead for the first time since the score was 14-13.
They didn't trail again.
"I was encouraged by our ability to stay focused and show some resolve in the second half," Heat coach Erik Spoelstra said. "It wasn't necessarily pretty, but you have to make enough plays ... and a lot of times against this opponent it has to be like that, where it's not smooth and you have to make enough plays to just give yourself a chance in the end."
The Pacers had a chance at the lead late, but it went awry when George Hill turned the ball over on a pass with 14 seconds left. Allen made two free throws with 10.3 seconds remaining to put Miami up by three, and that capped the scoring.
Pacers center Roy Hibbert got his fourth foul early in the third, and Vogel opted to leave him in the game. The gamble appeared to backfire 46 seconds later when Hibbert picked up his fifth with 8:34 remaining in the quarter.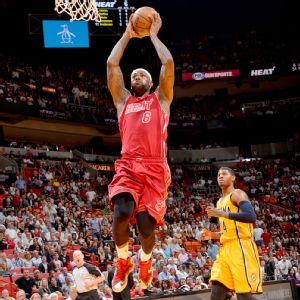 Jesse D. Garrabrant/NBAE/Getty Images
LeBron James' bad ankle didn't keep him from 24 points and some high-flying moves vs. the Pacers.
Hibbert went to the bench -- but the Pacers didn't miss a beat.
George made three free throws after getting hit beyond the arc by Chalmers to put Indiana up 66-51 midway through the third, and the Pacers' lead was still 14 with 4:17 left in the period.
"They stole the game from us," West said.
Even though the teams won't see each other again until March, and with the playoffs still 50-something games away, there was clearly a little more meaning to this one.
James was questionable because of a bad ankle, the one he twisted in Monday's win over Utah. Vogel was questionable because of bad spaghetti -- at least, he thinks that's what caused a quick bout with illness that set in after he dined Tuesday night.
By game time, both pronounced themselves ready.
Game notes
Pacers F
Danny Granger
, who has played in just five games since the start of last season because of injuries, will practice Thursday and is set to return to the lineup. ... Neither team has topped 100 points in the last six meetings, including playoff games.
Information from The Associated Press was used in this report.
Copyright by STATS LLC and The Associated Press
Photo Wire
MIAMI, FL - DECEMBER 18: Chris Andersen #11 of the Miami Heat warms up before the game against the Indiana Pacers...
(Photo by Jesse D. Garrabrant/NBAE via Getty Images)
Around The Association
MVP: Dwyane Wade had more points, but LeBron James was the key Heat player as usual. A robust 24 points, nine rebounds and seven assists accurately state his control of the game, especially in the fourth quarter.
That was ... feisty. Mario Chalmers had a meltdown in the third quarter, with several bad fouls and turnovers. During a timeout, James and Chalmers got into a heated exchange. Chalmers saw no action for the rest of the night.
Defining moment: A disgusted Paul George angrily yelled at the refs for a foul call as his last-second desperation 3-pointer missed. The perceived slight will only ratchet up the heated rivalry's ensuing games.
Research Notes
Dwyane Wade
was 15-of-25 from the floor and scored a season high 32 points on Wednesday. He attacked the basket, going 12-of-18 in the paint for 24 points.
It was his 202nd career 30-point game, fourth most among all players since he entered the league in 2003.
[+]
The Heat had far more success on their drives to the basket with
Roy Hibbert
off the floor on Wednesday (with the most notable stretch with Hibbert off the floor from 8:34 in the 3rd (picked up 5th foul) to 6:12 in 4th).
With Hibbert battling foul trouble all night, the Pacers allowed a season-high 50 points in the paint.
[+]
LeBron James
either scored or assisted on 15 of the Heat's 26 points in the 4th quarter Wednesday. However, it was his play on the defensive end that left a mark on the Pacers. James denied
Paul George
the ball on 2 of the final 3 possessions and stole a
George Hill
pass intended for George to help seal the game. George was 3-of-9 shooting with 2 turnovers when guarded by James. In their first meeting on December 10th, James held George to 0-of-4 shooting and 3 turnovers.
[+]
The Heat trailed by 7 with 3:10 remaining, but ended on a 12-2 run as the Pacers missed all 5 attempts from the field down the stretch.
[+]
On two-point shots outside the paint, George has improved his shooting from 36.3 percent last season to 43.8 percent this season.
[+]
This is the first time this season
LeBron James
has been called for 3 fouls in the first half. It happened to him twice all of last season.
Paul George
ranks seventh in the NBA in scoring, averaging 23.8 points per game, up 6.4 points per game from last season. George also ranks first in the league with 2.0 defensive win shares this season, according to Basketball-Reference.com. He led the NBA last season with 6.3 defensive win shares, which estimate the number of wins contributed by a player's defense.
[+]
LeBron James
shot 56.5 percent from the field last season. Should he increase his field goal percentage again this season (currently shooting a career-high 59.8 percent), it would be the 7th straight season he's done so. Lenny Wilkens is the only player in NBA history that increased his field goal percentage in 7 consecutive seasons.
[+]
ESPN Stats & Information