Coverage: ESPN/WatchESPN
8:00 PM ET, January 10, 2014
Barclays Center, Brooklyn, NY
Top Performers
Mia: L. James 36 Pts, 7 Reb, 5 Ast
BKN: J. Johnson 32 Pts, 4 Reb, 5 Ast, 1 Stl
NEW YORK -- Shaun Livingston was flying all over the court. LeBron James could only sit and watch.
Joe Johnson scored 32 points, Livingston helped Brooklyn dominate the second overtime after James fouled out, and the Nets beat the Miami Heat 104-95 on Friday night for their fifth straight victory.
More Heat-Nets Coverage

Shaun Livingston overcame one of the most gruesome knee injuries in recent sports history and now is playing an integral role with the Nets, as his performance Friday illustrated, Mike Mazzeo writes. Blog

The only thing more impressive than the Nets winning five straight games and beating the likes of OKC, Golden State and Miami is how the Nets didn't fall apart after the holidays, Ohm Youngmisuk writes. Blog
• Rapid Reaction
• Nets Blog | ESPN New York
• Stats & Info: Nets perfect in 2014
---

There are a lot of reasons it's hard to win three straight championships or make it to the Finals four straight years. Right now, the Heat are lacking motivation during a rough patch, Brian Windhorst writes. Blog
Livingston had two baskets and two blocked shots in the second OT, finishing with 19 points, a career-high 11 rebounds and five assists over 51 minutes in a sensational effort while starting for injured Deron Williams.
The Nets followed the lead of a player who spent years revitalizing a career that was sidetracked by a horrific knee injury, jumping on the Heat early and fighting them off late.
"Gutsy. Gutsy," Kevin Garnett said. "I thought we fought for 48-plus minutes."
Paul Pierce scored 23 points but missed jumpers that could have won it at the end of regulation and the first overtime. Still, the Nets remained unbeaten in 2014, adding a victory over the two-time defending NBA champions to their recent wins over Oklahoma City and Golden State.
"It was huge," Livingston said. "We've obviously been playing better as of late. I think our momentum that we were carrying into this game, we're trying to ride that wave."
James had 36 points, seven rebounds and five assists, but fouled out on an offensive foul with 36 seconds left in the first overtime and the Heat trailing by two. It was the first time James fouled out in the regular season since 2008.
Miami pushed it to a second overtime without him, but it was all Nets from there against a Heat team that was already missing Dwyane Wade and two other starters.
James was visibly frustrated with his teammates in the first half -- he said he apologized at halftime for his attitude and body language. He was irate when Mirza Teletovic flagrantly fouled him, but nearly overcame all that to help Miami pull it out.
"We're a no-excuse team, but right now we have three starters that didn't play," James said. "Even though we've got a lot of depth, it is hard to make up for three starters being out."
Miami totaled six points in the overtimes, fewest ever in the shot clock era (since 1954-55) in a game that went at least two overtimes.
Norris Cole scored 18 points, but Ray Allen was 2 of 14 for nine points in place of Wade, who rested his sore knees after playing 39 minutes in a loss at New York on Thursday. Shane Battier and Mario Chalmers also sat out the game, which featured players on both teams wearing nicknames on their jerseys, a first of its kind in the NBA.
Livingston and Johnson made the first two baskets of the second overtime, then Livingston blocked a shot by Cole.
Pierce followed with a 3-pointer, Garnett made a jumper and Livingston spun into the lane for a dunk and a 104-93 lead. He had another block on Allen, who finally made the Heat's only basket of the second OT on a wide-open layup with 16 seconds to go.
The Heat came up with the idea to wear nicknames on their jerseys and wanted another team to participate, and the Nets were selected.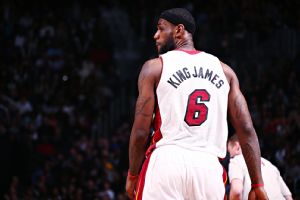 Nathaniel S. Butler/NBAE/Getty Images
LeBron James had 36 points but fouled out in the first OT of Friday night's loss, in which players wore jerseys with their nicknames on the backs.
So in place of the teams' regular jerseys were ones reading names such as King James and J. Shuttlesworth (for Allen's character, Jesus Shuttlesworth, in the film "He Got Game").
The Nets wore their road black jerseys with Truth (Pierce) and Big Ticket (Garnett).
Gimmicks are nice but good games are even better, and the Heat and Nets delivered a great one.
"This was a playoff atmosphere-type game," Pierce said. "You just felt the energy in the building."
The Nets led 93-89 in the first OT and were still up two after James fouled out, but Cole pushed the ball up the court and nailed a jumper with 3.3 seconds to go to tie it.
The Nets controlled the second extra period, handing Miami a second loss in two nights in the Big Apple and matching their win total for both November and December, with eight games left this month.
Even short-handed, James and the Heat played as though they desperately wanted this one, erasing a 14-point deficit. James looked ready to fight when Teletovic wrapped his arms around James' neck to stop a drive to the basket with a flagrant foul.
"He went around my neck," James said. "It's not a basketball play."
Said Teletovic: "Just tried to make a foul to stop the score. He shouldn't be reacting like that. It's OK. It's just basketball."
It was tied at 89 with 40 seconds left after a free throw by James, and Pierce's long jumper rimmed out as time expired.
"They made bigger plays going down the stretch in the overtime," Heat coach Erik Spoelstra said. "When we pushed it to that point, even with LJ out, we thought we had a chance. Guys really competed down the stretch."
Game notes
The teams will wear the nickname jerseys again on March 12 and April 8 in Miami. The Heat will also wear them at home against Boston on Jan. 21. ... The Nets begin a three-game, three-country road trip Saturday in Toronto. They face the
Atlanta Hawks
on Thursday in London, then return home to visit the Knicks on Jan. 20.
Copyright by STATS LLC and The Associated Press
Photo Wire
NEW YORK, NY - JANUARY 10: Chris Bosh #1 of the Miami Heat jersey hangs in the lockeroom prior to a game at the...
(Photo by Nathaniel S. Butler/NBAE via Getty Images)
Research Notes
Joe Johnson
's 22 Pts in the first quarter are the 4th-most by a player in any quarter this season. The most in a game?...Joe Johnson vs the 76ers when he blew up for 29 Pts in the 3rd quarter on Dec. 16.
[+]
LeBron James
was called for his 6th personal foul with 36 seconds remaining in the first overtime. After that the Heat mustered only 4 points for the duration of the game. The Nets went on an 11-4 run, upped their lead and sealed the victory.
[+]
Joe Johnson
scored 18 of his 32 points on shots from 15 feet or further on Friday (7-of-14). On the season Johnson had shot 37.6 percent on such shots.
[+]
Shaun Livingston
played a career-high 51 minutes, scoring 19 points en route to a double-double on Friday. Livingston attacked the Heat using the pick-and-roll to score 7 of those points and tallying 4 assists.
[+]
Miami lost in New York last night. The Heat are 5-1 on zero days rest this season, outscoring opponents by 10.2 points per game. Dating back to the start of last season, Miami is 20-2 (.909 win pct). It would be the best win percentage by any team in NBA history over a 2-season span.
[+]
After entering the new year with a 10-21 record, the Nets have won a season-high 4 straight games, mainly on the heels of improved defensive play. Brooklyn is allowing 97.4 points per 100 possessions during that stretch, a 9.3 point improvement compared to its first 31 games. The Nets are playing at an extremely slow pace over their last 4 games, averaging just 91.5 possessions per 48 minutes. For context, the
Memphis Grizzlies
have the league's slowest pace at 92.4 this season.
[+]
LeBron James
has scored 20 or more points in each of his last 21 games against the Nets, the 2nd-longest streak of 20-point games versus the Nets in NBA history. The only player with a longer streak is
Michael Jordan
, who scored 20+ points in 39 consecutive games.
[+]
LeBron is averaging 25.7 points on 59.2 percent shooting. The only player in NBA history that averaged at least 25 points while shooting 60 percent or better from the field in a single-season was
Kevin McHale
in 1986-87.
The Heat have already dropped 7 games against teams below .500 this season. Last season, they went 36-4 against teams below .500.
[+]
James shot 56.5 percent from the field last season. Should he increase his field goal percentage again this season (currently shooting a career-high 59.2 percent), it would be the 7th straight season he's done so. Lenny Wilkens is the only qualifying player in NBA history that increased his field goal percentage in 7 consecutive seasons and his highest shooting percentage during that streak was 44.0 percent.
[+]
Deron Williams
has missed the Nets last 2 games due to a sprained left ankle. Brooklyn has won each of its last 3 games without Williams after going 2-8 in its first 10 games without him this season.
[+]
ESPN Stats & Information