Coverage: TNT
10:30 PM ET, January 20, 2014
ORACLE Arena, Oakland, CA
Top Performers
Ind: R. Hibbert 14 Pts, 13 Reb, 1 Ast, 2 Blk
GS: S. Curry 24 Pts, 3 Reb, 9 Ast
OAKLAND, Calif. -- When Paul George played at Golden State last season, he missed all seven shots he took and finished scoreless in Indiana's loss. Instead of sulking, he went straight to the gym after the Pacers arrived back home in the wee hours of the morning.
That work ethic has paid off.
George scored 23 points to go with four rebounds and two assists, and the NBA-leading Pacers built a big lead before holding off the Warriors 102-94 Monday night for their fifth straight win.
More From ESPN.com
While the Heat are normally considered the favorites in the East, the Pacers are the team with the best record, point differential and defense, writes Ethan Sherwood Strauss. Dime
"That game changed everything, for our franchise and for him," Pacers coach Frank Vogel said, recalling the 103-92 loss at Golden State on Dec. 1, 2012. "It forced him to change his approach."
George has emerged as an MVP candidate this season, and his Indiana teammates are improving just as rapidly.
The Pacers (33-7) went ahead by 20 in the third quarter, watched the Warriors whittle the lead to two and then regrouped in the closing minutes to open the five-game West Coast trip with a victory.
Roy Hibbert had 14 points and 13 rebounds, David West added 17 points and Lance Stephenson finished with 14 points, 10 rebounds and seven assists to help the Pacers pull away for good.
"I felt good coming off screens, dribbling the ball and hitting some shots," said George, who made 9 of 20 from the floor. "It's just tough running around with those guys and still having legs to make shots at the end. That's really what the toughness was."
Stephen Curry had 24 points and nine assists, and David Lee had 20 points and 12 rebounds for the streaky Warriors, who have lost four of six since winning 10 in a row.
Indiana outshot the Warriors 45.1 to 40.7 percent and outrebounded them 52 to 45. Both teams committed 15 turnovers.
"We're right there as a team that has the potential to do some great things this year if we can figure that last, little bit of consistency out," Curry said. "We've shown in spots we have the talent to do it, we just have to find that last little piece of assertiveness against the best teams in the league."
Golden State made the Pacers work for the win.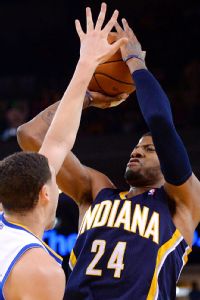 Kyle Terada/USA TODAY Sports
Paul George rebounded from a scoreless game against the Warriors last year to a 23-point performance in Monday's win.
After going down by 20 in the third quarter, Harrison Barnes hit a 3-pointer to slice Indiana's lead to 79-77 early in the fourth. The Pacers pulled away by eight before the Warriors roared back within three on Lee's free throws.
Stephenson answered with a 3-pointer to put the Pacers up 94-87. Klay Thompson followed with swish from long range, then George Hill hit another from beyond the arc to keep Indiana in control.
"It was like the movie `Rocky II.' I'm not sure which guy was going to fall first. Both teams were completely exhausted," Vogel said.
The Warriors' final push ended almost as quickly as it started.
Andre Iguodala made a fadeaway to trim Indiana's lead to 98-94 with less than a minute left. After Iguodala stole the ball from Hill, Curry missed a contested 3-pointer short, and the Pacers put the game away on free throws.
"We're close, but we still have work to do," said Warriors center Andrew Bogut, who had 10 points and 13 rebounds.
The Warriors entered the night having played an NBA-high 25 road games compared to 17 at home. The game began a string of five straight and nine of 11 at Oracle Arena, though Golden State's home court provided little comfort against the NBA's best.
Sparked by its defense and work-to-get-a-good-shot approach, Indiana opened a 35-21 lead at the end of the first quarter. Golden State switched to a smaller lineup to try and outrun the Pacers, who instead exploited their size inside.
After going ahead by 16 points late in the second quarter, Indiana let the Warriors creep closer thanks to a series of turnovers. The Pacers led 53-40 at the half.
Indiana came out of the break just like it did to start the game, scoring the first seven of the third quarter to take a 60-40 lead that silenced most of the announced sellout crowd of 19,596.
But Curry and Co. quickly had fans on their feet and to a fever pitch after a timeout. Curry hit a jumper, then tossed an alley-oop to Bogut before Thompson's 3-pointer started a run that brought the Warriors within eight heading to the frantic fourth quarter.
Game notes
Warriors coach Mark Jackson said it was an honor to play on the holiday honoring the Rev. Martin Luther King Jr. "I'm not sitting here if he didn't have a dream and he didn't fight for that dream the right way," Jackson said. ... The Warriors haven't won a series against the Pacers since the 2000-01 season. ... Indiana hosts Golden State on March 4 in the teams' only other meeting this season.
Copyright by STATS LLC and The Associated Press
Photo Wire
OAKLAND, CA - JANUARY 20: Stephen Curry #30 of the Golden State Warriors shoots against the Indiana Pacers on...
(Photo by Rocky Widner/NBAE via Getty Images)
Around The Association
MVP: Paul George was transcendent yet again, setting the tone with a 14-point first quarter to give Indiana the early edge. Subsequently, George was quiet until the closing minutes when big buckets helped him finish with 23 points on 9-for-20 shooting and a crunch- time victory.
LVP: Tonight was Jordan Crawford's first home game as a Golden State Warrior following his trade from the Boston Celtics, but Crawford did not please the Oracle crowd in his showing. His final stat line was 1-for-5 from the field and three turnovers in 13 minutes.
X factor: Lance Stephenson has been a quiet co-star to Indiana's George. Even in a poor shooting night, "Born Ready" contributed big with 10 rebounds, 7 assists and just one turnover in a whopping 43 minutes of action -- including a huge three in the closing minutes to seal the win.
Next 5 Games
Indiana
Golden State
01/22 @PHX 10:30pm
01/24 @SAC 10:00pm
01/25 @DEN 9:00pm
01/28 @LAL 10:30pm
01/30 PHX 7:00pm

01/24 MIN 10:30pm
01/26 POR 9:00pm
01/28 WSH 10:30pm
01/30 LAC 10:30pm
01/31 @UTAH 10:30pm

Complete Schedule: Indiana | Golden State