Coverage: TNT
8:00 PM ET, February 27, 2014
AmericanAirlines Arena, Miami, FL
Top Performers
NY: C. Anthony 29 Pts, 7 Reb, 2 Ast, 1 Blk
Mia: L. James 31 Pts, 4 Reb, 4 Ast
MIAMI -- For LeBron James, the mask was distinctive.
His effort, that was basically the same as usual.
So, too, was the outcome for the New York Knicks.
Playing with a dark carbon-fiber mask to protect his broken nose -- a "menacing" look is how Heat coach Erik Spoelstra described it -- James scored 31 points to help Miami beat the reeling Knicks 108-82 on Thursday night.
"I tried to put pressure on the defense, tried to make plays and I was happy to be back on the floor," said James, who missed one game because of the nose, which got broken on Feb. 20 at Oklahoma City.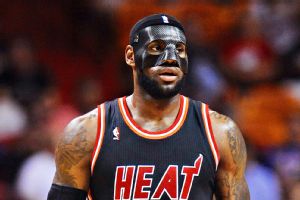 Steve Mitchell/USA TODAY Sports
LeBron James was a masked man in his return from a broken nose Thursday night for the Heat.
James made 13 of 19 shots and topped 30 points for his fifth consecutive outing. He said he plans to play with a mask for the next couple weeks, at least.
"As much as I don't like it, I have to figure out how to make it work," James said.
Dwyane Wade added 23 points, shooting 10 for 13 from the field. The Heat outscored New York 23-3 over the final 7:02 of the third and won their sixth straight.
The Heat shot 61 percent, while the Knicks shot 37 percent. No team shot better than 49 percent against Miami in 10 games during February, and none of the last four Heat opponents have shot better than 40 percent.
"Where we need it to be," Wade said. "That's how we win games."
Carmelo Anthony scored 29 points for New York, but none in the final 21:38. Tyson Chandler had 19 points and 16 rebounds, and J.R. Smith added 11 points for the Knicks, who fell to 2-10 in February.
"I don't know if we got defused or what," Anthony said. We didn't bounce back."
Raymond Felton, in his first game since being arrested on gun charges, missed six of seven shots and scored only two points for the Knicks.
"No excuses," Felton said.
Norris Cole, Mario Chalmers and Ray Allen each scored 11 points for the Heat, who are 41-7 in February games over the last four seasons.
James got the buzz for this one going just before tip-off, strapping the mask over the top half of his face, the deviation from the usual clear-plastic look enough to send Twitter users into some sort of commenting overdrive.
"He played like Batman," Heat forward Chris Bosh said.
More importantly to the Heat, the mask didn't seem to impair James' vision much. James had 11 in the opening quarter, the Heat finished the period with a six-point lead and soon stretched the margin to 16 in the second quarter. A hook shot from Wade in the lane was his seventh straight make, giving Miami a 43-27 lead and indicating things would be a runaway.
Eventually, they indeed would.
But New York made it interesting for a bit.
Nose For The Bucket
LeBron James had 31 points on 13-of-19 shooting Thursday night. It marked his NBA-best 19th game in the last two seasons he's had at least 30 points while shooting at least 65 percent from the field. Here's a look:
Player
Games
LeBron James
19*
Kevin Durant
10
Dwyane Wade
7
Blake Griffin
6
* 3 straight (tied for longest of career)
-- ESPN Stats & Information
Anthony had a brilliant flurry, scoring all 16 of his second-quarter points in the final 5:52 of the period as New York erased just about every bit of that big Miami lead. Then with 8:36 left in the third, Anthony set up Smith for a jumper that got New York to 64-61.
And from there, it was all Miami.
That's when the huge run to end the third got started. The Knicks missed 12 of their final 13 shots to end the third -- their only field goal in the final 8 1/2 minutes was a layup by Tim Hardaway Jr. -- and the Heat just got rolling. For some perspective, James had 12 points in the quarter while the Knicks, total, had 14.
"We crumbled," Anthony said. "It got out of hand."
Shane Battier set up James for a down-the-lane dunk that got Miami's lead back to double digits at 72-61 and the snowball just kept growing. A 10-0 run in the final 2:21 of the quarter turned it into a runaway; James got fouled by Anthony and turned it into a three-point play with 1:58 left, then beat Anthony on a cut and accepted a pass from Cole for an easy layup on the next possession.
One trip later, Allen hit a 3-pointer, and just like that, Miami's lead was 23, the outcome quickly becoming academic.
Game notes
It was the first time in Miami as an opponent for Hardaway, with the Knicks bench at the end of the court where Tim Hardaway Sr.'s retired jersey number hangs from the rafters. ... Wade missed about three minutes in the first quarter to get an ankle re-taped. ... Dwayne "The Rock" Johnson was among the stars in attendance. ... The Heat didn't get a single offensive rebound until the fourth quarter.
Copyright by STATS LLC and The Associated Press
Photo Wire
MIAMI, FL - February 27: Dwyane Wade #3 of the Miami Heat handles the ball during a game against the New York...
(Photo by Issac Baldizon/NBAE via Getty Images)
Around The Association
MVP: Wearing a black mask to protect his broken nose, LeBane ... err ... LeBron James (31 points, 4 rebounds, 4 assists) ransacked the Knicks' defense with cold-blooded efficiency. His sidekick, Dwayne Wade (23 points), was equally ruthless.
LVP: Tim Hardaway Jr. was minus-35 for the game. He was awful on both ends of the floor. He finished with six points on 2-for-15 shooting and got lit up defensively by Wade all night long.
Defining moment: Early in the third quarter, the Knicks were able to cut the deficit to 61-59. But then the Heat went into overdrive, finishing the period on a 26-5 run to turn the game into a blowout.
Research Notes
LeBron James
scored 18 of his game-high 31 points on drives Thursday. James was 7-of-8 (87.5%) from the floor on 10 drives, including four fouls drawn. James entered Thursday shooting 64.2% on drives, second among 137 players with at least 100 drives.
[+]
From Elias:
LeBron James
is the 1st player since Shaquille O'Neal in March 2003 to post a calendar month (min. 5 games) with averages of 30 PPG, 8 RPG and 57% FG.
LeBron James
and
Dwyane Wade
combined to shoot 18-20 (90%) inside the paint against the Knicks, the 4th-highest percentage they've shot in the paint together as teammates.
LeBron James
played 16 games during the 2004-05 season with a protective mask after breaking his cheekbone. He didn't appear to be slowed down at all during this stretch, shooting 51% from the field, compared with 46% percent the rest of the season, and on average he was taking shots closer to the basket.
[+]
Remember last season when the Heat began a 27-game win streak on February 3? They went 12-1 in February 2013 and just completed THIS February with a record of 9-1.
[+]
LeBron James
had an impressive February, but just a month before,
Kevin Durant
had stolen the show throughout January. Which one was better? It's very close. Durant put up more points per game in his month, but James has the edge in rebounds and assists per game. James also had the advantage in effective field goal percentage, which adjusts for the increased value of a 3-pointer.
[+]
After a rough January, the Heat have won 5 straight games en route to posting an 8-1 record this month.
[+]
We all have seen the exploits of
LeBron James
this month but has
Dwyane Wade
been overlooked? D-Wade shot 60.9 percent from the field this month... one of 3 guards in the last 25 seasons to reach that mark in February. Thursday, Wade shot a season-high 77 percent from the floor against the Knicks.
[+]
ESPN Stats & Information