Coverage: ESPN/WatchESPN
2:39 PM ET, March 14, 2013
Madison Square Garden, New York, New York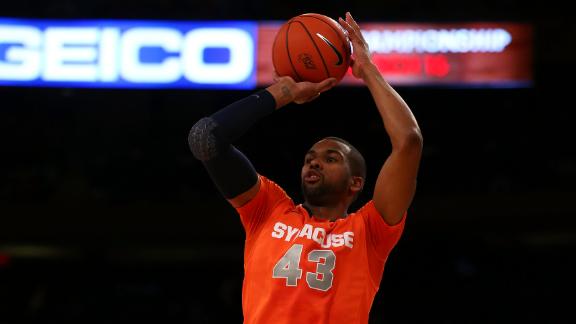 Syracuse Outlasts Pittburgh
James Southerland went 6-for-6 from deep and finished with 20 points to help Syracuse advance to the Big East semifinals.
Syracuse Outlasts Pittburgh
VIDEO PLAYLIST
NEW YORK -- Neither Syracuse nor Pittsburgh wanted to see its Big East tenure end in the quarterfinals of their last conference tournament.
James Southerland and Michael Carter-Williams kept Syracuse's run at one more title going as the 19th-ranked Orange beat No. 17 Pittsburgh 62-59 on Thursday at Madison Square Garden.
Both schools are leaving for the Atlantic Coast Conference next season. They didn't disappoint the sellout crowd, providing one last great game before they head south.
More from ESPN.com

Although it came up short against Syracuse, Pitt leaves the Big East the way it spent much of its time in the league -- swinging and scrapping, Dana O'Neil writes. Story
• O'Neil A fitting final
"We know that this means a lot to us, as a basketball team and as a program," Syracuse's Brandon Triche said. "This can very much jump start us to the (NCAA) tournament. So we know how important this Big East tournament is."
The fifth-seeded Orange (25-8) advanced to the semifinals against top-seeded Georgetown, which is one of the seven Catholic schools that have left their football counterparts behind in an attempt to have a basketball-centric conference.
"The doubleheader that's going to be here tomorrow night will be a great basketball night, I think," Syracuse coach Jim Boeheim said. "It's a great way for this league to go out. We got to the semis in this tournament a lot, I think over 20 times, and it's great to be able to do that because it means you played pretty good, and that's what we're trying to do, play good and get ready for, unfortunately, the only thing that matters, next week."
This will be the 14th time the schools have met in the Big East tournament and the Hoyas hold the series lead at 7-6.
"Georgetown is a team that's going to play tough and physical," Southerland said. "So if you keep moving, getting people open and setting screens, we'll be fine."
Southerland had a second straight great effort from 3-point range and Carter-Williams scored Syracuse's last seven points against Pittsburgh in a game in which the final 1:15 was a great way for the programs to play one last time in the Big East.
Southerland had 20 points as he did in the second-round win over Seton Hall and again almost all the points came from beyond the 3-point arc. The senior forward was 6 for 6 on 3s against Pittsburgh -- the Big East tournament record for 3s without a miss -- a day after going 6 for 9 from beyond the arc against Seton Hall.
"It's a great feeling," Southerland, who shot 38.7 percent on 3s coming in, said of his shooting streak. "I didn't realize I was 6 for 6 until I looked down at the paper now. I don't think about it. I just go out and play and make sure I make every shot."
Carter-Williams had 11 points and seven assists, taking over for the Orange over the closing minutes. He capped his personal closing run with four free throws -- all on 1-and-1s -- in the final 28 seconds. The last two free throws that made it 62-57 came after he stole the ball from Pittsburgh's James Robinson near midcourt with 10 seconds left.
Men's NCAA Tourney: Automatic Bids

Florida Gulf Coast was the first team to earn a trip to the men's NCAA tournament, take a look to see who also made it. They're In
"I don't think we win the game if he doesn't go to the line and make those free throws," Boeheim said. "They had a lot of momentum, and it would have been difficult for us if he hadn't made those, and then he makes a great defensive play at the other end too."
Lamar Patterson had 14 points and 11 rebounds for the fourth-seeded Panthers (24-8), who will certainly receive an at-large bid to the NCAA tournament but won't be able to add a third Big East title.
"Obviously, we wanted to win this tournament, and now we're going to be going home, and it's disappointing," Pittsburgh coach Jamie Dixon said. "I think that was really the main focus of ours, we were here to win today and win this tournament. ... We were focused on winning this tournament, and we were focused on winning this game, and now we've got to go focus on getting ready for the NCAA tournament."
With Southerland hitting five 3s, the Orange took a 40-27 halftime lead. Pitt cut the lead to four points twice, and a 10-3 run got the Panthers within 58-57 with 30 seconds to play.
Talib Zanna had a chance to tie the game but missed the free throw that would have completed a three-point play.
"I saw a lot from our guys," Dixon said. "I saw what our team is made of in that second half."
Syracuse, which was 9 of 15 from 3-point range against Seton Hall, was 12 of 19 (63.2 percent) from there against the Panthers. The Orange came into the game ninth in the conference in 3-point shooting at 32.0 percent.
C.J. Fair, who was 3 of 5 on 3s, had 13 points for the Orange, who have won three of their last seven. Triche added 12 points for Syracuse, which has won five Big East titles, the last in 2006.
Tray Woodall had 12 points for Pittsburgh, which had been to the championship game seven of the last 12 years.
Pittsburgh had won nine of the last 11 meetings with Syracuse.
Copyright by STATS LLC and The Associated Press
Around The NCAA Tournament
Player of the game: Orange forward James Southerland went 6-for-6 from the 3-point line and scored 20 points in what became a down-to-the-wire competition.
X factor: Michael Carter-Williams scored the last six points of the game for Syracuse, but it was his steal with 16 seconds left -- and the Orange leading by 3 -- that was the game-sealer. He was fouled after his clutch defensive play, and buried two free throws to secure the victory.
Miscellaneous: Georgetown-Syracuse III? Yes, please. Friday's semifinal game should be intense. Meanwhile, this marked Pitt's last game in the Big East Tournament; next year, it (and the Orange) will be battling it out in the ACC.
Team Stat Comparison
| | SYR | PITT |
| --- | --- | --- |
| Points | 62 | 59 |
| FG Made-Attempted | 22-47 (.468) | 21-56 (.375) |
| 3P Made-Attempted | 12-19 (.632) | 6-19 (.316) |
| FT Made-Attempted | 6-10 (.600) | 11-19 (.579) |
| Fouls (Tech/Flagrant) | 18 (0/0) | 14 (0/0) |
| Largest Lead | 13 | 2 |
Next 5 Games
SYR
PITT
03/15 @GTWN 7:00pm
03/16 @LOU 8:30pm
03/21 MONT 10:41pm
03/23 CAL 9:40pm
03/28 @IND 9:52pm

03/21 WICH 1:40pm
11/08 SAV 7:00pm
11/12 FRES 7:00pm
11/17 HOW 5:00pm
11/20 LEH 7:30pm

Complete Schedule: Syracuse | Pittsburgh
Research Notes
Michael Carter-Williams
had seven assists Thursday against Pittsburgh and is averaging 10.5 assists in Syracuse's first two games of the 2013 Big East Championship. Carter-Williams and Syracuse struggled before winning their first two games in New York, losing four of five games entering the tournament. His assists have led to 53 Syracuse points in the first two games of the tournament, 33 of which have come from 3-point range.
[+]
ESPN Stats & Information