Coverage: truTV
6:40 PM ET, March 20, 2013
University of Dayton Arena, Dayton, Ohio
Top Performers
LIU Brooklyn: J. Olasewere 20 Pts, 10 Reb, 1 Ast, 2 Stl
James Madison: A. Nation 14 Pts, 7 Reb, 4 Ast, 1 Stl, 5 Blk
DAYTON, Ohio -- After winning the program's first NCAA tournament game in 30 years, James Madison sounds as if it's not done.
Andre a Giant for JMU
Andre Nation pretty much did it all in James Madison's first-round NCAA tournament win on Wednesday night. The freshman became just the ninth player with at least 14 points, seven rebounds, five blocks and four assists in the tourney since 1986. Here's a look:
Year
Player
School
2013
Andre Nation*
James Madison
2010
Ekpe Udoh
Baylor
2010
Curtis Kelly
Kansas State
2007
Josh McRoberts
Duke
2006
Joakim Noah
Florida
2002
Ryan Humphrey
Notre Dame
1997
Jason Lawson
Villanova
1996
John Wallace
Syracuse
1992
Shaquille O'Neal
LSU
-- ESPN Stats & Information
A.J. Davis
, who stepped in as a starter because the leading scorer was suspended for a half, led the way with 20 points as the Dukes beat
LIU Brooklyn
68-55 on Wednesday night in the First Four.Immediately, their thoughts turned to top-seeded Indiana (27-6), who they'll play on the same University of Dayton Arena court on Friday night."They're Indiana," defiant defensive stalwart
Andre Nation
said. "We know about them. We see them on the TV all the time. It's not nothing new."He's not the only Duke who was undaunted."We have some older guys. They're typically pretty unafraid of any of the challenges we face," coach Matt Brady said.James Madison was without suspended starter
Rayshawn Goins
for the first half but built a big lead. After the Blackbirds (20-14) battled back to take a brief lead, the Dukes surged again to win going away by closing the game on a 10-2 run.Davis opened the game with an emphatic 3 as if to say this was his time. And he didn't let up."Coach said don't do anything outside of your character, just be humble and play your game," Davis said. "While Rayshawn was sitting out, a couple of guys came off the bench and stepped up for us."
Charles Cooke
, who hadn't scored in three of his last four games, added 15 points and Nation added 14 for the Dukes, who were winless in the NCAA tournament since 1983 and hadn't played in the big dance in 19 years.
Jamal Olasewere
had 20 points and 10 rebounds and
C.J. Garner
16 points for the Blackbirds, who have lost in their first game in each of their six trips to the tournament, including the last three years.Goins, JMU's leading scorer (12.7) and rebounder (7.4), was suspended for the first half following a weekend arrest. Police in Harrisonburg, Va., said they were called to break up a party early Sunday morning and Goins was shouting obscenities at them.
Bracket Predictor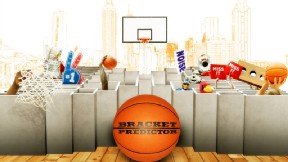 Yet Brady, who made the call to sit Goins, is 1-0 in NCAA play."Some of the greats of the game have been in the NCAA tournament and have struck out for a few years at a time," he said, shaking his head. "This really says more about this team than it does me. These seniors really wanted the opportunity to win a game for our program, and I feel great for our kids."After falling behind by as many as 12 points early,
E.J. Reed
's two foul shots with 15:02 left gave the Blackbirds their first lead of the game. But after falling behind, JMU found another gear.
Devon Moore
, who had six assists, scored in transition right through the heart of the lane, Nation hit a follow and Davis took a long pass and popped in the shot off glass for a 45-40 advantage.Nation then blocked a shot -- one of 10 by the Dukes -- at the other end and tossed a halfcourt lead pass to Cooke, who dunked while being fouled. His three-point play made it a 9-0 run for a 48-40 lead with under 12 minutes left.The Blackbirds never got closer than five points again.Olasewere gave credit to JMU's defense."(Nation) had five blocks as a guard," he said softly. "Around the rim, he made me struggle."Goins came in early in the second half but appeared out of synch for several minutes. After missing his first three shots badly, he finally got on the board with a muscular move inside on a putback with 7:36 left to push the lead to 56-51. The next trip down the floor, he scored again, this time off a nifty assist pass inside from
Ron Curry
.
Recruit and Return: LIU Brooklyn

Adam Finkelstein takes a look at who the Blackbirds lose, who they add and what it means for 2013-14. Story

It was not a huge falloff going to Davis in the starting lineup in place of Goins, since Davis was MVP of the Colonial Athletic Association tournament just over a week ago, and came in averaging 20.5 in his last 10 games and 20.7 in the CAA tourney."My teammates are finding me and Coach is drawing up good plays for me," Davis said. "We're just playing confident and playing within our system."The Blackbirds came in trying to duplicate the success of fellow Northeast Conference member Robert Morris, which stunned defending national champion Kentucky 59-57 in the opening round of the NIT on Tuesday night.They had also weathered their share of adversity. They opened 0-4 and then lost Julian Boyd, their conference's top player the year before, with a season-ending knee injury after eight games.After scoring at least 90 points in their last four games, they were held to 36 percent shooting for the game (23 percent in the second half) and had difficulty stringing together baskets against JMU's sticky defense."Plain and simple, they really bothered our shots," first-year coach Jack Perri said. "That was something we weren't necessarily thinking was going to happen."Now, the Dukes have taken a step toward reminding people how dangerous they used to be.Once upon a time, Lou Campanelli coached the Dukes to mammoth NCAA upsets over Georgetown in 1981, Ohio State in 1982 and West Virginia in 1983. The 1982 team lost to eventual national champion North Carolina -- led by Michael Jordan, James Worthy and Sam Perkins -- 52-50 in the final minute.But James Madison's last appearance came with Lefty Driesell prowling the sideline in 1994.Brady figured his Dukes have one huge advantage over Indiana since they've already played on the court. And they're already in Dayton."I'm hoping they haven't arrived in town just yet and they get here right before the game starts," he said with a laugh.
Copyright by STATS LLC and The Associated Press
Team Stat Comparison
| | LIU | JMU |
| --- | --- | --- |
| Points | 55 | 68 |
| FG Made-Attempted | 21-59 (.356) | 26-56 (.464) |
| 3P Made-Attempted | 3-16 (.188) | 8-23 (.348) |
| FT Made-Attempted | 10-14 (.714) | 8-12 (.667) |
| Fouls (Tech/Flagrant) | 12 (0/0) | 16 (0/0) |
| Largest Lead | 1 | 13 |
Series
| DATE | GAME | LINKS |
| --- | --- | --- |
| » Mar 20, 2013 | @JMU 68, LIU 55 | Recap |
Research Notes
Andre Nation
had a huge game for James Madison, becoming just the ninth player in NCAA Tournament history with at least 14 points, 7 rebounds, 4 assists, and 5 blocks in a game.
[+]
Long Island played zone on 32 of 59 defensive possessions (54.2 percent) Wednesday against James Madison. LIU averaged zone on only 12.7 percent of its possessions coming into the tournament. James Madison shot 41.2 percent from the field against the zone but scored 10 of its 18 second chance points when LIU played zone.
ESPN Stats & Information