Coverage: ESPN/WatchESPN
9:00 PM ET, December 4, 2013
Breslin Center, East Lansing, Michigan
EAST LANSING, Mich. -- North Carolina flashed its potential again, earning another impressive victory after a second shaky setback.
J.P. Tokoto had 12 points and a career-high 10 rebounds to help the Tar Heels beat No. 1 Michigan State 79-65 Wednesday night.
North Carolina (5-2) has been talented enough to knock off the top-ranked Spartans and then-No. 3 Louisville this season, but the Tar Heels have also lost to Belmont and UAB.
More from ESPN.com

North Carolina's roller coaster of a season hit another high Wednesday when the Tar Heels knocked off No. 1 Michigan State on the road just three days after losing to UAB, Chantel Jennings writes. Story
---

The Big Ten/ACC Challenge ended in a 6-6 tie, but Ohio State emerged as the big winner, while Michigan State lost its No. 1 ranking at home, C.L. Brown writes. Story
• Stats & Info: Williams' winning ways
• Nation blog
"I truly believe after the Louisville win, our mentality after that was, 'Birmingham is just going to be an automatic win. Just because we're North Carolina,' " Tokoto said. "We can't have that mentality -- and kind of learned that Sunday night.
"We came here, were ready to play, intensity level was up, and we got results."
The Spartans (7-1) lost to an unranked nonconference team at home for the first time in more than a decade. They looked nothing like the team that beat then-No. 1 Kentucky a few weeks ago or the program that has had so much success over nearly two decades under coach Tom Izzo.
"One of the more disappointing performances of my career here," Izzo said. "From the jump ball, they kind of took it to us."
The Tar Heels took control from the start, never trailed and used a 12-1 run to take a 65-52 lead with 6:02 left.
"Michigan State did not want it that much more than we did," North Carolina coach Roy Williams said.
Izzo agreed.
"We looked soft," he lamented.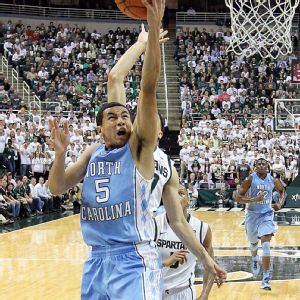 Mike Carter/USA TODAY Sports
Marcus Paige's Tar Heels beat a No. 1 team for the first time since topping Duke on March 4, 2006.
North Carolina outrebounded the Spartans by 11, leading to 19 second-chance points. The Tar Heels turned 14 of Michigan State's turnovers into 19 points and held the Spartans to 36 percent shooting.
"We're as happy as we can possibly be -- 179 degrees away from where we were after the UAB game," Williams said.
Kennedy Meeks scored 15 points for North Carolina and Brice Johnson had 14 off the bench. Marcus Paige and Nate Britt added 13 apiece.
"You can't tell in college basketball what's going to happen," Williams said. "At one point, we had three freshmen, a sophomore and a junior on the court."
Gary Harris had 17 points and Keith Appling scored 13, but both Michigan State guards missed 10 of 15 shots. Adreian Payne had 16 points and eight rebounds for the Spartans, whose last loss at home against an unranked nonconference team was to Toledo on Dec. 30, 2002.
The Tar Heels beat a No. 1 team for the first time since March 4, 2006, at Duke, and they have a nation-high 13 wins over top-ranked teams. They've won seven straight against the Spartans, including in the 2009 NCAA final.
Tokoto has taken advantage of an expanded role while P.J. Hairston and Leslie McDonald sit out because of NCAA eligibility concerns.
SportsNation: North Carolina's identity

UNC beat Louisville and Michigan State. And lost to Belmont and UAB. Who are the real Heels? Vote! »
The 6-foot-5 Tokoto, who is from Wisconsin, made some friends and family members in the stands at the Breslin Center happy while green-and-white clad fans didn't have much to get excited about.
Tokoto blocked a shot early in the second half, got to a loose ball and threw it to Appling -- while the Michigan State player was standing out of bounds -- and made three straight shots later in the half to help the Tar Heels pull away.
"J.P. was really active," Williams said. "He did a lot of things. He's so athletic."
Michigan State pulled into a 32-all tie at halftime after an awful start, struggling to take care of the ball or make shots.
The Tar Heels scored the first six points of the game and led 16-4 while holding the Spartans to 1-of-7 shooting with four turnovers.
On the bench, North Carolina freshman Isaiah Hicks implored his teammates to keep playing and avoid looking at the scoreboard. The Tar Heels seemed to do that, building a 20-6 cushion midway through the first half as Michigan State missed nine of 11 shots and turned the ball over six times.
The Spartans got a scare later in the half when Appling landed hard on his right hip after defending a shot. He hobbled off the court, but was able to return to action before halftime.
Michigan State outscored the Tar Heels 13-2 over the last several minutes of the first half.
The Spartans, though, couldn't do enough to get ahead in the second half and they will likely fall in next week's poll after being No. 1 for a school-record three weeks this season.
"They came off a loss and they looked hungrier," Izzo said. "We came off all the hype and we looked not as hungry."
Copyright by STATS LLC and The Associated Press
Photo Wire
EAST LANSING, MI - DECEMBER 04: Kennedy Meeks #3 of the North Carolina Tar Heels tries to get a first half shot...
(Photo by Gregory Shamus/Getty Images)
Team Stat Comparison
| | UNC | MSU |
| --- | --- | --- |
| Points | 79 | 65 |
| FG Made-Attempted | 29-65 (.446) | 23-64 (.359) |
| 3P Made-Attempted | 2-11 (.182) | 7-24 (.292) |
| FT Made-Attempted | 19-27 (.704) | 12-18 (.667) |
| Fouls (Tech/Flagrant) | 20 (0/0) | 19 (0/0) |
2013-14 Season
| DATE | GAME | LINKS |
| --- | --- | --- |
| » Dec 4, 2013 | UNC 79, @MSU 65 | Recap |
Next 5 Games
UNC
MSU
12/07 UNCG 7:00pm
12/14 UK 5:25pm
12/18 TEX 7:00pm
12/21 DAV 5:00pm
12/27 NKU 7:00pm

12/14 @OAK 4:00pm
12/17 UNF 7:00pm
12/21 @TEX 4:00pm
12/28 UNO 4:15pm
12/31 @PSU 5:00pm

Complete Schedule: North Carolina | Michigan St
Research Notes
Michigan State had 12 assists Wednesday against North Carolina, its fewest in a game this season. The Spartans entered the game averaging 22 assists per game, most in the nation.
North Carolina scored 44 points in the paint Wednesday, its fourth most in a game since the start of last season. Michigan State scored 28 points in the paint, tied for its sixth fewest in a game since the start of last season.
[+]
North Carolina is the third team to beat the AP No. 1 team on the road while making two or fewer three-point field goals since the three-point line was introduced in 1986-87.
[+]
The ACC/Big Ten challenge ended in a tie with each conference winning 6 games. Both conferences picked up just a single road win, but the ACC knocked off two ranked Big Ten teams with North Carolina taking out No. 1 Michigan State and Duke beating No. 22 Michigan.
[+]
Tom Izzo has lost all six of his games against Roy Williams since he returned to UNC in the 2003-04 season. Izzo did beat Roy in their lone meeting while Williams was at Kansas, but tonight will be his first shot against Roy and the Tar Heels in the Breslin Center.
[+]
The emergence of freshman
Kennedy Meeks
has been key to North Carolina's two wins over top-5 opponents.
[+]
ESPN Stats & Information