Coverage: ESPN/WatchESPN
7:30 PM ET, November 12, 2013
United Center, Chicago, Illinois
Top Performers
Michigan St: K. Appling 22 Pts, 8 Reb, 8 Ast, 4 Stl
Kentucky: J. Randle 27 Pts, 13 Reb, 1 Ast
CHICAGO -- As the buzzer sounded and his Michigan State teammates raced onto the court to celebrate, Gary Harris held his index finger aloft.
No doubt about who's No. 1.
More on Champions Classic

The Champions Classic did what college basketball needed: showcased its bright stars and put the spotlight on the sport in November, writes Michael Wilbon. Story

Michigan State did just enough to beat Kentucky on Tuesday, but the Wildcats learned a valuable lesson, writes Eamonn Brennan. Story
---
For now, at least.
Branden Dawson tipped in a miss with less than six seconds left, and the No. 2 Spartans hung on for a 78-74 victory over top-ranked Kentucky and its latest cast of phenoms in the first game of the Champions Classic on Tuesday night.
"We want to be No. 1 at the end of the season," Keith Appling said. "Not the beginning."
Keep playing like this and the Spartans (2-0) are sure to be in the conversation come the end of March.
Kentucky, too. After trailing by as much as 13 in the second half, looking like the freshmen most of them are, the Wildcats (2-1) showed why there's so much hype surrounding them. Julius Randle almost beat the Spartans single-handedly, scoring 23 of his 27 points in the second half and making a jumper with 42 seconds left that cut Michigan State's lead to 76-74.
But Dawson tipped in a miss by Denzel Valentine, and James Young missed a 3-pointer at the buzzer.
"You got guys crying in there, which is a good thing," Kentucky coach John Calipari said. "I want it to hurt like that. I knew this would get their attention. The biggest thing is if you don't do this together, you won't win. You'll never be a special team."
This was the earliest 1 vs. 2 match-up, and first since Feb. 23, 2008, when Tennessee beat top-ranked Memphis. The Tigers coach then? None other than Calipari.
This game had even more hype, mostly because of the Kiddie Cats. Much has been made of the youngsters, with good reason. The last time Calipari had a roster this star-studded, the Wildcats won a national title.
This group might be even more impressive.
Izzo Joins Rare Company
Tom Izzo became just the third coach with three wins over No. 1 teams over the last eight seasons. Izzo joins Seth Greenberg and Kevin Stallings in this rare group.
Most Wins vs No. 1 Team
Last 8 Seasons
Coach
Wins
School
Tom Izzo
3*
Michigan State
Seth Greenberg
3
Virginia Tech
Kevin Stallings
3
Vanderbilt
*- First win vs No. 1 came 8 seasons ago
--ESPN Stats & Information
Six were McDonald's All-Americans, and all are considered lottery picks in next summer's NBA draft, with Randle a possibility for the overall No. 1. The youngsters did nothing to lessen the hype in their first two games, with Randle averaging 22.5 points and 15 rebounds, and the Harrison twins averaging in double figures. No wonder the game brought out scouts from almost every NBA team and celebrities including Nazr Mohammed and Detroit Lions defensive tackle Ndamukong Suh.
But the Spartans aren't exactly slouches, returning six of their top seven scorers. Just as important, big-time games like this are nothing new to them, with Izzo routinely scheduling the likes of Connecticut, Duke, North Carolina and Kansas before Jan. 1.
"They're really good," Calipari said. "This is the second game out and they go 17 assists to seven turnovers? That's unbelievable. Again, understand we're not the greatest defensive team, but 17 and seven? With these lights and all that's going on around them? They're well coached. They played well."
Appling came within two rebounds and two assists of a triple-double, finishing with 22 points, and eight rebounds and assists. Harris had 20 points and Adreian Payne had 15 points and four rebounds for the Spartans.
Kentucky had strolled through its first two games, with Randle and the other freshmen coming up big. But there's a big difference between those non-conference patsies and Michigan State, and the Spartans let the Wildcats know what they were up against from the opening tip.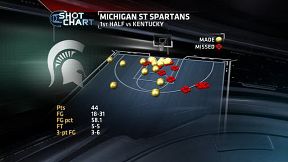 ESPN Stats & Info
Michigan State hit 58.1 percent of its field goals in the first half against Kentucky.
Smothering the Wildcats defensively and leaving them flat-footed with their surprising speed on offense, Michigan State had a 10-0 lead before Kentucky got its first bucket. The Cats had seven turnovers before the midway point of the first half, and would finish with 17.
And it was clear that, with four freshmen in the starting lineup and another getting heavy playing time, the Wildcats are still getting used to each other, too. At one point, Andrew Harrison rifled a no-look pass to Willie Cauley-Stein that Cauley-Stein wasn't expecting, and the ball sailed out of bounds.
They struggled at the line, too, going just 20 of 36.
"They're going to get a lot better. Give them credit," Izzo said. "But I thought we played awfully well for a lot of that game."
Still, the Spartans got in foul trouble midway through the second half, and the slower pace gave the Wildcats time to catch their breath and regroup. It also gave a seething Randle an opportunity to work out his anger.
"What I loved about him, he gritted his teeth, was ornery and nasty and he wanted to put them on his shoulders," Izzo said. "For a freshman, that speaks volumes. He completely did that. You could see it and hear him. Tough kid."
Randle scored nine points in a 13-1 run that cut Michigan State's lead to 60-59 with 8:05 left, including a "How'd he do that?" off-balance jumper from behind a sea of green jerseys. He and Harrison each made a pair of free throws to tie the game at 66 with 4:48 left.
But Appling drilled a 3, and Harris stripped Randle at the other end. He took it in for a layup that put the Spartans back in front, 71-66, bringing the Michigan State fans -- including Spartan in Chief, Magic Johnson -- to their feet.
Randle wasn't done just yet, however. After Harrison's free throws Kentucky within 76-72 with 1:33 to play, the Wildcats pounced on an Appling turnover and Randle scored on a jumper. But Dawson's tip-in sealed the win.
"I keep reiterating: They're going to get a lot better," Izzo said. "But I honestly believe so will we."
Copyright by STATS LLC and The Associated Press
Photo Wire
CHICAGO, IL - NOVEMBER 12: Denzel Valentine #45 of the Michigan State Spartans grabs Alex Poythress #22 of the...
Team Stat Comparison
| | MSU | UK |
| --- | --- | --- |
| Points | 78 | 74 |
| FG Made-Attempted | 30-63 (.476) | 25-55 (.455) |
| 3P Made-Attempted | 5-12 (.417) | 4-20 (.200) |
| FT Made-Attempted | 13-17 (.765) | 20-36 (.556) |
| Fouls (Tech/Flagrant) | 27 (0/0) | 19 (0/0) |
2013-14 Season
| DATE | GAME | LINKS |
| --- | --- | --- |
| » Nov 12, 2013 | MSU 78, @UK 74 | Recap |
Next 5 Games
MSU
UK
11/15 CLMB 9:00pm
11/18 PORT 7:00pm
11/22 VT 10:00pm
11/23 OKLA 9:30pm
11/29 MSM 1:00pm

11/17 RMU 7:00pm
11/19 UTA 7:30pm
11/25 CLEV 7:00pm
11/27 EMU 4:00pm
12/01 PROV 8:30pm

Complete Schedule: Michigan St | Kentucky
Research Notes
Michigan State outscored Kentucky 25-13 in transition Tuesday.
Keith Appling
led the Spartans with 11 points in transition, making all four of his attempts.
[+]
Kentucky scored more than half its points on field goals from inside the paint Tuesday.
James Young
and
Andrew Harrison
were the only Wildcats to make a field goal from outside the paint.
[+]
Julius Randle
had more than twice as many paint touches in the second half than he did in the first half, scoring 16 of Kentucky's 26 second-half paint points.
[+]
Kentucky hit the boards on Tuesday, outrebounding Michigan State by 12 and grabbing more than half of their own missed shots (18 offensive rebounds on 30 missed FG). But Michigan State did all the little things right, including grabbing assists on half of their buckets. And the Spartans missed only 4 free throws, compared to 16 for the Wildcats.
[+]
ESPN Stats & Information