Coverage: ESPN/WatchESPN
2:00 PM ET, February 8, 2014
Carver-Hawkeye Arena, Iowa City, Iowa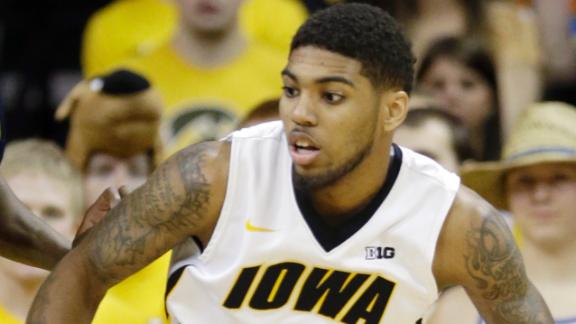 Iowa Routs Michigan
Roy Devyn Marble scored 26 points to lead No. 17 Iowa past No. 10 Michigan 85-67.
Iowa Routs Michigan
VIDEO PLAYLIST
IOWA CITY, Iowa -- Roy Devyn Marble's hot shooting at the start sparked his teammates. It even helped his defense.
Marble scored 22 of his 26 points in the first half and No. 17 Iowa beat No. 10 Michigan 85-67 on Saturday. Marble even drew the defensive assignment on Nik Stauskas for much of the game, holding the Wolverines' leading scorer to 10 points.
More from ESPN.com

In order for Iowa to fire on all cylinders, it needs Roy Devyn Marble to play well. His 26 points helped the Hawkeyes dominate Michigan, Myron Medcalf writes. Story

Iowa coach Fran McCaffery called it his team's best performance of the season.
"I just wanted to come out and be aggressive," Marble said. "I just told the guys come out here and play hard. If we win, we win, if we lose, we lose. But you won't be able to doubt our lack of toughness and our energy on both ends of the court."
The Hawkeyes (18-6, 7-4 Big Ten) have beaten two AP Top 10 teams in the regular season for the first time since 1990-91. Iowa avoided a third straight loss at home and split the season series with Michigan.
Caris LeVert scored 22 points for the Wolverines (17-6, 9-2), who have lost two of three after starting 8-0 in the Big Ten.
Iowa's Aaron White had 11 points and eight rebounds. Mike Gesell had 10 points and matched a career high with eight assists -- five on Marble's baskets.
Marble was 6 of 9 from 3-point range in the first half -- more 3s than the Hawkeyes made as a team the last five games.
Iowa, which ranks next to last in the Big Ten in 3-point field goals, finished 10 of 17 from behind the arc.
"When Dev got hot, I was just finding him and finding my shooters," Gesell said. "It's really not that hard of a job when you have guys that can score like that."
In the season's first matchup of these teams, Stauskas tied a career high with 26 points. McCaffery said Iowa was locked into collectively stopping Stauskas, who was held to 3-of-6 shooting on Saturday.
"They made a lot of adjustments," Stauskas said. "They did things on our ball screens and handoffs, which made things difficult. They denied me the ball and when I did try to drive all their guys were in the gaps."
The Hawkeyes led by as many as 16 points in the first half as Marble connected on three 3-pointers for Iowa's first nine points.
Later in the half, Marble's sharp crossover led to a quick layup. Marble knocked down another 3-pointer on the next possession, turning to salute the sellout crowd at Carver-Hawkeye Arena.
Marble hit two more 3-pointers at the end of the half -- one just before the buzzer -- to give Iowa a 43-29 lead.
Michigan never got closer in the second half.
"Iowa punched us early today, and it was hard to respond," Michigan coach John Beilein said. "This is how they were playing early in the season no matter who they were playing."
Marble's 22-point first half ended a stretch of bad starts for the Hawkeyes' leading scorer. He scored five points or less in the first half in five of Iowa's last six games, including two scoreless halves.
Marble finished 8 of 17 from the field and made all four of his free throws. He moved into 10th place on Iowa's all-time scoring list with 1,529 points.
The Hawkeyes are 6-0 in games following a loss this season.
Freshman Zak Irvin scored 19 points for Michigan, going 4 of 6 from 3-point range.
The Wolverines, who fell a half-game behind Michigan State in the Big Ten standings, next play at Ohio State with home games against Wisconsin and Michigan State to follow.
Iowa dominated in the post with 34 points in the paint and seven blocked shots. The Hawkeyes grabbed 38 rebounds to Michigan's 29.
"To beat Michigan, you have to play the kind of defense we played," McCaffery said. "They have so many different weapons so it was not only getting stops, it was getting stops and then running and getting offensive opportunities in transition."
Copyright by STATS LLC and The Associated Press
Photo Wire
IOWA CITY, IA - FEBRUARY 08: Guard Zak Irvin #21 of the Michigan Wolverines goes to the basket during the first...
(Photo by Matthew Holst/Getty Images)
Team Stat Comparison
| | MICH | IOWA |
| --- | --- | --- |
| Points | 67 | 85 |
| FG Made-Attempted | 22-52 (.423) | 29-61 (.475) |
| 3P Made-Attempted | 9-25 (.360) | 10-17 (.588) |
| FT Made-Attempted | 14-18 (.778) | 17-22 (.773) |
| Fouls (Tech/Flagrant) | 13 (0/0) | 14 (0/0) |
Big Ten Conference Standings
Research Notes
Nik Stauskas
and
Glenn Robinson III
both committed a season-high four turnovers, and Glenn Robinson III scored a season-low two points. The duo scored less than half its combined season average Saturday.
[+]
Iowa's 85 points against Michigan is the most the Wolverines have allowed in a non-overtime game since Dec. 12, 2007 against Oakland (won that game 103-87).
Iowa outscored Michigan 22-8 in transition Saturday, holding the Wolverines to one transition point in the second half.
Roy Devyn Marble
had a game-high eight transition points, all in the first half.
[+]
Iowa scored more paint points, second-chance points, points off turnovers and transition points than Michigan Saturday. The Wolverines' 18 paint points are its second fewest this season.
[+]
The Wolverines are 3-3 vs ranked teams this season and
Nik Stauskas
has been the pivotal guy in each game. He's been much more assertive and efficient in the wins, averaging 14 shot attempts per game and shooting over 50 percent.
[+]
*Iowa shot 52.2% from outside the paint Saturday, including 58.8% from the 3-point line. The Hawkeyes shot 27.6% from outside the paint in its loss to Ohio State on Tuesday.
Roy Devyn Marble
scored 20 of his game-high 26 points outside the paint Saturday
[+]
Iowa has bounced back from every loss this season with a win, and has been impressive in those wins, outscoring its opponents by nearly 18 points per game.
[+]
Iowa's offensive efficiency (132.9) and turnover percentage (11%) are its best in conference play this season.
[+]
Michigan lost by 18 points Saturday and
Caris LeVert
outscored the rest of the Michigan starters, scoring at least 20 points for the fifth time in his career.
[+]
Michigan's 18-point loss at Iowa is its worst of the season; previous Feb. 2 at Indiana (11 points). Worst overall since losing by 18 on Feb. 6, 2010, against Wisconsin.
ESPN Stats & Information