Coverage: TBS
6:09 PM ET, March 29, 2014
FedExForum, Memphis, Tennessee
Top Performers
Dayton: D. Pierre 18 Pts, 3 Reb, 5 Ast, 2 Blk
Florida: S. Wilbekin 23 Pts, 1 Reb, 3 Ast, 3 Stl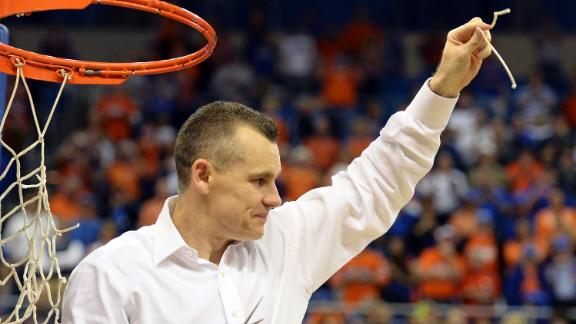 Florida Reaches Final Four
Sean Farnham explains how Florida was able to dispatch Dayton to advance to the Final Four after three consecutive years of Elite Eight heartbreak.
Florida Reaches Final Four
VIDEO PLAYLIST
MEMPHIS, Tenn. -- First yet again this season, the Florida Gators want more. Much more.
Try a national championship.
Scottie Wilbekin scored 23 points and Florida became the first team to advance to the Final Four with a 62-52 win Saturday night over the 11th-seeded Dayton Flyers in the South Region final.
More from ESPN.com

Overall No. 1 seed Florida was too complete, too tough and too good to fall in another Elite Eight. That's why it didn't, writes Eamonn Brennan. Story
The Gators reached their fifth Final Four after losing at this point in each of the past three NCAA tournaments. This time, they came in as the country's top-ranked team and the overall No. 1 seed.
Florida won its 30th straight game and improved to 36-2, topping the 35 wins by the 2007 national championship squad.
"I couldn't be prouder and happier," Florida coach Billy Donovan said after being drenched with water in the Gators' locker room.
"In a lot of ways, outside the Michigan game, we were close to being in three out of four Final Fours right now, and that says a lot about these guys. But I think those experiences maybe helped us be a better team this year than maybe we would have if we'd have gotten to a couple of ones earlier."
Patric Young scored 12 points, and Michael Frazier II added 10 for Florida. The Gators will play UConn in Arlington, Texas, in the national semifinal.
The celebration was a bit muted because a regional title isn't the Gators' end goal.
"There's more hunger within us, within this whole team to keep going," Young said.
Dyshawn Pierre led the Flyers with 18 points, including the final 11 for Dayton (26-11). Devin Oliver added 12 points.
Dayton came in trying to become only the fourth 11 seed to advance to the Final Four. The Flyers had upset Ohio State and Syracuse in reaching their first regional final since 1984. They missed their second Final Four and first since 1967 as Florida held them to their lowest scoring game this season.
Coach Archie Miller complimented the Gators, saying that just being on the floor with Florida gave Dayton a "big-time feeling."
Doubling Down For A Title
Florida has won each of its four tournament games by double digits. Five of the last six teams to do so went on to win the national championship.
| | National Champ? |
| --- | --- |
| Florida (2014) | ? |
| Kentucky (2012) | Yes |
| UNC (2009) | Yes |
| UNC (2008) | No |
| UConn (2004) | Yes |
| Duke (2001) | Yes |
| Michigan St. (2000) | Yes |
-- ESPN Stats & Information
"It's always hard to lose the last game of the season, but in the back of my mind, I'm not sure a team in the nation captured more people's hearts than these guys did, and they did it the right way," Miller said.
The Flyers hit one more field goal than Florida (19-18), but the Gators outrebounded them 37-26. They also had a massive edge at the free throw line (21 of 28) to (6 of 8).
Florida finished the first half on a 15-1 run to take the lead for good, going up 38-24. The Flyers opened the second half with two quick 3s to pull within eight, only to watch the Gators push their lead to 17 with 11:35 left on a layup by Young.
The Flyers kept coming but couldn't get closer than eight in the second half, the last at 58-50. The Gators went cold down the stretch, once missing five shots on one possession with five offensive rebounds.
Dayton missed chances to cut the lead as Oliver missed a 3-pointer with 2:07 left, then Scoochie Smith threw it away trying to pass out to Matt Kavanaugh.
Miller said Pierre was completely exhausted late.
"You can't go to a guy eight times in a row and expect him to score every time, but he gave us a fighting chance," Miller said.
Then Wilbekin ended the Gators' scoring drought at 4:39 with a pair of free throws, and he hit four of six at the line to finish the game.
Dayton took over the FedExForum so thoroughly that the Gators were booed when they came out for warm-ups and pre-game introductions. Miller tried to use his deep bench, using 11 Flyers at least 5 minutes trying to wear out the Gators with sheer numbers. Donovan nearly matched Dayton by going 10 deep himself.
The Gators went cold for nearly 6 minutes between a dunk by Casey Prather with 11:55 left in the half and a baseline drive by Frazier with 6:00 to go. The Flyers scored eight straight when Smith's 3 gave them their first lead of the game at 21-19 with 6:58 remaining.
Kendall Pollard's layup tied up Florida for the last time at 23, then Dorian Finney-Smith hit a free throw with 4:22 left putting the Gators ahead to stay.
As Florida went on its run, Dayton missed its final five shots. Finney-Smith grabbed a rebound of a missed 3 by Frazier and threw the ball back out for the final shot of the half. Wilbekin then beat the buzzer with a 3-pointer that helped quiet the Flyers' faithful for the first time all day.
Copyright by STATS LLC and The Associated Press
Photo Wire
MEMPHIS, TN - MARCH 29: A general view of the opening tip between the Dayton Flyers and the Florida Gators during...
(Photo by Alex Trautwig/Getty Images)
Around The NCAA Tournament
Deciding factor: Tempo. Florida controlled the pace of the game and limited Dayton's transition opportunities. The Flyers had been running and gunning in their three previous tournament wins but scored just eight transition points on Saturday thanks to Florida's full-court pressure defense.
Player of the game: Florida's Scottie Wilbekin. The senior guard had 23 points, including three 3-pointers, to lead the Gators. He also added three steals and three assists.
Key stat: Not only did the Gators outrebound the Flyers by 11, they also took advantage of second-chance opportunities. Florida finished with 13 second-chance points, while Dayton had just 1.
Team Stat Comparison
| | DAY | FLA |
| --- | --- | --- |
| Points | 52 | 62 |
| FG Made-Attempted | 19-48 (.396) | 18-48 (.375) |
| 3P Made-Attempted | 8-18 (.444) | 5-15 (.333) |
| FT Made-Attempted | 6-8 (.750) | 21-28 (.750) |
| Fouls (Tech/Flagrant) | 19 (0/0) | 10 (0/0) |
Series
| DATE | GAME | LINKS |
| --- | --- | --- |
| » Mar 29, 2014 | @FLA 62, DAY 52 | Recap |
Research Notes
Florida disrupted Dayton's offense when pressing, holding the Flyers to 17.6% from the field on possessions that started with a full-court press. On seven of the 15 possessions that the Gators pressed, the Flyers did not attempt a shot until there was 6 seconds or fewer on the shot clock, making one such attempt.
[+]
Florida held Dayton to eight transition points Saturday, less than half the Flyers' average in their first three games of the Men's Basketball Championship. The Flyers shot 30% in transition and had only one transition play in the second half.
[+]
Florida won its Round of 64, Round of 32, Sweet 16 and Elite 8 games by double digits while allowing fewer than 70 points. Only 2 other teams have ever done that -- Michigan State in 2000 and Duke in 1999.
[+]
Florida outscored Dayton 13-1 on second-chance points Saturday, including 5-0 in the second half. The Flyers did not have an offensive rebound on 11 misses after halftime. Starting at 5:44 in the second half, the Gators had back-to-back possessions that lasted over a minute, grabbing six offensive rebounds in those two possessions.
Florida outscored Dayton by 20 points in 31 minutes with
Patric Young
on the court. Young scored 10 points in the paint, two fewer than the Flyers had as a team when he was on the floor.
[+]
Florida won its Round of 64, Round of 32, Sweet 16 and Elite 8 games by double digits. Five of the last 6 teams to win each of those 4 games by double digits went on to win the National Championship.
[+]
So 1-seed Florida will take on 11-seed Dayton in the Elite 8... probably an easy win, right? Think again... this is the third time in the last 10 years that an 11 will play a 1 in the Elite 8 -- and the 11 seeds are 2-0 in the previous games... Dayton hopes to join VCU and George Mason, who each won as 11 seeds...
[+]
ESPN Stats & Information