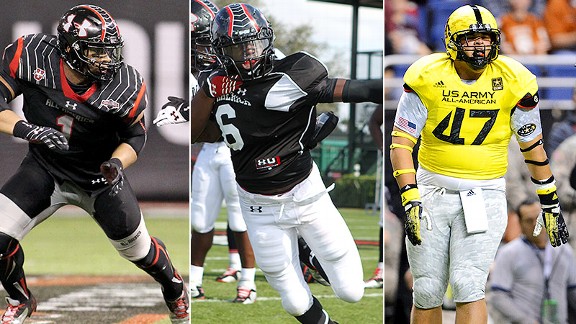 Five-Star Fight
With two weeks until national signing day, who leads for the nation's top prospects? Hot Board


ACC breakdown

Big 12

Big East

Big Ten

Pac-12

SEC

Team primers

More »
ESPN, ESPN, Icon SMI
COLUMNISTS
Mark Schlabach
There's a new No. 1 in the third edition of the 2013 Way-Too-Early Preseason Top 25
With a clearer path to perfection, Ohio State overtakes Alabama at No. 1.
Ivan Maisel
Spring forward
Finally, a spring (relatively) free from scandal, turmoil and turnover.
Gene Wojciechowski
WRAPPING UP SPRING
With minor exceptions, college football enjoyed a spring free from scandal, turmoil and distractions. It was a breath of fresh air. Ivan Maisel »
ACC: Finally, league solidarity »
Recruiting

Big 12: Experience not necessary »
Recruiting

Big East: Trying to catch L'ville »
Recruiting

Big Ten: Finding the right QB »
Recruiting

Pac-12: Waiting on answers »
Recruiting

SEC: From start to finish »
Recruiting

Notre Dame: On the rebound »
Recruiting

COLLEGE FOOTBALL PHOTO GALLERIES
LATEST GALLERIES
NC State Athletics
14 Photos
COLLEGE FOOTBALL BLOG NETWORK

RECRUITING NATION
John "JuJu" Smith takes a unique approach to recruiting -- without the Internet.
Blair Angulo

ESPN COLLEGE FOOTBALL APP
Follow all the college football action all season long with the ESPN College Football app. Get big-play clips instantly and customized content around your team. Download »


Find Tickets:
Buy College Football Tickets and all other Football Tickets at StubHub!

See all tickets
COLLEGE FOOTBALL TEAM NEWS
Conferences:

CONTESTS AND SPECIAL SECTIONS
Vote for the Kia Player of The Month and enter for a chance to win a trip to the 2013 NBA Finals and more!

Using #501Westbrook, tweet your 501®style photo for a chance to win a private styling session with Russell!