8:00 PM ET, October 6, 2012
Carter-Finley Stadium, Raleigh, NC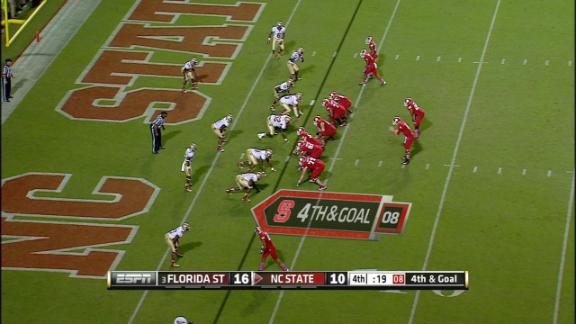 2012 NC State Upset: Go-Ahead Touchdown
Clip from NC State's 17-16 upset win over Florida State. Bryan Underwood 2yd touchdown reception from Mike Glennon.
2012 NC State Upset: Go-Ahead Touchdown
VIDEO PLAYLIST
RALEIGH, N.C. -- Third-ranked Florida State spent the first half looking every bit like the team picked to win the Atlantic Coast Conference, from a dominating defense to a running game that kept moving the chains to silence a hostile crowd.
More FSU-NC State Coverage

ESPN.com
The idea of FSU carrying the mantle and becoming the ACC's great national title hope turned out to be merely a dream, Heather Dinich writes. Blog
---

NoleNation
There was an air of familiarity to No. 3 Florida State's shocking loss to NC State on Saturday, and that might be the most disappointing part of the defeat, David M. Hale writes. Story
Then North Carolina State figured out a way to shake up the race for both the conference and national championship.
Mike Glennon found Bryan Underwood for a 2-yard touchdown pass on fourth down with 16 seconds left, helping the Wolfpack rally to beat the Seminoles 17-16 on Saturday night.
On a night when the Seminoles (5-1, 2-1 ACC) appeared poised to strengthen their grip on their division, they instead found themselves struggling to figure out how NC State (4-2, 1-1) had turned the game around and possibly ended FSU's hopes of contending for a BCS title.
"We still control our own destiny in the ACC," FSU coach Jimbo Fisher said. "We have to refocus and not let this loss become two in a row. We let this one slip away from us."
Florida State -- carrying its highest ranking since 2003 -- led 16-0 at halftime, but couldn't stop Wolfpack quarterback Mike Glennon in the fourth quarter and watched this one slip away in stunning fashion.
"We weren't coming in thinking that we were David and they were Goliath or anything," Wolfpack center Camden Wentz said. "We've beaten this team before. They're a great football team. We weren't coming in not sure if we could win or not. ... At the end, it went our way."
The Wolfpack (4-2, 1-1) inched closer after halftime before coming up with a game-turning blocked punt by Mike Rose with 2:27 left, giving the ball back to Glennon at the FSU 43 with a chance to complete the comeback.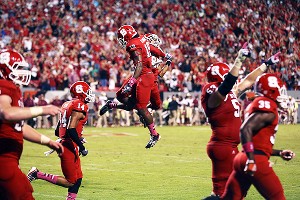 Streeter Lecka/Getty Images
NC State seems to have a knack for celebrating big upsets, including last year's win over then-No. 3 FSU.
Glennon marched the Wolfpack down the field and completed three fourth-down passes, including two inside the 15. The drive ended when he found Underwood alone over the middle -- a step or two into the end zone -- to tie the game, allowing the Wolfpack to take the lead on the ensuing point-after kick.
Not bad for a team that committed 14 penalties, coughed up six turnovers and gave up the go-ahead touchdown pass in a 44-37 loss at Miami last weekend.
"It was a dream come true to be honest," Underwood said. "We'd been working hard all week after last week. We just wanted to come out and fight. We just hung in there and played as a team, that's all it was."
FSU drove near midfield in the final seconds, but the Wolfpack defense knocked down EJ Manuel's desperation heave near the goal line to end it. The play sent the Wolfpack players spilling onto the field in celebration.
Seminoles Have Carolina Blues

No. 3 Florida State lost a 17-16 thriller to NC State on Saturday. Surprised? Don't be. The Seminoles have had their problems when facing an unranked Wolfpack team on the road. Here's a look:
Year
FSU Rank
Result
2012
No. 3
Lost
2010
No. 16
Lost
2006
No. 17
Lost
2004
No. 11
Won
2002
No. 14
Lost
1998
No. 2
Lost
-- ESPN Stats & Information
"This is not the end of the world for us," FSU receiver Rashad Greene said. "We know what we have in this locker room and we will move on from this loss."
It marked the second straight year the Wolfpack had beaten a highly ranked division rival here. Last season, the Wolfpack upset No. 7 Clemson 37-13 for the program's first win against a top-10 team under Tom O'Brien.
This game marked the first time a top-five team had come to Carter-Finley Stadium since 1998. And just as in that game, unranked NC State upset the Seminoles, who were ranked No. 2 at the time.
"This is as good as it gets," Glennon said.
The win also changed the race in the ACC's Atlantic Division. The Seminoles had already beaten Clemson at home, so a win at NC State would've given them victories against the two teams projected to be their biggest challengers for the division crown.
FSU hosts Boston College next weekend.
As for NC State, the Wolfpack knew this was probably their last chance to stay in the division race.
NC State never led until Glennon's late pass and Niklas Sade's PAT. NC State had just 68 yards and four first downs in the first half, with the Seminoles using a short touchdown pass from Manuel and three field goals from Dustin Hopkins to take the 16-0 lead.
But the FSU team that was in such control going into the locker room isn't the one that came out for the second half.
SportsNation: Week 6 in Review

NC State delivered the shock of Week 6 with an upset of No. 3 Florida State, while Oregon and South Carolina poured on the points and West Virginia held on at Texas.
Cast your vote!

Chris Thompson ran for 115 of his 141 yards in the first half for the Seminoles, while Manuel threw for 218 yards with an interception. Florida State managed just 122 yards after halftime and squandered all three of their timeouts, which proved crucial once the Wolfpack finally pushed in front.
Glennon threw for 259 yards on 30-for-55 passing with two touchdowns, the first being a 24-yard scoring pass to Shadrach Thornton that brought the Wolfpack within 16-10 with 13:47 to play. Then, after Rose's blocked punt, Glennon calmly moved NC State into striking range with a 12-yard pass to Quintin Payton on fourth-and-10 that gave NC State a first-and-goal at the 2 with 1:07 left.
Then he hit Underwood for a touchdown that helped change the direction of the season in the ACC and beyond.
Photo Wire
RALEIGH, NC - OCTOBER 06: EJ Manuel #3 of the Florida State Seminoles warms up before their game against the...
(Photo by Streeter Lecka/Getty Images)
Top 25 Overview
It was over when... At halftime it looked like business as usual as FSU held a 16-0 lead, but NC State rallied to produce 17 unanswered and shock the Noles.
Gameball goes to... The NC State defense held the explosive FSU attack, led by Heisman hopeful EJ Manuel, to 218 passing yards and 3-of-15 of 3rd down.
Stat of the game... 5-0. The Noles just can't get past that fifth win. Not since their national title-winning season in 1999 have they started 6-0.
Team Stat Comparison
| | FSU | NCST |
| --- | --- | --- |
| 1st Downs | 16 | 21 |
| Total Yards | 343 | 325 |
| Passing | 218 | 259 |
| Rushing | 125 | 66 |
| Penalties | 5-59 | 4-39 |
| 3rd Down Conversions | 3-15 | 5-18 |
| 4th Down Conversions | 0-0 | 3-4 |
| Turnovers | 1 | 1 |
| Possession | 29:14 | 30:46 |
Scoring Summary
FIRST QUARTER
FSU
NCST
FG
06:34
Dustin Hopkins 49 Yd
3
0
SECOND QUARTER
FSU
NCST
TD
13:53
Nick O'Leary 4 Yd Pass From EJ Manuel (Dustin Hopkins Kick)
10
0
FG
04:07
Dustin Hopkins 20 Yd
13
0
FG
00:28
Dustin Hopkins 36 Yd
16
0
THIRD QUARTER
FSU
NCST
FG
06:50
Niklas Sade 27 Yd
16
3
FOURTH QUARTER
FSU
NCST
TD
13:47
Shadrach Thornton 24 Yd Pass From Mike Glennon (Niklas Sade Kick)
16
10
TD
00:16
Bryan Underwood 2 Yd Pass From Mike Glennon (Niklas Sade Kick)
16
17
Research Notes
* Florida State is 1-6 since 2007 when playing an un-ranked ACC opponent on the road when the Noles themselves have been ranked.
[+]
Ranked Florida State Playing at Unranked NC State Last 6 Instances FSU Rank Result 2012 No. 3 ?? 2010 No. 16 Lost 2006 No. 17 Lost 2004 No. 11 Won 2002 No. 14 Lost 1998 No. 2 Lost
Florida State is 3-4 in its last 7 trips to Raleigh. In all 4 of those losses (2010, 2006, 2002, 1998), Florida State was ranked while NC State was unranked.
ESPN Stats & Information