NEW ERA PINSTRIPE BOWL
Final
3:15 PM ET, December 29, 2012
NEW YORK -- The weather made passing at the New Era Pinstripe Bowl perilous, so Syracuse sent Prince-Tyson Gulley and Jerome Smith dashing through West Virginia and the snow.
Gulley ran for a career-best 208 yards and had three touchdowns, Smith added 157 yards, and the Orange bid a blustery farewell to the Big East with a 38-14 victory over West Virginia on Saturday.
More From ESPN.com


Looking for more information on this game? Check out our blogs for Instant Analysis.
• Big East
Syracuse (8-5) will enter the Atlantic Coast Conference on a roll after finishing this season with six wins in its last seven games, capped by its second postseason victory at Yankee Stadium in the last three years.
In a bowl game played in a baseball stadium with weather better suited for a playoff game in Green Bay, the team that plays in a dome ended up being better equipped to handle the elements.
"The football Gods brought snow," said Smith, who carried a season-high 30 times. "The football Gods from Syracuse brought us some snow and it changed even West Virginia's game. They had to run a little bit more than they were used to. We ran the ball a little bit more than we're used to and did what we were supposed to do."
Syracuse finished with a season-high 369 yards on the ground and beat its former Big East rival from West Virginia, now playing in the Big 12, for a third straight time.
"They just did a better job than us at the line of scrimmage," Mountaineers coach Dana Holgorsen said. "To be in a game like this when you've got to rely on your run defense to help you win and you're not able to do it, it's frustrating."
Geno Smith connected with Stedman Bailey for two touchdown passes for West Virginia (7-6), but the Mountaineers' quarterback also was sacked in the end zone in the first half and called for intentional grounding in the end zone in the third quarter to give Syracuse a second safety.
Prince-Tyson Rules The Day

To say that Prince-Tyson Gulley had the best game of his Syracuse career in the Pinstripe Bowl vs. West Virginia on Saturday would be an understatement. The junior running back set numerous career-highs in the Orange's big win. Here's a look:
Before Sat.
Vs. WVU
Rushes
15
26
Rush yds.
98
208*
Total yds.
115
265
Total TDs
2
3
* 2nd most by Cuse player in bowl game
-- ESPN Stats & Information
Smith, who was an early Heisman Trophy front-runner as the Mountaineers got off to a 5-0 start this season, was 16 for 26 for 197 yards in the final game of his record-breaking career. The NFL awaits.
Same goes for Ryan Nassib, though Syracuse didn't ask much of its talented senior quarterback. He threw two touchdown passes and an interception. His most impressive feat on this day was surviving being driven into the cold turf by Terence Garvin on a sack in the first half. Nassib missed only one play.
"It's my last game, man, nothing's going to take me out," he said.
Snow fell just about all game, giving most of the field a white dusting. Fans were bundled and players not in the game tried to do the same. It took a while for those potent offenses -- both ranked in the top 25 nationally in yards per game -- to heat up, which seemed appropriate considering the conditions.
"Cold. Cold," said Smith, a junior from Delaware. "I never got a chance to play in the snow, but it was good."
His running mate from Akron, Ohio, had just a bit more experience playing in wintry weather.
"In pee-wees I played in some (snow) like this but not in high school," said Gulley, who carried 25 times. "It was fun."
A goal-line stand by West Virginia in the second quarter kept Syracuse out of the end zone, but set up the Orange for a scoring run.
Left at their own 1, the Mountaineers tried to pass out of their end zone, but Smith was smothered by blitzing linebackers Cameron Lynch and Siriki Diabate for a safety to make it 5-0 -- a baseball score, of course.
The Orange followed that up with a 33-yard touchdown run by Gulley to make it 12-0 with 6:07 left in the second.
The Mountaineers responded with their first sustained drive, and Bailey took a quick pass, darted and broke tackles, and scooted 32 yards to the end zone to make it 12-7.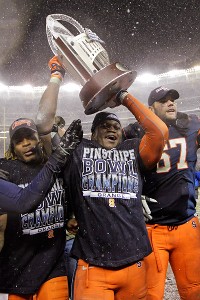 AP Photo/Kathy Willens
Syracuse players (from left) Shamarko Thomas, Siriki Diabate and Justin Pugh celebrate in the snow with the New Era Pinstripe Bowl trophy after beating West Virginia on Saturday in New York.
The Orange extended the lead to 12 to start the second half when they caught a break -- and a touchdown pass. Nassib's throw was tipped around the goal line, but floated safely into the waiting arms of intended receiver Beckett Wales for a 10-yard score.
West Virginia appeared to answer with a touchdown of its own. Andrew Buie broke free for a 28-yard TD run on fourth-and-2, but a holding call on the Mountaineers wiped out the play and sent Holgorsen on to the field screaming at the officials.
It didn't help. Instead of a touchdown, a punt.
Holgorsen had nothing to say about the call and was more disappointed with how his team responded.
"We did a poor job of continuing to play. A poor job of overcoming some things," he said.
Moments later another close call, this time on a fumble by Smith that was reviewed to determine if it was an incomplete pass, went Syracuse's way, and again the Orange capitalized.
On the next play, Gulley broke through the line, bounced to the outside and went 67 yards for a touchdown to make it 26-7 with 6:52 left in the third.
West Virginia wouldn't let Syracuse pull away. Smith found Bailey deep down the sideline, beating one-on-one coverage for a 29-yard score 1:11 later.
Right back came the Orange, nine plays, 70 yards, with Gulley taking a swing pass from Nassib 10 yards to make it 33-14.
The 60th meeting between these teams, but first in a bowl, ended up being a romp in the snow for Syracuse.
Bowl Overview
It was over when... Syracuse absolutely dominated the third quarter, outscoring West Virginia 23-7 to turn a close game at the half into a blowout.
Gameball goes to... Prince-Tyson Gulley. He had the best game of his career, finishing with 215 yards and two rushing scores and one receiving TD.
Stat of the game... 0-for-10. A big reason why the Mountaineers could not sustain any drives? They could not convert on third down, going 0-for-10.
Team Stat Comparison
| | WVU | SYR |
| --- | --- | --- |
| 1st Downs | 15 | 28 |
| Total Yards | 304 | 507 |
| Passing | 201 | 138 |
| Rushing | 103 | 369 |
| Penalties | 11-116 | 5-57 |
| 3rd Down Conversions | 0-10 | 9-18 |
| 4th Down Conversions | 0-2 | 2-4 |
| Turnovers | 1 | 2 |
| Possession | 23:37 | 36:23 |
Scoring Summary
FIRST QUARTER
WVU
SYR
FG
05:21
Ross Krautman 25 Yd
0
3
SECOND QUARTER
WVU
SYR
SF
07:59
Team Safety
0
5
TD
06:07
Prince-Tyson Gulley 33 Yd Run (Ross Krautman Kick)
0
12
TD
03:38
Stedman Bailey 32 Yd Pass From Geno Smith (Tyler Bitancurt Kick)
7
12
THIRD QUARTER
WVU
SYR
TD
10:43
Beckett Wales 10 Yd Pass From Ryan Nassib (Ross Krautman Kick)
7
19
TD
06:52
Prince-Tyson Gulley 67 Yd Run (Ross Krautman Kick)
7
26
TD
05:41
Stedman Bailey 29 Yd Pass From Geno Smith (Tyler Bitancurt Kick)
14
26
TD
02:52
Prince-Tyson Gulley 10 Yd Pass From Ryan Nassib (Ross Krautman Kick)
14
33
SF
01:08
Team Safety
14
35
FOURTH QUARTER
WVU
SYR
FG
11:57
Ross Krautman 36 Yd
14
38
Research Notes
Prince-Tyson Gulley
's 208 yards on the ground were eight yards short of the Syracuse record for most rushing yards in a bowl game. Floyd Little ran for 216 yards in the 1966 Gator Bowl.
[+]
To say that
Prince-Tyson Gulley
had the best game of his life in the Pinstripe Bowl vs West Virginia would be an understatement. Tyson-Gulley set numerous career-highs en route to leading Syracuse to their second Pinstripe Bowl victory, including rushing for 208 yards when he had previously never rushed for 100 in a single game in his career.
[+]
Both
Prince-Tyson Gulley
and
Jerome Smith
rushed for over 100 yards in Saturday's Pinstripe Bowl win over West Virginia. It's the 1st time the Orange have had multiple 100-yard rushers in the same game since Sept. 20, 2008 against Northeastern when Curtis Brinkley and Doug Hogue both did it.
A year after putting up 589 yards and a bowl-record 70 points in the Orange Bowl, West Virginia was held to 14 points on half as many yards by Syracuse in the Pinstripe Bowl.
[+]
The last time two safeties were recorded in a bowl game was in the Gator Bowl on January 1, 2008. Texas Tech QB Graham Harrell was twice called for intentional grounding in the endzone against Virginia. The Red Raiders still won, 31-28.
The Mountaineers finally got on the board with 3:38 left in the 2nd quarter, but their offense in this season's Pinstripe Bowl pales in comparison to what they had at halftime against Clemson in last season's Orange Bowl.
[+]
ESPN Stats & Information