8:00 PM ET, December 6, 2013
Top Performers
Passing: M. Johnson (BGSU) - 393 YDS, 5 TD
Rushing: J. Lynch (NIU) - 26 CAR, 126 YDS, 2 TD
Receiving: R. Moore (BGSU) - 4 REC, 145 YDS, 1 TD
DETROIT -- Matt Johnson was motivated by the hype surrounding Jordan Lynch and wanted to be the best quarterback in the Mid-American Conference title game.
Johnson was without a doubt better than Lynch on Friday night.
Johnson threw four of his career-high five touchdown passes in the first half to help Bowling Green rout No. 14 Northern Illinois 47-27 to win the MAC championship and knock the Huskies out of a spot in a marquee bowl.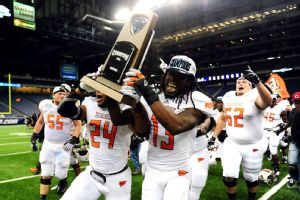 Andrew Weber/USA TODAY Sports
Bowling Green defensive back BooBoo Gates (24) and running back Travis Greene (13) celebrate after defeating Northern Illinois to win the MAC championship on Friday night.
"There was a lot of talk about Jordan Lynch being up for the Heisman," Johnson said. "It's well-deserved, but I did take it a little personal."
Johnson was 21 of 27 for a career-high 393 yards, connected with five teammates for scores and didn't throw an interception. He broke a MAC championship record with the five TD passes.
The Northern Illinois (12-1) loss improves the chances of Baylor or Oregon getting an at-large bid to a BCS bowl game.
"It's a tough one to swallow," Lynch said.
Lynch ran for 126 yards and two TDs to break his own single-season record for yards rushing by a quarterback in major college football, but didn't take advantage of an opportunity to impress Heisman Trophy voters.
He was 21 of 40 for 219 yards with a TD and two interceptions, including one in the fourth quarter that set up Johnson's fifth TD that put Bowling Green up 40-20.
After Lynch threw an incomplete pass to turn the ball over on downs on the ensuing drive, he was taunted by Falcons fans: "No more Heisman! No more Heisman!"
The senior said it was "unacceptable" to throw two interceptions.
"I expect a lot of myself and I didn't live up to my expectations," Lynch said.
The Falcons (10-3) won the MAC title for the first time since 1992 -- months after Johnson was born -- and just three years after a 2-10 record put coach Dave Clawson's job in jeopardy.
The turnaround and impressive win against the Lynch-led Huskies will likely lead to bigger schools trying to lure Clawson away, a topic he refused to address when asked if he would coach Bowling Green again to close out his fifth season.
"There's no comment on that," he said.
Bowling Green's Travis Greene had 133 yards rushing to give him 1,555 this year, surpassing the school's single-season record set by Fred Durig in 1951, and his a 16-yard TD made it 47-20.
Alex Bayer had seven receptions for 124 yards and a TD that gave the Falcons a 31-13 lead at halftime. Ronnie Moore caught four passes for 145 yards and a TD -- all in the first quarter.
"We came into this game truly believing we were the better team and that we were going to win," Clawson said.
Lynch was held to just 35 yards rushing in the first half and when forced to pass, he was often off the mark as he completed just half of his attempts by halftime. He seemed to throw one pass too high, but Juwan Brescacin leaped to snag the football with his left hand in the end zone to tie the game midway through the first quarter.
Tyler Tate's 25-yard field goal with 6:49 left in the first half put Bowling Green ahead for good.
Lynch ran for a TD to pull the Huskies within 11 points early in the third quarter, but they couldn't get closer.
In the third, Lynch surpassed his yards rushing total from last season -- 1,815 -- and will have 1,881 yards rushing going into a lackluster bowl game. He and the Huskies lost for the first time since Jan. 1, 2013, when Florida State dominated them in the Orange Bowl.
Instead of going back to a BCS game and helping the MAC get a big check to split among its schools, Northern Illinois might end up coming back to Detroit in a few weeks for the Little Caesars Pizza Bowl.
The Falcons, though, don't mind that their victory cost the athletic department a lot of money.
"We won a championship, but we're not going to be able to buy jock straps next year," Clawson said jokingly.
Photo Wire
DETROIT, MI - DECEMBER 6: Tight end Tyler Beck #89 of the Bowling Green Falcons breaks away from linebacker Jamaal...
(Photo by Duane Burleson/Getty Images)
Top 25 Overview
It was over when... Northern Illinois could keep it close only until the second quarter, as Bowling Green crushed the Huskies' BCS bowl hopes with a dominating performance.
Gameball goes to... Matt Johnson. The Falcons' quarterback had a career night, throwing for 393 yards and five TDs without an interception. He also had 33 yards on the ground.
Stat of the game... 1951, 1992. Travis Greene has 1,555 yards rushing this season, surpassing a Falcons record set in 1951. It was the first MAC title for Bowling Green since 1992.
Team Stat Comparison
| | BGSU | NIU |
| --- | --- | --- |
| 1st Downs | 27 | 29 |
| Total Yards | 574 | 454 |
| Passing | 393 | 219 |
| Rushing | 181 | 235 |
| Penalties | 8-60 | 4-20 |
| 3rd Down Conversions | 4-10 | 8-15 |
| 4th Down Conversions | 2-2 | 0-1 |
| Turnovers | 1 | 2 |
| Possession | 34:26 | 25:34 |
Scoring Summary
FIRST QUARTER
BGSU
NIU
TD
12:27
Tyler Beck 28 Yd Pass From Matt Johnson (Tyler Tate Kick)
7
0
TD
09:08
Juwan Brescacin 14 Yd Pass From Jordan Lynch (Mathew Sims Kick)
7
7
FG
06:49
Tyler Tate 26 Yd
10
7
TD
02:32
Ronnie Moore 36 Yd Pass From Matt Johnson (Tyler Tate Kick)
17
7
SECOND QUARTER
BGSU
NIU
FG
14:51
Mathew Sims 51 Yd
17
10
FG
11:22
Mathew Sims 45 Yd
17
13
TD
05:39
Heath Jackson 22 Yd Pass From Matt Johnson (Tyler Tate Kick)
24
13
TD
00:13
Alex Bayer 12 Yd Pass From Matt Johnson (Tyler Tate Kick)
31
13
THIRD QUARTER
BGSU
NIU
TD
12:23
Jordan Lynch 8 Yd Run (Mathew Sims Kick)
31
20
FOURTH QUARTER
BGSU
NIU
FG
14:50
Tyler Tate 52 Yd
34
20
TD
10:17
Travis Greene 6 Yd Pass From Matt Johnson (Pat Blocked)
40
20
TD
02:44
Travis Greene 16 Yd Run (Tyler Tate Kick)
47
20
TD
00:14
Jordan Lynch 2 Yd Run (Mathew Sims Kick)
47
27
Research Notes
This is the 2nd time this season that Northern Illinois has trailed by 10+ points in the first quarter. They also did against Eastern Illinois and came back to win 43-39.
ESPN Stats & Information