8:00 PM ET, September 21, 2013
Royal Texas Memorial Stadium, Austin, TX
Top Performers
Passing: J. Waters (KSU) - 275 YDS
Rushing: J. Gray (TEX) - 28 CAR, 141 YDS, 2 TD
Receiving: T. Lockett (KSU) - 13 REC, 237 YDS
AUSTIN, Texas -- There's life in Texas yet. And maybe the pressure will ease off of coach Mack Brown, even if just for a few hours or days.
Johnathan Gray rushed for 141 yards and two touchdowns, David Ash threw a 63-yard touchdown pass and Texas beat Kansas State 31-21 Saturday night in the Big 12 opener for both teams.
Gray became Texas' first 100-yard rusher on the season and Texas' defense, pushed around in consecutive losses, put up a solid and energetic performance, forcing three critical second-half turnovers.
More on Texas
For full coverage of the Longhorns, check out the Texas blog, part of ESPN's College Football Nation. Blog

More:
• Texas' clubhouse page
• ESPN.com's Big 12 blog
• ESPN Dallas' college blog
Brown has been under intense pressure after three sub-par seasons and a bad start this year. The victory allowed Texas (2-2, 1-0) to avoid its first 1/3 start since 1956 and snapped a five-game losing streak to the Wildcats.
"You always want to start the conference off right," Gray said. "We wanted to prove a point and hit them in the mouth."
John Hubert scored two touchdowns and Tyler Lockett had 13 catches for 237 yards for Kansas State (2-2, 0-1).
Gray's first touchdown in the second quarter came after he made two dazzling cuts on a 21-yard run. His second put Texas up 24-7 in the third. Malcolm Brown ran for Texas' last touchdown after the Wildcats had pulled within 10 points early in the fourth quarter.
Ash, who missed the previous game with concussion-like symptoms, passed for 166 yards in the first half but missed the second with a new head injury. Senior Case McCoy took over, leading two touchdown drives.
Texas came in as a team desperate to turn around it season. After consecutive losses, Brown urged his team to focus on the Big 12 and trying to win the league crown. The Longhorns, most notably the defense, responded with their most complete game of the season against the defending Big 12 champs.
The defense, which played so poorly in the two losses, gave up a huge night receiving to Lockett, but forced the three turnovers that swung momentum early in the second half and preserved the win late.
"We came out fired up," Texas defensive end Jackson Jeffcoat said. "This was a team we hadn't beaten in a while."
Brown has been harshly criticized by Texas fans after the bad start to the season and his job future beyond this season rapidly escalated into a matter of open speculation.
On Thursday, a member of the Texas board of regents acknowledged that he and a former regent spoke in January with Alabama coach Nick Saban's agent about Saban coaching the Longhorns if Brown retired. Two days later, Brown was asked if he would consider retiring, but the matter was dropped when Brown said he wanted to keep coaching.
Saban dismissed speculation he'd be interested in the Texas job, but that didn't stop some Texas fans from printing burnt-orange "Saban 2014" t-shirts and wearing them to the game Saturday night.
Brown did his best to push away the critics and the speculation about his job during the week.
"I said I'm going to be doing everything I can do to beat Kansas State. I haven't heard one word of it," Brown said. "This can be a really good football team before we finish."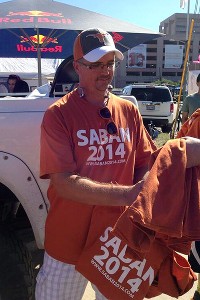 Courtesy JasonARogers/Twitter
Some Texas fans wore "Saban 2014" T-shirts for the Longhorns' game Saturday night against Kansas State.
Ash, who had been cleared to play Friday night, showed no effects of the previous head injury early in the game. But he took several big hits, both on runs and when standing in the pocket, before floating a perfectly-thrown pass to Kendall Sanders for Texas' first touchdown.
Texas went up 17-0 on Gray's first touchdown. Kansas State responded with its first drive across midfield and Hubert spun through two tacklers on a 15-yard touchdown run with 1 minute left in the half.
Ash was removed from the game at halftime to be evaluated for a head injury and didn't return, putting the game and the job of managing the lead in McCoy's hands. Kansas State fumbled on the first possession of the third quarter and McCoy handed the ball to Gray seven times in eight plays on a 56-yard drive to a touchdown and a 24-7 lead.
"It was major, quite obviously," Kansas State coach Bill Snyder said of the turnover. "It had a dramatic impact on the outcome of the ball game ... We need some leadership to really step up."
Hubert's second touchdown pulled Kansas State within 24-14 early in the fourth. Kansas State had pulled within 10 and was driving for a touchdown when Waters, who ran for a touchdown and passed for 275 yards, fumbled on the Texas 6 with 2:03 left to play.
The Wildcats had one last chance when Tramaine Thompson returned a punt 40 yards inside the Texas 15, but Waters was sacked twice and fumbled with 17 seconds left.
"It came down to us as a team, fighting," McCoy said.
Photo Wire
AUSTIN, TX - SEPTEMBER 21: A general view of Darrell K Royal-Texas Memorial Stadium before a game between the...
(Photo by Ronald Martinez/Getty Images)
Team Stat Comparison
| | KSU | TEX |
| --- | --- | --- |
| 1st Downs | 21 | 24 |
| Total Yards | 390 | 452 |
| Passing | 275 | 225 |
| Rushing | 115 | 227 |
| Penalties | 8-65 | 8-74 |
| 3rd Down Conversions | 9-16 | 9-18 |
| 4th Down Conversions | 0-0 | 2-3 |
| Turnovers | 3 | 0 |
| Possession | 31:41 | 28:19 |
Scoring Summary
FIRST QUARTER
KSU
TEX
FG
06:26
Anthony Fera 27 Yd
0
3
TD
02:16
Kendall Sanders 63 Yd Pass From David Ash (Anthony Fera Kick)
0
10
SECOND QUARTER
KSU
TEX
TD
03:02
Johnathan Gray 21 Yd Run (Anthony Fera Kick)
0
17
TD
01:01
John Hubert 15 Yd Run (Jack Cantele Kick)
7
17
THIRD QUARTER
KSU
TEX
TD
09:29
Johnathan Gray 15 Yd Run (Anthony Fera Kick)
7
24
FOURTH QUARTER
KSU
TEX
TD
13:22
John Hubert 4 Yd Run (Jack Cantele Kick)
14
24
TD
09:11
Malcolm Brown 1 Yd Run (Anthony Fera Kick)
14
31
TD
07:00
Jake Waters 1 Yd Run (Jack Cantele Kick)
21
31
Research Notes
Texas out-rushed Kansas St by 112 yards Saturday. Texas is now 51-2 in the last 10 seasons when having a rushing margin of +112 yards. Ironically, the only 2 losses were against K State in 2006 and 2011.
NEXT LEVEL: Coming into Saturday, Texas had given up 130.3 yards after contact on opponents' rushes, worst among AQ schools. On Saturday, Kansas State, which came into the game averaging 4.9 yards per rush, was limited to 3.0 yards per rush. - The Longhorns had allowed 50 of its opponents' 155 carries to gain at least five yards before first contact, worst among AQ schools. Against Kansas State, they allowed seven such runs. - The Longhorns gave up an average of 3.5 yards per rush before first contact. On Saturday, they allowed 1.3 yards before initial contact.
[+]
ESPN Stats & Information