9:00 PM ET, November 7, 2013
Stanford Stadium, Stanford, CA
Top Performers
Passing: M. Mariota (ORE) - 250 YDS, 2 TD
Rushing: T. Gaffney (STAN) - 45 CAR, 157 YDS, 1 TD
Receiving: D. Hawkins (ORE) - 3 REC, 41 YDS, 1 TD
STANFORD, Calif. -- Stanford squashed Oregon's national championship hopes again, schooling the Ducks in power football. Florida State might want to send the Cardinal a thank you card.
Tyler Gaffney ran for 157 yards, and No. 5 Stanford hammered No. 3 Oregon for three quarters before holding off a furious rally by the fast-paced Ducks for a 26-20 victory Thursday night.
The Cardinal made it two in a row against the Ducks, who haven't lost to any other team in the past two seasons.
More Stanford-Oregon Coverage

The Stanford offense at its best is as exciting as a school board meeting. What made it spellbinding Thursday was the identity of the team that took the punishment, Ivan Maisel writes. Story
---

Tyler Gaffney would carry the ball for a little bit. And then a little bit more. And when it all was added up, he had helped carry Stanford to a very big win, Kevin Gemmell writes. Story
---

The Pac-12 and Big 12 took center stage, and the ACC came out the winner. Florida State now looks like the team with the easiest route to the title game, Mark Schlabach writes. Story
More coverage:
• Grantland: We went there
• Keys to victory
• Radio: Colin Cowherd weighs in
• Instant analysis | Pac-12 Blog
• Radio: Mike & Mike | Danny Kanell

"If you control the line of scrimmage on either side of the ball, you can beat these guys," Stanford coach David Shaw said. "We're a big, physical football team that plays well together."
Kevin Hogan ran for a touchdown and played a mistake-free game at quarterback for Stanford (8-1, 6-1 Pac-12) as the Cardinal put on a clinic in how to play keep-away from a team that was averaging 55.6 points per game. Stanford ran 66 times for 274 yards -- sometimes behind as many as nine offensive linemen -- and held the ball for 42 1/2 minutes.
Heisman Trophy contender Marcus Mariota, who said he was playing on a left knee that was a "little banged up," was inaccurate and under pressure much of the night. He finished 20-of-34 for 250 yards with a fumble but threw two fourth-quarter touchdown passes, sandwiched around a blocked field goal return for a score by Rodney Hardrick, to pull the Ducks (8-1, 5-1) to 26-20 with 2:12 left.
Oregon recovered one onside kick but couldn't do it twice, and Stanford ran out the clock.
"We don't hold the cards anymore," first-year Ducks coach Mark Helfrich said.
Those belong to No. 2 Florida State now. The Seminoles don't have to worry about the Ducks nudging them out of second place in the BCS standings behind Alabama.
FSU was in danger of slipping to third in the BCS if Oregon could have registered a big road victory against a quality opponent. Now, the Seminoles face a manageable remaining schedule with a good chance to win their way to the BCS championship game at the Rose Bowl in January.
Unbeaten Baylor and Ohio State have to be happy, too, with one fewer hurdle to clear.
As for Stanford, it gets first place in the Pac-12 North and the inside track to another league title game and Rose Bowl. And maybe, if things get really weird, the Cardinal can get back in the national title hunt.
Stanford won a three-point game in overtime at Oregon last season to deny the Ducks a chance to play for the national championship, but it didn't look as if there would be much drama in the return bout on the Farm. Stanford led 17-0 at halftime and added three more field goals by Jordan Williamson in the second half.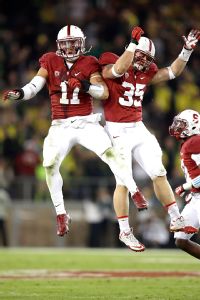 Ezra Shaw/Getty Images
Stanford put an end to Oregon's national championship hopes for the second season in a row.
Oregon looked out of it, down 26-0 early in the fourth with Stanford hammering away behind Gaffney, who set a school record with 45 carries.
"I feel like I just played a football game," Gaffney said with a smile.
Even after Oregon finally broke through with a 23-yard touchdown pass from Mariota to Daryle Hawkins, the Cardinal went on another time-consuming drive and attempted a long field goal that would have sealed it.
Instead, the Ducks blocked it, Hardrick scooped and scored from 65 yards out with 5:08 left, and suddenly it was interesting.
Only five seconds later, it got even more interesting when the Ducks recovered an onside kick. They quickly moved inside the Stanford 5 but got pushed back to fourth-and-goal from the 12. Mariota threw a touchdown pass to Pharaoh Brown with 2:12 remaining, but the time it took the Ducks to get in while burning a timeout was key.
Stanford grabbed the next onside kick, and Oregon was powerless to stop the clock.
Stanford put Oregon in a 14-0 hole, the Ducks' largest deficit of the season to that point, with a power football clinic that started when the Cardinal came up with a fourth-and-goal stop from the 4 in the first quarter.
Stanford followed with a punishing 96-yard drive that included one long strike from Hogan to Michael Rector. Gaffney's 2-yard plunge made it 7-0.
With a little help from a pass interference call that wiped out an Oregon interception, Stanford made it 14-0 on Hogan's option keeper from 11 yards out with 11:26 left in the second quarter.
SportsNation: Bama-FSU a BCS lock?

Stanford thumped Oregon, all but dashing the Ducks' national title hopes. Is Alabama-FSU now inevitable? Vote! »
And just when it looked as though Oregon was about to get back in it, Stanford linebacker Shayne Skov ripped the ball away from De'Anthony Thomas at the Stanford 2.
Stanford followed that with another 96-yard drive, this one on 20 plays that ended with Williamson kicking a 19-yard field goal to end the half 17-0.
It was the first time Oregon had been shut out in the first half since Oct. 10, 2009 against UCLA, and a lot of people had to be left wondering how Stanford lost to Utah last month.
At halftime, Stanford retired John Elway's No. 7 jersey, and the Hall of Fame quarterback concluded the ceremony by imploring the fans to stay into the game and the Cardinal to keep kicking Duck ... tail.
They obliged, and Oregon is again on the outside looking in at the national title race.
"It is tough and it is hard because a lot of these guys have really worked hard," Mariota said. "It ain't over. It happens. We're going to come back stronger than ever and we're just going to take it in stride."
Photo Wire
PALO ALTO, CA - NOVEMBER 07: Quarterback Marcus Mariota #8 of the Oregon Ducks warms up prior to taking on the...
(Photo by Ezra Shaw/Getty Images)
Top 25 Overview
It was over when... The Cardinal recovered an onside kick with 2:10 left to play and were able to hang on and run out the clock.
Gameball goes to... Tyler Gaffney. The Stanford running back carried the ball a school-record 45 times for 157 yards and a touchdown.
Stat of the game... 274. The number of yards Stanford rushed for. The Cardinal held the Ducks to just 62 yards on the ground.
Team Stat Comparison
| | ORE | STAN |
| --- | --- | --- |
| 1st Downs | 17 | 26 |
| Total Yards | 312 | 377 |
| Passing | 250 | 103 |
| Rushing | 62 | 274 |
| Penalties | 10-81 | 2-10 |
| 3rd Down Conversions | 3-10 | 14-21 |
| 4th Down Conversions | 3-4 | 1-1 |
| Turnovers | 2 | 0 |
| Possession | 17:26 | 42:34 |
Scoring Summary
FIRST QUARTER
ORE
STAN
TD
02:36
Tyler Gaffney 2 Yd Run (Jordan Williamson Kick)
0
7
SECOND QUARTER
ORE
STAN
TD
11:26
Kevin Hogan 11 Yd Run (Jordan Williamson Kick)
0
14
FG
00:00
Jordan Williamson 19 Yd
0
17
THIRD QUARTER
ORE
STAN
FG
12:34
Jordan Williamson 34 Yd
0
20
FG
01:31
Jordan Williamson 26 Yd
0
23
FOURTH QUARTER
ORE
STAN
FG
11:40
Jordan Williamson 30 Yd
0
26
TD
10:11
Daryle Hawkins 23 Yd Pass From Marcus Mariota (Matt Wogan Kick)
7
26
TD
05:08
Rodney Hardrick 65 Yd Return Of Blocked Field Goal (Two-Point Pass Conversion Failed)
13
26
TD
02:12
Pharaoh Brown 12 Yd Pass From Marcus Mariota (Matt Wogan Kick)
20
26
Research Notes
Tyler Gaffney
had 45 rushing attempts vs Oregon, breaking the Stanford record for rushes in a single game. The previous record was 39 by Tommy Vardell in 1991 vs California.
Tyler Gaffney
had a school-record 45 rushing attempts for 157 yards Thursday, with 47 yards coming after contact. Last season against Oregon, Stanford running back Stepfan Taylor had 71 rushing yards after contact, the most the Ducks have allowed to a player in the last two seasons.
[+]
Marcus Mariota
completed fewer than half of his passing attempts (4-of-10) when Stanford brought five or more pass rushers Thursday. Mariota was 0-of-5 on such passes in the first half, as Oregon trailed by 17 after 30 minutes. When Stanford brought four or fewer pass rushers, Mariota threw two touchdowns while completing 75% of his attempts.
[+]
Oregon has been held under 200 rushing yards three times in the last two seasons, twice against Stanford. The Ducks failed to score a rushing touchdown Thursday for the first time since the BCS National Championship Game against Auburn on Jan. 10, 2011.
[+]
--Stanford converted 8-of-10 third-down plays in the first half Thursday. The eight third-down conversions were the most Oregon has allowed in a half since Oct. 4, 2008 at USC (eight conversions in second half). --Oregon had 22 rushing yards in the first half Thursday, its fewest in a half since September 3rd, 2009 at Boise State (6 rushing yards in first half). --
Tyler Gaffney
had 24 rushing attempts in the first half Thursday, the most in a first half by a FBS player this season. --Oregon ran 28 offensive plays in the first half Thursday, its fewest in a first half this season.
Running back
De'Anthony Thomas
says Oregon should put up at least 40 points vs Stanford this Thursday. Although they didn't accomplish that last season in a 17-14 OT loss, the Ducks have done it in 6 of the last 8 meetings between the schools and average 42.9 PPG over that span.
ESPN Stats & Information