1:00 PM ET, December 30, 2012
Ralph Wilson Stadium, Buffalo, NY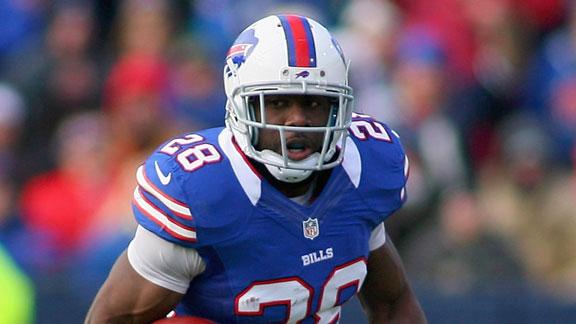 Sunday Blitz: Jets-Bills Recap
Sunday Blitz: Jets-Bills Recap
VIDEO PLAYLIST
The New York Jets' season appears to be ending much the way it began -- fit for a three-ring circus.
Mark Sanchez will be back under center to try to help New York cap its chaotic year on a positive note Sunday when it travels to Buffalo to play the Bills, whose quarterback and coaching situations are also in a state of unrest.
Sunday could prove to be the final game with coach Rex Ryan, Sanchez and Tim Tebow still part of the Jets. Ryan's contract runs through 2014 by way of an extension granted after he led New York to the first of two straight AFC championship game appearances in his first season.
The Jets' 6-9 record after Sunday's 27-17 loss to San Diego guarantees them their first losing season in Ryan's four years and their second straight out of the postseason, leading some to believe he could be let go.
That's what many figure will happen to Sanchez, who is guaranteed $8.25 million next season and was benched in favor of Greg McElroy before the loss to the Chargers. But Ryan revealed Thursday that Sanchez would start the season finale due to a concussion McElroy sustained while being sacked 11 times against San Diego.
The return to Sanchez, naturally, leads to the question of why Ryan wouldn't turn to Tebow. Ryan says he chose to start Sanchez because the team has just two practices and a walkthrough to prepare before the game and he feels "more comfortable" with Sanchez.
It's uncertain what terms Ryan and Tebow are on after a report surfaced that said Tebow asked to not be utilized in the team's wildcat package after being informed he would back up McElroy in Week 16. Ryan earlier said it was his decision to use receiver Jeremy Kerley in wildcat situations.
"I never said, `Hey, I don't want to do anything or I won't do anything," said Tebow, who has attempted eight passes and run 32 times in limited use during 11 games but didn't play Sunday.
"That wasn't the talk at all. He (Ryan) knows that, and everybody on this team knows that. I'd never not do something if I was asked, and I think that's what's disappointing about the whole situation, people saying, `You quit,' or, `You didn't do this.' It was not it at all."
It's hard to believe Sanchez, Tebow or anyone else would be eager to line up under center after New York's offensive line surrendered double-digit sacks for the first time since David Norrie went down 11 times Oct. 4, 1987.
While Ryan's return is uncertain, the writing seems to be on the wall for Chan Gailey, who has led the Bills to a 5-10 record in his third season, marking Buffalo's fourth straight with at least 10 losses.
The Bills have lost seven of nine after Sunday's 24-10 defeat at Miami, which dropped Gailey's record with Buffalo to 15-32. He has not been one for discussing his job security.
"I'm not into that right now," said Gailey, who is under contract for 2013. "I'm into 'let's beat the Jets and finish this thing the way it needs to be finished.'"
Buffalo's offense continues to sputter, putting the focus on quarterback Ryan Fitzpatrick's struggles even more. The Bills have scored 13 offensive touchdowns over their last eight games. Fitzpatrick has eight TDs and seven interceptions over that span.
General manager Buddy Nix has said on several occasions that he's interested in drafting a quarterback next April, but for now, Fitzpatrick remains the team's starter.
"I'd be lying if I said it didn't wear on me a little bit," Fitzpatrick said on his weekly show on Buffalo's WGR-Radio. "We haven't met (the expectations). And I haven't met them. And so it's been disappointing. But that stuff doesn't affect the way that I play on Sunday."
Fitzpatrick will have to make due without tight end Scott Chandler on Sunday. The Bills put Chandler, whose six receiving touchdowns are tied for the team lead, on injured reserve Monday after he tore a left knee ligament against Miami.
C.J. Spiller remains one of the few highlights of Buffalo's dismal season. Spiller has run for 241 yards and a touchdown on 39 carries (6.2 yards per carry) in two games since Fred Jackson suffered a season-ending injury.
He will go against a Jets front that could be without Muhammad Wilkerson. The rookie defensive lineman suffered a concussion and an injured knee against San Diego. Wilkerson, who has 85 tackles, five sacks and three forced fumbles, didn't practice on Wednesday and his status for Sunday is uncertain.
Sanchez threw for 266 yards and three TDs in the Jets' season-opening 48-28 win against the Bills, their eighth victory in the last nine meetings. New York has won four straight in Buffalo.
More from ESPN.com
Manuel: Bills system easier to learn than FSU's
Buffalo Bills quarterback EJ Manuel said Sunday in a radio interview from the NFLPA Rookie Premiere in Los Angeles that he is quickly picking up the team's offense, which he said is less complex than the system he used at Florida State.
Mario Williams' ex alleges suicide-talk texts
An initial attempt to settle a lawsuit between Buffalo Bills defensive end Mario Williams and his former fiancee over the possession of a $785,000 diamond engagement ring has failed.
Clayton: Breaking down free-agent spending
Plenty of teams made big splashes early in free agency, but keep an eye on those who waited for smart bargains, writes John Clayton.
Jets' Goodson arrested for drugs, weapons
New York Jets running back Mike Goodson was arrested Friday morning on drug possession and weapon charges, New Jersey state police spokesperson Stephen Jones told ESPN's Adam Schefter.
ESPN Local
Jets giving new GM John Idzik plenty of early challenges
FLORHAM PARK When Ruston Webster called old friend John Idzik after Idzik was hired as the Jets general manager Jan. 18, he had two things to say. There was a pause. Are you sure you want to do this? Being an NFL general manager is a dream that personn
Jets looking for another veteran quarterback?
01:09 PM ET 05.19 | Now that quarterback David Garrard has retired, the New York Jets are down to Mark Sanchez, Geno Smith, Greg McElroy, and Matt Simms. General manager John Idzik may be looking for another veteran to take Garrard's spot, according to E
Scouting Report
Jets-Bills: What to watch
After watching film of both teams, Scouts Inc. breaks down key elements of the Week 17 Jets-Bills matchup.
• Jets need to get Sanchez on track: The New York offense has been dismal most of the season. Getting Mark Sanchez, who's back in the starting lineup because of Greg McElroy's concussion, on track early is key. McElroy was under duress all game and sacked 11 times against San Diego in Week 16. Look for offensive coordinator Tony Sparano to pound the football against a Bills defense that yields an NFL-worst 146.7 rushing yards per game with a physical ground attack and to use high-percentage passes early to give Sanchez confidence.
Matchup
NYJ

BUF

W-L
6-10
6-10
Avg Points
17.6
21.5
Avg Points Allowed
23.4
27.2
Home Record
3-5
4-4
Road Record
3-5
2-6
Division Record
2-4
2-4
Conference Record
4-8
5-7
Complete Standings
Team Averages & NFL Ranks
TEAM OFFENSE
TEAM
PER GAME AVERAGE
Total Yards
NYJ

299
BUF

343
Yards Passing
NYJ

181
BUF

204
Yards Rushing
NYJ

119
BUF

139
TEAM DEFENSE
TEAM
PER GAME AVERAGE
Yards Allowed
NYJ

323
BUF

363
Pass Yds Allowed
NYJ

190
BUF

217
Rush Yds Allowed
NYJ

134
BUF

146
Head to Head Matchups (Since 2001)
NY Jets leads 15-9
Sep 9, 2012
NYJ 48, BUF 28
Nov 27, 2011
NYJ 28, BUF 24
Nov 6, 2011
NYJ 27, @BUF 11
Jan 2, 2011
NYJ 38, BUF 7
Oct 3, 2010
NYJ 38, @BUF 14
Dec 3, 2009
NYJ 19, @BUF 13
Oct 18, 2009
NYJ 13, BUF 16
Dec 14, 2008
NYJ 31, BUF 27
Nov 2, 2008
NYJ 26, @BUF 17
Oct 28, 2007
NYJ 3, BUF 13
Sep 30, 2007
NYJ 14, @BUF 17
Dec 10, 2006
NYJ 13, BUF 31
Sep 24, 2006
NYJ 28, @BUF 20
Jan 1, 2006
NYJ 30, BUF 26
Oct 16, 2005
NYJ 17, @BUF 27
Nov 7, 2004
NYJ 17, @BUF 22
Oct 10, 2004
NYJ 16, BUF 14
Dec 7, 2003
NYJ 6, @BUF 17
Oct 12, 2003
NYJ 30, BUF 3
Nov 24, 2002
NYJ 31, BUF 13
Sep 8, 2002
NYJ 37, @BUF 31
Dec 30, 2001
NYJ 9, BUF 14
Oct 7, 2001
NYJ 42, @BUF 36