1:00 PM ET, October 6, 2013
Soldier Field, Chicago, IL
Top Performers
Passing: J. Cutler (CHI) - 358 YDS, 2 TD
Rushing: M. Forte (CHI) - 12 CAR, 55 YDS
Receiving: A. Jeffery (CHI) - 10 REC, 218 YDS, 1 TD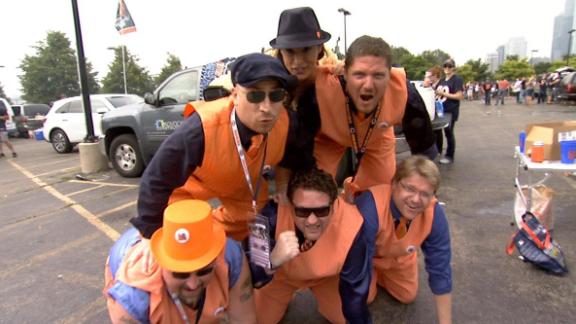 No Spain, No Game: Chicago Bears
Sarah Spain takes you to Chicago to check out how Bears fans do it big -- tailgating style.
No Spain, No Game: Chicago Bears
VIDEO PLAYLIST
The New Orleans Saints are doing all they can not to get caught up in their best start in four seasons.
If they are to remain undefeated Sunday, the Saints must end a three-game road skid against the Chicago Bears, who are looking to bounce back from their first loss.
A year ago, New Orleans (4-0) was winless through four games under interim coach Aaron Kromer as the bounty situation and suspension of coach Sean Payton hung over the franchise.
The Saints, though, are again comfortable, confident and back to their winning ways with Payton having returned and Rob Ryan in charge of a much-improved defense.
They also aren't planning on letting anything hinder their focus on maintaining their best start since opening 13-0 during the Super Bowl season of 2009.
"You just got to tune out everything outside the locker room and focus on going to play a good opponent this week," said receiver Marques Colston, who has 21 receptions for 298 yards and a touchdown. "You've got to fight against human nature at all times, and 4-0 was obviously the start that we were looking, for but there's still a lot of football yet to be played.
"So it's focusing on the reason why we are sitting at 4-0 and just continuing to try to get better."
After totaling 39 points to beat Atlanta and Tampa Bay by a combined eight points, New Orleans has outscored Arizona and previously undefeated Miami 69-24 the last two weeks.
Drew Brees threw for 413 yards and four touchdowns, including a pair to tight end Jimmy Graham, in a 38-17 rout of the Dolphins on Monday.
Completing 66.9 percent of his passes and coming off his 10th 400-yard passing game, Brees has thrown seven TDs and one interception the last two games after recording three of each in the first two. He completed 57.6 percent of his passes during the Saints' 0-4 start last season.
Graham has 23 receptions for 413 yards and five touchdowns in the last three games. Versatile running back Darren Sproles scored twice and made seven catches for 114 on Monday.
"To me, the last couple of games, we felt that rhythm," right tackle Zach Strief said. "We talk about getting into a rhythm and getting into a tempo and it's based on things working and execution. I think we're starting to feel that."
The Saints rank fourth in the NFL with 419.5 yards per game and are tied for seventh with 27.0 points a contest.
After giving up an average of 440.1 yards and 28.4 points in 2012, New Orleans ranks sixth with an average of 304.5 yards allowed and fifth at 13.8 points under Ryan.
"We all try to be, as coaches, very critical of ourselves, just like we'd be of players," Payton said. "I don't know that there's ever any complete satisfaction. It's not like a Snickers bar, so I think you're always looking to improve."
Though New Orleans beat the Bears 30-13 at the Superdome in the teams' last meeting Sept. 18, 2011, Payton is 0-3 with the Saints at Soldier Field, the most recent of those matchups coming in 2008. The slide began with a 39-14 defeat in the NFC championship game during the 2006 season.
Brees hasn't been at his best in Chicago either, completing 55.7 percent of his passes with seven TDs and six interceptions while going 0-4 there.
Chicago (3-1) rode a precise offense under new coordinator Kromer and its typically opportunistic defense to wins over Cincinnati, Minnesota and Pittsburgh, but it struggled on both sides of the ball in a 40-32 loss at Detroit on Sunday.
Jay Cutler threw two touchdowns but also had three interceptions and lost a fumble that was returned for a TD. The Bears defense forced three more turnovers but allowed Reggie Bush to run for 139 yards.
"I don't think what happened (last Sunday) means that it has to happen next week or the week after," coach Marc Trestman said. "It could, but we're working to prevent those situations from happening. We got guys committed to do that."
That starts with Cutler, who has completed a career-high 64.2 percent of his passes but has been intercepted six times and lost two fumbles.
"We sat in the meeting and Jay expressed his sense of accountability," Trestman said.
"We're just going to work together on the corrections. We've got to get back and work on fundamentals and techniques, not only at the quarterback position but throughout our team."
Poor tackling Sunday plagued a defense that's forced 14 turnovers but ranks 20th with 384.0 yards allowed per game and 26th with 28.5 points given up.
Chicago running back Matt Forte ranks among the NFL leaders with 120.0 total yards a contest. He caught 10 passes for 117 yards in the 2011 meeting with New Orleans.
Cutler, sacked six times in that contest, has thrown three TDs and one pick while going 1-1 against the Saints.
More from ESPN.com
Source: Saints agree with CFL CB Breaux
Delvin Breaux, a standout cornerback in the CFL who worked out for 13 NFL teams, has reached an agreement with the New Orleans Saints, a league source tells ESPN's Adam Schefter.
Saints owner Benson being sued by family
Tom Benson's family is fighting back in court, claiming he has diminished mental capacity after he announced plans to remove them from control of his businesses, including the New Orleans Saints and New Orleans Pelicans.
Impartial staff to handle SB XLIX game balls
As per its custom, the NFL will use a modified set of procedures to prep game balls for Super Bowl XLIX. Established long before allegations of deflated balls in the AFC title game, the process includes independent equipment managers and ball attendants.
Benson restructures Saints, Pelicans succession
New Orleans Saints and Pelicans owner Tom Benson revealed Wednesday that he plans to transfer ownership of his franchises to his wife, Gayle, when he dies, instead of his daughter and grandchildren -- a change from his previous succession plan.
Matchup
NO

CHI

W-L
5-0
3-2
Avg Points
26.8
29.0
Avg Points Allowed
14.6
28.0
Home Record
3-0
2-1
Road Record
2-0
1-1
Division Record
2-0
1-1
Conference Record
4-0
1-2
Complete Standings
Team Averages & NFL Ranks
TEAM OFFENSE
TEAM
PER GAME AVERAGE
Total Yards
NO

399
CHI

382
Yards Passing
NO

307
CHI

268
Yards Rushing
NO

92
CHI

114
TEAM DEFENSE
TEAM
PER GAME AVERAGE
Yards Allowed
NO

306
CHI

395
Pass Yds Allowed
NO

194
CHI

233
Rush Yds Allowed
NO

112
CHI

161
Head to Head Matchups (Since 2001)
Series tied 4-4
Sep 18, 2011
NO 30, CHI 13
Dec 11, 2008
NO 24, @CHI 27
Dec 30, 2007
NO 25, @CHI 33
Jan 21, 2007
NO 14, @CHI 39
Nov 6, 2005
NO 17, CHI 20
Oct 12, 2003
NO 20, CHI 13
Sep 22, 2002
NO 29, @CHI 23