1:00 PM ET, November 17, 2013
EverBank Field, Jacksonville, FL
Top Performers
Passing: C. Palmer (ARI) - 419 YDS, 2 TD
Rushing: M. Jones-Drew (JAX) - 14 CAR, 23 YDS, 1 TD
Receiving: M. Floyd (ARI) - 6 REC, 193 YDS, 1 TD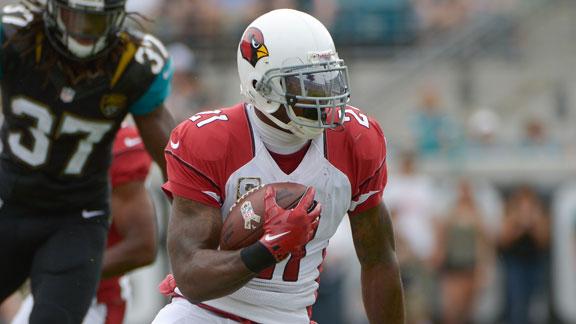 Sunday Blitz: Cardinals-Jaguars Recap
Cary Chow and Tom Waddle break down the Cardinals' Week 11 win over the Jaguars.
Sunday Blitz: Cardinals-Jaguars Recap
VIDEO PLAYLIST
Winless no longer, the Jacksonville Jaguars are confidently moving forward.
In pursuit of a third straight victory, the Arizona Cardinals have the postseason on their radar but won't look past the next opponent.
Trying to win consecutive games for the first time in three seasons, the Jaguars look to build on their first victory in almost a year when they host the surging Cardinals on Sunday.
Mired in a 13-game skid that dated to a 24-19 home win over Tennessee on Nov. 25, Jacksonville (1-8) took advantage of four Titans' turnovers to win 29-27 last Sunday in Nashville. In their highest-scoring game of the season, the Jaguars prevailed after losing their first eight games by an average margin of 22.3 points.
"It was kind of like (giving the) middle finger to all the people who want talk about the Jaguars not winning the game or being the worst 0-8 team in history," guard Uche Nwaneri said. "It's kind of, 'Eat this.' That's kind of how it feels."
Though the Jaguars enjoyed the moment, they're only focus is on trying to win back-to-back games for the first time since Dec. 5-12, 2010.
"Coach (Gus Bradley) always talks about eating crumbs, and that's what we're going to do," center Brad Meester said. "Sometimes after you have that big win, you want to go out and eat that big meal, go out to Ruth's Chris. But it's about humility. You've got to continue to stay focused and not get overconfident because you've got one win.
"You've got to continue to do the things that you do, and that's what we need to do in here."
Jacksonville is still far from being a consistent winner -- ranking last in the NFL averaging 12.8 points and 278.4 yards.
The Jaguars totaled 214 yards last Sunday, and though Maurice Jones-Drew opened the scoring with a 6-yard TD run, he finished with 41 yards on 21 carries. It's the sixth time he's been held to 45 or fewer rushing yards this season.
Chad Henne threw for 180 with two interceptions and no touchdowns. His only TD pass while starting the last four games went for 29 yards to Mike Brown during a 42-10 loss to San Francisco in London on Oct. 20.
The Jaguars have yet to score a TD in three games this season in Jacksonville, where they have been outscored 89-11.
Linebacker Paul Posluszny has a team-leading 88 tackles, but his status is uncertain after he suffered a concussion against the Titans. The Jaguars will be without reserve linebacker LaRoy Reynolds after he was been suspended four games for violating the NFL's policy on performance-enhancing drugs.
Regardless of who is on the field, the Jaguars expect to face a stiff challenge against a Cardinals team looking to win three in a row for the first time since starting 4-0 last season.
Arizona (5-4) posted consecutive victories over underachievers Atlanta and Houston at home to put itself in the wild-card hunt. However, the Cardinals' only focus is toward the Jaguars and improving on their 1/3 road mark.
"Obviously, looking ahead will get you in trouble, but I like where we're at right now," coach Bruce Arians said.
"All of our focus is on Jacksonville. If we lose any sight of that, they'll beat us. They're playing really well right now."
The Cardinals have averaged 23.6 points in the last five games, and Carson Palmer threw two of his four touchdowns over the last two during last Sunday's 27-24 win over the Texans.
Palmer has thrown 15 interceptions this season, but one in each of the last two contests. He's thrown for 537 yards with three touchdowns and one pick in two career games versus Jacksonville.
Though the Cardinals rank 24th averaging 93.6 rushing yards per game, rookie Andre Ellington has averaged 7.2 per carry.
Defensively, the Cardinals returned a fumble for a TD last weekend, and have recorded at least three sacks in three straight games and four of the last five. In his 14th season and first with Arizona, John Abraham has recorded all of his team-leading five sacks in the last three games.
Arizona dropped its first two games with the Jaguars before winning 31-17 at Jacksonville in the most recent meeting in 2009.
Larry Fitzgerald has caught a touchdown pass in each of his two games versus Jacksonville.
More from ESPN.com
Cardinals' Abraham arrested on DUI in June
Arizona Cardinals outside linebacker John Abraham was arrested June 29 on a charge of DUI, according to Dekalb County, Georgia, jail records.
Giving back: Beadles donates $750K to Utes
Fresh off signing his first NFL free-agent contract, former Utah Utes offensive lineman Zane Beadles is ready to give back.
Arians: Cards won't use Peterson on offense
The Patrick Peterson experiment is apparently over. Before the Cardinals held their second practice of training camp, coach Bruce Arians said he won't be using the All-Pro on offense anymore, leaving Peterson to focus on defense and punt returns.
Jaguars WR Shorts out with hamstring strain
The Jacksonville Jaguars are going to be without their most experienced receiver for up to a month after Cecil Shorts was diagnosed Saturday with a right hamstring strain.
Matchup
ARI

JAX

W-L
6-4
1-9
Avg Points
21.4
12.9
Avg Points Allowed
21.2
31.8
Home Record
4-1
0-5
Road Record
2-3
1-4
Division Record
0-3
1-1
Conference Record
4-4
1-5
Complete Standings
Team Averages & NFL Ranks
TEAM OFFENSE
TEAM
PER GAME AVERAGE
Total Yards
ARI

346
JAX

294
Yards Passing
ARI

250
JAX

215
Yards Rushing
ARI

96
JAX

79
TEAM DEFENSE
TEAM
PER GAME AVERAGE
Yards Allowed
ARI

317
JAX

379
Pass Yds Allowed
ARI

233
JAX

248
Rush Yds Allowed
ARI

84
JAX

132
Head to Head Matchups (Since 2001)
Arizona leads 2-1
Sep 20, 2009
ARI 31, @JAX 17
Nov 27, 2005
ARI 17, JAX 24
Research Notes
Danny Noble
's 62-yard touchdown reception was the Jaguars' first TD this season in the state of Florida. Jacksonville's only "home" touchdown was scored at Wembley Stadium in Week 8.
Carson Palmer
had a 85.9 Total QBR against the Jaguars, his highest in a game since Week 17 in 2011. Palmer has a 43.4 Total QBR this season, the lowest of any qualified quarterback on an above .500 team this season.
ESPN Stats & Information