1:00 PM ET, November 3, 2013
Ralph Wilson Stadium, Buffalo, NY
Top Performers
Passing: J. Tuel (BUF) - 229 YDS, 1 TD, 2 INT
Rushing: C. Spiller (BUF) - 12 CAR, 116 YDS
Receiving: D. Bowe (KC) - 7 REC, 67 YDS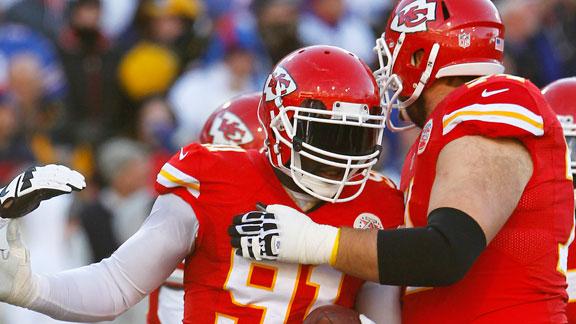 Sunday Blitz: Chiefs-Bills Recap
Sunday Blitz: Chiefs-Bills Recap
VIDEO PLAYLIST
As the Kansas City Chiefs keep their strong start in perspective, the Buffalo Bills hope to turn things around by knocking off the NFL's only undefeated team.
The visiting Chiefs look go 9-0 for the first time in 10 years when they try to end their recent struggles against the Bills on Sunday.
The first team in league history to start 8-0 after owning the worst record the previous season -- 2-14 -- Kansas City hasn't won its first nine games since 2003. That year, it matched the franchise record of 13 wins before losing 38-31 to Indianapolis in the divisional round of the playoffs.
Though confident, this year's team won't read too much into its place in history.
"We've always been humble," safety Eric Berry said. "We're going to keep working because we know how hard these wins are to come by. We don't take these for granted."
Since the league expanded to a 16-game schedule in 1978, 15 teams have won their first eight games. Nine made the Super Bowl and eight won. These Chiefs, however, would rather focus on the present and let the future take care of itself.
"We love what's going on around here as far as winning," linebacker Tamba Hali said. "None of us have been in this position where this team is 8-0. To keep winning, to go 1-0 every week, I think we have a sense of urgency to keep getting wins."
Kansas City has won largely because of a defense that allows a league-low 12.3 points per game and has recorded an NFL-high 36 sacks -- nine more than Buffalo (3-5), which is second. The 98 points the Chiefs have yielded are the second fewest in team history through the first half of a non-strike affected season since the league went to 16 games in 1978.
Kansas City matched its season high for points allowed in a 23-17 victory over Cleveland last Sunday. It was Kansas City's third game and second in as many weeks to be decided six or fewer points.
"We're not trying to be the beauty queens. A win is a win," receiver Dexter McCluster said. "We know we're going to have to fight. This is the NFL."
The Chiefs expect to be seriously challenged by a Bills team that's won five of the last six meetings and both in the last two seasons by a combined 76-24. Buffalo, though, has dropped three of four and is dealing with a host of injuries as it tries to continue that dominance in the series.
One of the biggest injury issues is Thad Lewis' sore ribs, which could keep the QB on the sideline.
He was injured on the first play from scrimmage last week and is listed as doubtful. If Lewis is unable to play, the Bills will start either undrafted rookie Jeff Tuel or the recently signed Matt Flynn. Bills coach Doug Marrone said he would wait to decide who will start in that scenario but said Tuel received more reps at practice Friday.
Rookie quarterback EJ Manuel (knee) remains out and running back C.J. Spiller (ankle) could miss a second straight game. Receiver Stevie Johnson is dealing with a hip flexor but is hopeful he can go Sunday.
Running back Fred Jackson is dealing with a nagging injury but expects to play.
"(Injuries) can happen to any team," Johnson said.
"It probably is happening to every other team, but we're talking about it now and we've got to just get over it. There's nothing we can really control. We're out there and playing football and this is what happens when you play in this league."
Johnson had seven receptions for 72 yards and a touchdown in Sunday's 35-17 loss at New Orleans, and he's scored a TD in three straight against the Chiefs.
Despite the health issues and a defense that ranks 25th with 26.6 points per allowed game, the Bills are excited to get their crack at the team with the best record in the NFL.
"Guys are still confident," said Jackson, who has rushed for 331 yards and averaged 4.8 per carry in four games against Kansas City. "We've got a good opponent coming in this weekend that gives us an opportunity to go out and win against a team that's 8-0, give them the first loss of the season and try and build on that."
The Chiefs' Jamaal Charles ran for 376 yards and averaged 7.2 per carry in his previous three games against the Bills before being held to three yards on six attempts during a 35-17 loss at Buffalo last Sept. 16.
Charles, who averages a league-high 127.3 yards from scrimmage and is second with 635 rushing yards, expects to play despite leaving briefly last week to be treated for a bruised knee.
"It's a long season and I'll get banged up every week," he said.
More from ESPN.com
Source: Free agent Byrd wants $9M a year
Free-agent safety Jairus Byrd is aiming to become one of the NFL's highest-paid safeties when he hits the open market Tuesday, seeking a long-term deal in the range of $9 million per season, a source told ESPN.com.
Clayton: How will teams utilize cap increase?
Stars from the 2010 and 2011 draft classes are set to command big money after their rookie deals expire, leaving teams to debate how much of the extra 2014 salary cap to carry over to future seasons, writes John Clayton.
Bills lock up A. Williams with four-year deal
The Buffalo Bills signed safety Aaron Williams to a four-year contract extension Wednesday.
No Canada: Bills won't play in Toronto in '14
The Buffalo Bills won't play a 2014 regular-season game at Rogers Centre in Toronto, pushing it back one year in order to deliver a better fan experience there, the team announced Wednesday.
Matchup
KC

BUF

W-L
9-0
3-6
Avg Points
23.9
21.0
Avg Points Allowed
12.3
26.2
Home Record
5-0
2-3
Road Record
4-0
1-3
Division Record
1-0
1-2
Conference Record
6-0
2-5
Complete Standings
Team Averages & NFL Ranks
TEAM OFFENSE
TEAM
PER GAME AVERAGE
Total Yards
KC

337
BUF

338
Yards Passing
KC

209
BUF

194
Yards Rushing
KC

129
BUF

144
TEAM DEFENSE
TEAM
PER GAME AVERAGE
Yards Allowed
KC

368
BUF

333
Pass Yds Allowed
KC

248
BUF

204
Rush Yds Allowed
KC

120
BUF

129
Head to Head Matchups (Since 2001)
Buffalo leads 5-4
Sep 16, 2012
KC 17, @BUF 35
Sep 11, 2011
KC 7, BUF 41
Oct 31, 2010
KC 13, BUF 10
Dec 13, 2009
KC 10, BUF 16
Nov 23, 2008
KC 31, BUF 54
Nov 13, 2005
KC 3, @BUF 14
Oct 26, 2003
KC 38, BUF 5
Nov 17, 2002
KC 17, BUF 16
Research Notes
Jamaal Charles
leads the Chiefs in rushing and receiving, accounting for 37% of the team's yards from scrimmage. No other Chiefs player has counted for more than 14% of the team's yards.
[+]
Sean Smith
: 100-yard interception return for TD. That is tied for the 2nd-longest interception returned for a TD in the history of the Chiefs. It is their longest since a 100-yard TD return by Tim Collier against the Raiders in 1977, Week 14. The only one longer was a 102-yard TD return by Gary Barabaro against the Seahawks in 1977, Week 13.
The
Sean Smith
interception return TD was the second pick-six of at least 100 yards since the start of last season. Arizona's
Greg Toler
had a 102-yard interception return TD against
Matthew Stafford
in Week 15 last year.
The
Jeff Tuel
-to-
Marquise Goodwin
touchdown was Buffalo's third TD pass on a throw at least 30 yards downfield this season. Only the Seahawks and Saints have more (four).
The Chiefs now have as many wins this season as they did the previous 2 years combined and have gone from averaging almost an 11-point loss per game to nearly a dozen-point victory every Sunday.
[+]
Marquise Goodwin
joins
Victor Cruz
and
Dez Bryant
as the only players to record a 50+ yd Rec vs Chiefs this season. Goodwin's 59-yd Rec TD is the 2nd-longest Rec TD allowed by the Chiefs this season (Victor Cruz - 69-yd Rec TD in Week 4).
All the scoring the Chiefs needed came from the defense. Kansas City had two defensive touchdowns in the game, becoming the fourth team to score multiple defensive touchdowns in a game this season (those teams are 4-0). The Chiefs' defense and special teams units have scored seven touchdowns this season, as many as the Jaguars total team.
C.J. Spiller
finished with a season-high 155 yards from scrimmage Sunday, including season highs in rushing yards (116) and rush yards after contact (64). Spiller averaged 57 yards from scrimmage per game in his seven games played this season, and his five first downs on Sunday were half of his season total entering Week 9.
Today marks the 2nd time this season that the Chiefs trail at halftime; trailed 10-7 vs Cowboys in Week 2 (went on to win). Today also marks the fewest 1st half points (3) by the Chiefs this season. Entering today's game, the Chiefs outscored their opponents 108-52 in the 1st half.
Alex Smith
had a 30.5 Total QBR in a win, his 4th win this season with a Total QBR of less than 40 (most in the NFL).
The Chiefs' defense scored 2 touchdowns Sunday, to the offense's zero. Although the Chiefs' defense hasn't outscored the offense in points this season, using expected points added shows how it has contributed more to the team's success.
[+]
ESPN Stats & Information