1:00 PM ET, December 2, 2012
Ford Field, Detroit, MI
Top Performers
Passing: A. Luck (IND) - 391 YDS, 4 TD, 3 INT
Rushing: J. Bell (DET) - 7 CAR, 81 YDS
Receiving: C. Johnson (DET) - 13 REC, 171 YDS, 1 TD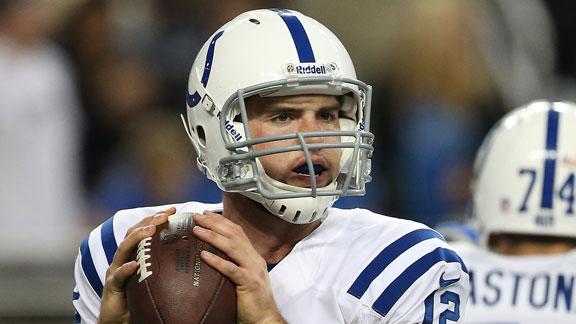 Sunday Blitz: Colts-Lions Recap
Sunday Blitz: Colts-Lions Recap
VIDEO PLAYLIST
DETROIT -- Andrew Luck was down to his last shot and his final option to lead the Indianapolis Colts to victory.
Luck dropped back, then moved up to avoid pressure and buy time for a teammate to get open, tossed a short pass to
Donnie Avery
, and the receiver did the rest -- racing untouched for a 14-yard touchdown and giving the Colts a 35-33 comeback win over the
Detroit Lions
on Sunday.
Luck's Legend Grows
By leading the Colts to their eighth win Sunday, Andrew Luck became the winningest rookie quarterback drafted No. 1 overall in the Super Bowl era. With four games left, he has a shot to break the rookie passing yards record, as well. He's third all-time after his 391-yard effort pushed him to 3,596 yards this season.
Most pass yards by rookie,
NFL history
Quarterback
Yards
Cam Newton, 2011
4,051
Peyton Manning, 1998
3,739
Andrew Luck, 2012
3,596
Sam Bradford, 2010
3,512
Matt Ryan, 2008
3,440
Andy Dalton, 2011
3,398
-- ESPN Stats & Information
• Radio: Mike Ditka | Ron Jaworski
• Stats & Info: Good Luck, good night
• Radio: Mike & Mike | Cris Carter

"You always hesitate throwing the ball not in the end zone, for fear of the clock running out with a guy in bounds," Luck said. "Took the calculated risk that Donnie could get there in the end zone, and he did."Luck made all the right moves when it mattered most, making his transition from Stanford to the NFL look relatively smooth to help Indy win a game in a way it hasn't since just after his first birthday.The last time the Colts scored a game-winning TD with no time remaining on the clock was Sept. 30, 1990, according to STATS LLC, to beat Philadelphia 24-23.Luck has won more games (eight) than any rookie quarterback drafted No. 1 overall in the Super Bowl era. He broke the mark by
Sam Bradford
, who helped St. Louis win seven games two years ago, and also surpassed Jim Plunkett in New England during the 1971 season.The Colts (8-4) stayed in control of the AFC wild-card race by winning for the sixth time in seven games. Luck helped them move a step closer toward being in the playoffs for the 10th time in 11 seasons, only this time without
Peyton Manning
."Some teams find ways to win," Indy interim coach Bruce Arian said. "Others don't."The Lions (4-8) lost for the fourth straight time, including three in a row at home after leading in the final quarter.They're the first team to lose three straight games when leading with 2 minutes left in regulation since San Diego did it in 2000, according to Elias Sports Bureau, and the first since at least 1983 to blow leads that late in three home games in a row."This is a tough league for tough people, and we'll find out now who is tough," Detroit coach Jim Schwartz said.Luck is -- that's for sure.
Ndamukong Suh
, who was fined $30,000 for kicking Houston quarterback
Matt Schaub
last week, sacked Luck on his first snap and he was hit and hurried many more times by a hard-rushing front.
AFC South blog

ESPN.com's Paul Kuharsky writes about all things AFC South in his division blog.
On the game-winning play, though, Detroit let Luck run through a slowly collapsing pocket as the final seconds ticked away and he took advantage."If the pass rush does their job, he doesn't get free of the scramble and he never finds that receiver," Schwartz said. "All game, we focused on taking away his step-up lanes, and then on the last play, we don't do it."Luck, who was 24 of 54 for 391 yards with four TD passes, made up for matching a season-high three interceptions by doubling his previous season high with his final TD on the winning, fourth-down play that started with 3 seconds left.He had two interceptions in the first half and threw a third in the fourth quarter. He has thrown 13 of his 16 interceptions on the road.Fellow rookie
T.Y. Hilton
had six receptions for 100 yards and Avery had five catches for 91 yards and two scores, the first of which gave the Colts their only lead -- until his second one won the game."I had no choice but to score," Avery said. "It was the slowest 11 yards that I ever felt like I ran."
NFC North blog

ESPN.com's Kevin Seifert writes about all things NFC North in his division blog.
Calvin Johnson
had a career-high 13 receptions for 171 yards, including a 46-yard touchdown that gave Detroit a 30-21 lead late in the third quarter. Johnson made a one-handed grab that set up
Mikel Leshoure
's TD in the second quarter. Johnson had at least 125 yards receiving for the fifth straight game, matching an NFL record set in 1966 by Pat Studstill with the Lions."Calvin Johnson is always a bright spot," Schwartz said. "Maybe I should have had him on defense for the last play."
Matthew Stafford
, the No. 1 pick overall in 2009, was 27 of 46 for 313 yards with two TDs and an interception late in the first half that hurt his team's chances of adding to its 24-13 lead.Stafford also missed Johnson at times late in the game, including on the Lions' last scoring drive when he threw behind him in the end zone and that led to
Jason Hanson
's fourth field goal that gave them a 33-21 lead with 8:41 left.Luck threw his third TD pass to
LaVon Brazill
to make it 33-28 with 2:39 left. Then,
Nick Harris
' poor punt from the 50 gave Luck the ball at his 25 with 1:07 left and no timeouts and the quarterback pulled off another dramatic finish.
Game notes
Lions WR
Ryan Broyles
(right knee) left the game, leaving the team thin at the position because it left
Titus Young
inactive because of his behavior and previously lost
Nate Burleson
to a season-ending knee injury. ... Colts OL
Joe Reitz
left in the first quarter and didn't return after undergoing a concussion evaluation. ... Indy rookie TE
Coby Fleener
, who missed the previous four games with a shoulder injury, made a twisting, 26-yard TD catch in the second quarter. ... Tigers star Miguel Cabrera was wearing a Suh jersey, as one of his guests at the game.
Information from The Associated Press was used in this report.
Copyright by STATS LLC and The Associated Press
Photo Wire
DETROIT, MI - DECEMBER 02: Andrew Luck #12 of the Indianapolis Colts warms up prior to the start of the game...
(Photo by Leon Halip/Getty Images)
Team Stat Comparison
| | IND | DET |
| --- | --- | --- |
| 1st Downs | 23 | 21 |
| Passing 1st downs | 13 | 15 |
| Rushing 1st downs | 7 | 5 |
| 1st downs from Penalties | 3 | 1 |
| 3rd down efficiency | 4-15 | 6-17 |
| 4th down efficiency | 2-2 | 0-0 |
| Total Plays | 74 | 75 |
| Total Yards | 459 | 451 |
| Yards per play | 6.2 | 6.0 |
| Total Drives | 17 | 16 |
| Passing | 372 | 313 |
| Comp - Att | 24-54 | 27-46 |
| Yards per pass | 6.9 | 6.8 |
| Interceptions thrown | 3 | 1 |
| Sacks - Yards Lost | 2-19 | 0-0 |
| Rushing | 87 | 138 |
| Rushing Attempts | 18 | 29 |
| Yards per rush | 4.8 | 4.8 |
| Red Zone (Made-Att) | 3-3 | 2-4 |
| Penalties | 4-36 | 8-61 |
| Turnovers | 3 | 1 |
| Fumbles lost | 0 | 0 |
| Interceptions thrown | 3 | 1 |
| Defensive / Special Teams TDs | 0 | 0 |
| Possession | 22:22 | 37:38 |
Scoring Summary
FIRST QUARTER
IND
DET
FG
08:49
Jason Hanson 48 Yd
0
3
TD
06:29
Donnie Avery 17 Yd Pass From Andrew Luck (Adam Vinatieri Kick)
7
3
TD
01:48
Brandon Pettigrew 16 Yd Pass From Matthew Stafford (Jason Hanson Kick)
7
10
SECOND QUARTER
IND
DET
TD
11:27
Mikel Leshoure 6 Yd Run (Jason Hanson Kick)
7
17
TD
09:47
Coby Fleener 26 Yd Pass From Andrew Luck (Adam Vinatieri Kick)
14
17
FG
07:17
Jason Hanson 33 Yd
14
20
FG
03:46
Jason Hanson 52 Yd
14
23
THIRD QUARTER
IND
DET
TD
12:05
Vick Ballard 11 Yd Run (Adam Vinatieri Kick)
21
23
TD
00:02
Calvin Johnson 46 Yd Pass From Matthew Stafford (Jason Hanson Kick)
21
30
FOURTH QUARTER
IND
DET
FG
08:41
Jason Hanson 31 Yd
21
33
TD
02:39
LaVon Brazill 42 Yd Pass From Andrew Luck (Adam Vinatieri Kick)
28
33
TD
00:00
Donnie Avery 14 Yd Pass From Andrew Luck (Adam Vinatieri Kick)
35
33
Research Notes
From Elias: The Lions are the 2nd team in NFL history to lose 3 straight games in which they led in the final 2 minutes of the 4th quarter. The 2000 Chargers are the other team -- they finished 1-15.
The Lions are the 3rd team in NFL history to lose 3 straight games, all at home, in which they led in the 4th quarter. They join the 1954 Packers and the 1980 Seahawks.
[+]
QBR:
Andrew Luck
had a Total QBR of 31.4 in Sunday's win over the Lions, but it was late when he played at his best. Luck had a QBR of 96.7 in the final 5 minutes of the game after posting an 11.3 in the 1st 55 minutes.
The Lions are 4-8, but could easily be 7-5 if they had a clue in the 4th quarter. They've been home for their last 3 games, held a 4th-quarter lead in each game -- and lost each game. In each game, they relinquished the lead inside the 2:00 mark:
[+]
NEXT LEVEL: It took
Andrew Luck
some time to get going Sunday, but Luck's performance down the stretch was crucial to Indianapolis'' win. The Colts were down 12 points before Luck hit Lavon Brazill and
Donnie Avery
in the last 2:47 to finish off the Lions.
[+]
NEXT LEVEL:
Calvin Johnson
caught 12-of-16 targets through the first three quarters for 163 yards and a 46-yard touchdown with 0:12 remaining in the third quarter. Johnson caught only 1-of-4 targets for eight yards over the final 15 minutes, although he did draw a 21-yard pass interference penalty on
Cassius Vaughn
.
From Elias:
Andrew Luck
: 4th rookie since 1970 to throw a game-winning TD pass with 0:00 left in game. The other 3 are
Tim Couch
(Browns at Saints, October 31, 1999),
Matthew Stafford
(Lions vs Browns, November 22, 2009) and
Russell Wilson
(Seahawks vs Packers, September 24, 2012)
ESPN Stats & Information