4:05 PM ET, September 15, 2013
Raymond James Stadium, Tampa, FL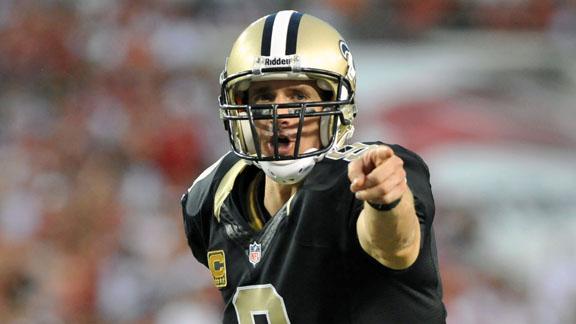 Sunday Blitz: Saints-Buccaneers Recap
Jim Basquil and Eric Allen break down the Saints week 2 victory over the Buccaneers.
Sunday Blitz: Saints-Buccaneers Recap
VIDEO PLAYLIST
TAMPA, Fla. -- Winning in dramatic fashion never gets old for Drew Brees.
The New Orleans star was sacked four times, knocked around a bunch more and threw an interception that was returned for a touchdown Sunday.
Still, he and the Saints found a way to beat the Tampa Bay Buccaneers again.
More from ESPN.com

More than anyone, Buccaneers coach Greg Schiano is the reason for Tampa Bay's loss Sunday, Pat Yasinskas writes. Blog
"That's football. That's why we love it, and that's why we never give up, because we always feel like we have a chance," Brees said Sunday after leading a last-minute drive to set up Garrett Hartley's 27-yard field goal as time expired to give New Orleans a weather-delayed 16-14 victory.
Brees shrugged off the mistake that gave Tampa Bay the lead early in the fourth quarter to complete three straight passes for 54 yards to lead the Saints (2-0) into position to beat their NFC South rivals for the fourth straight time.
He finished 26 of 46 for 322 yards, although interceptions by linebackers Dekoda Watson and Mason Foster led to all of Tampa Bay's points.
"I think wins like this are vital because no matter what you've done in the past, you've got to kind of prove it to yourself that this team can do that and overcome those types of odds and circumstances and get a win -- on the road, in the division," Brees said. "These just become so meaningful, and our team got better today."
The game was interrupted by a 69-minute suspension of play because of lightning that sent fans at Raymond James Stadium scurrying for cover in the first quarter.
The Bucs (0-2) lost on a field goal in the closing seconds for the second straight week. Foster scored on an 85-yard interception return for a 14-13 lead.
However, Rian Lindell missed a 46-yard field-goal attempt with just over a minute left, giving Brees one more chance to bring the Saints back.
"It's tough to lose no matter (how)," Foster said. "You've got to tip your hat to Drew Brees and his receivers making great plays. He's a great quarterback. He's proven that over the years."
Brees led his team into scoring position with completions of 15 yards to Jimmy Graham, 8 yards to Darren Sproles and 31 yards to Marques Colston.
It was the 22nd time during the regular season Brees has led a winning drive in the fourth quarter or overtime since joining the Saints in 2006.
"The fact of the matter is we've worked so hard. We've conditioned ourselves to be prepared for these opportunities, and you just visualize success," said Brees, who threw a first-quarter TD pass to Graham, who had 10 catches for 179 yards. "You visualize yourself making plays, so really I can say there was no doubt among our team."
The Bucs played resilient defense to stay in the game, but in the end weren't able to generate enough offense.
Tampa Bay was penalized 13 times for 102 yards during a season-opening 18-17 loss to the New York Jets, including three costly personal fouls -- the last of which set up the Jets' game-winning field goal in the closing seconds. They had three more penalties for hard hits in the second quarter Sunday.
Defensive end Adrian Clayborn was assessed an unnecessary roughness penalty for a hard hit on Brees, safety Dashon Goldson was flagged for a blow to the head on Sproles two plays later, and safety Ahmad Black later was called for what appeared to be a helmet-to-helmet hit on Graham on an incompletion down the middle off the field.
The game was stopped with 10:30 remaining in the first quarter. When play resumed, Brees' first pass was intercepted by Watson at the Saints 35 to set up Josh Freeman's 5-yard TD pass to Kevin Ogletree to put the Bucs up 7-3.
Freeman completed nine of 22 passes for 125 yards. Doug Martin rushed for 144 yards on 29 carries for Tampa Bay.
The Bucs say they are disappointed, though far from discouraged, to be 0-2.
"This team is a resilient team," coach Greg Schiano said. "The head coach is a resilient guy."
Game notes
Tampa Bay finished with 10 penalties for 118 yards, including one for an illegal formation that wiped out a 73-yard TD pass to
Vincent Jackson
. ... Brees has thrown for 300-plus yards in seven consecutive games, two off his NFL record. ... Saints CB
Patrick Robinson
was carted off with an apparent leg injury in the second half and did not return.
Copyright by STATS LLC and The Associated Press
Photo Wire
TAMPA, FL - SEPTEMBER 15: Safety Kenny Vaccaro #32 of the New Orleans Saints grabs a warmup pass before play...
(Photo by Al Messerschmidt/Getty Images)
Team Stat Comparison
| | NO | TB |
| --- | --- | --- |
| 1st Downs | 21 | 14 |
| Passing 1st downs | 13 | 6 |
| Rushing 1st downs | 4 | 7 |
| 1st downs from penalties | 4 | 1 |
| 3rd down efficiency | 5-14 | 5-13 |
| 4th down efficiency | 0-1 | 0-0 |
| Total Plays | 70 | 56 |
| Total Yards | 371 | 273 |
| Yards per play | 5.3 | 4.9 |
| Total Drives | 13 | 11 |
| Passing | 296 | 113 |
| Comp-Att | 26-46 | 9-22 |
| Yards per pass | 5.9 | 4.9 |
| Interceptions thrown | 2 | 1 |
| Sacks-Yards Lost | 4-26 | 1-12 |
| Rushing | 75 | 160 |
| Rushing Attempts | 20 | 33 |
| Yards per rush | 3.8 | 4.8 |
| Red Zone (Made-Att) | 0-4 | 1-1 |
| Penalties | 5-35 | 10-118 |
| Turnovers | 2 | 2 |
| Fumbles lost | 0 | 1 |
| Interceptions thrown | 2 | 1 |
| Defensive / Special Teams TDs | 0 | 1 |
| Possession | 32:36 | 27:24 |
Scoring Summary
FIRST QUARTER
NO
TB
FG
10:35
Garrett Hartley 44 Yard Field Goal is Good

Drive info: 11 plays, 54 yds, 4:30

3
0
TD
5:20
Kevin Ogletree 5 Yard Pass From Josh Freeman (Rian Lindell Kick is Good)

Drive info: 7 plays, 35 yds, 2:48

3
7
TD
2:46
Jimmy Graham 56 Yard Pass From Drew Brees (Garrett Hartley Kick is Good)

Drive info: 6 plays, 80 yds, 2:39

10
7
THIRD QUARTER
NO
TB
FG
8:09
Garrett Hartley 41 Yard Field Goal is Good

Drive info: 8 plays, 17 yds, 3:45

13
7
FOURTH QUARTER
NO
TB
TD
13:01
Mason Foster 85 Yard Interception Return (Rian Lindell Kick is Good)

Drive info: 7 plays, 67 yds, 3:36

13
14
FG
0:05
Garrett Hartley 27 Yard Field Goal is Good

Drive info: 5 plays, 54 yds, 1:06

16
14
Research Notes
The Buccaneers committed 10 penalties for 118 yards Sunday, and they lead the NFL with 23 penalties and 220 penalty yards this season. Tampa Bay has a penalty EPA of -2.94 this season, 2nd-worst in the NFL (their 2 losses are by a combined 3 points) behind the 49ers.
[+]
Jimmy Graham
posted or tied career highs with 10 catches on 16 targets for 179 yards and seven first downs on Sunday. Graham caught 4-of-5 targets at least 15 yards downfield for 121 yards and a touchdown and was by far Brees' most effective downfield receiver.
[+]
Saints QB
Drew Brees
connected on a 56-yard touchdown pass to
Jimmy Graham
in the 1st quarter. It was the 25th TD pass of at least 50 yards in Brees' career. He becomes the 14th QB (4th active) with that many 50-yard touchdowns since the 1970 merger ... The other active QBs are:
Peyton Manning
(40),
Tony Romo
(29), and
Tom Brady
(27)
ESPN Stats & Information