4:05 PM ET, October 13, 2013
CenturyLink Field, Seattle, WA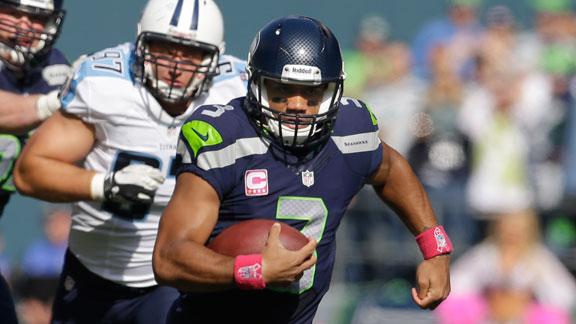 Sunday Blitz: Titans-Seahawks Recap
Jim Basquil and Eric Allen break down the Seahawks week 6 win over the Titans.
Sunday Blitz: Titans-Seahawks Recap
VIDEO PLAYLIST
SEATTLE -- Pete Carroll cracked jokes about decisions he regretted, and the odd plays and strange bounces on Sunday.
Seattle's coach was in a mood to smile because
Marshawn Lynch
and
Richard Sherman
came through to keep the
Seattle Seahawks
perfect at home.
More Titans-Seahawks coverage

The 20-13 win over the Titans at CenturyLink Field was another example of the Seahawks finding a way to win, despite myriad miscues that were laughable at times, writes Terry Blount. Blog
Lynch ran for two touchdowns and had 155 all-purpose yards, Sherman got his third interception of the season early in the fourth quarter, and the Seahawks finally shook the
Tennessee Titans
for a 20-13 victory.Seattle (5-1) won its 11th straight at home despite a long list of mistakes that allowed the Titans (3-3) to hang around in the game.There was a careless turnover that ended one promising drive, a fortunate bounce that prevented another fumble and an unusual muffed field goal attempt that led to the Titans' only touchdown on the final play of the first half.Despite the miscues, Lynch, Sherman and another solid game from quarterback
Russell Wilson
were enough for Seattle to stay atop the NFC West."We kind of made it rough on ourselves today," Carroll said. "We could have had a better day of it, but some stuff got away from us."Lynch finished with 77 yards rushing, including touchdown runs of 1 and 3 yards, and a career-best 78 yards on four receptions. Wilson was 23 of 31 for 257 yards, and Seattle dominated in total yardage, outgaining the Titans 404-223.
Ryan Fitzpatrick
, making his second start in place of injured starter
Jake Locker
, completed 17 of 29 passes for 171 yards and threw two interceptions for Tennessee.He made the mistake to challenge Sherman on the first play after Seattle took a 13-10 lead in the fourth quarter. Sherman didn't get faked out on a double move and held position to easily make the interception."We're putting ourselves in situations that you have to be perfect. You can't make one mistake," Tennessee coach
Mike Munchak
said.Seattle turned the interception into points. Wilson found
Sidney Rice
for 24 yards to the Titans 3 and Lynch plowed in on the next play for a 10-point lead with 7:33 left."This is what we expect from one another," Sherman said. "We expect these kinds of plays, this kind of effort and we feel like we just clean the plays up."
Steven Hauschka
kicked field goals of 31 and 29 yards in the second half for Seattle, but only after being injured in the first half, a development that led to a major special teams blunder and Tennessee's touchdown.Hauschka was plowed by Darius Raynaud during the kickoff return following Lynch's first TD in the second quarter. Just before halftime, he was evaluated in the locker room for a possible concussion."That's the first time I've been popped like that. Usually I come out OK, but that's the first time I've taken it pretty bad," Hauschka said.
Chris Maragos
, a reserve safety, was asked to hold on a short field goal attempt by punter
Jon Ryan
on the final play of the half rather than Seattle going for it on third-and-goal at the 4.Maragos, a holder in college, caught the snap cleanly, but it slipped as he placed it down.Instead of falling on the ball, Maragos tried to make a play. He was stripped by
Michael Griffin
and
Jason McCourty
picked up the loose ball and raced 77 yards to give the Titans a 10-7 halftime lead.Carroll said in hindsight he should have gone for it."It should have been better awareness by me," Maragos said. "It's really all my fault. I should have knelt down on it or threw it down or something."The mistakes continued on Seattle's first possession of the second half. Rice caught his first pass of the game, only to fumble as he was spun to the ground.Eventually the mistakes subsided for Seattle, although they were helped early in the fourth quarter by a lucky bounce following three plays that covered 78 yards, including Wilson's 55-yard pass to Lynch.On first down at the 2, Lynch ran to the left and had the ball knocked free by
Moise Fokou
. The ball bounced perfectly for
Zach Brown
, but he tried to pick it up and run. He never had control and it caromed into the arms of Wilson.Instead of another costly red zone turnover, the Seahawks had second down at the 11. Hauschka eventually hit his second field goal."I felt like I was playing shortstop again," Wilson said.
Game notes
Fokou left in the fourth quarter with a knee sprain. Seattle DE
Chris Clemons
suffered a hyperextended elbow late and Carroll was unsure if he'd be back on Thursday in Arizona. ... Lynch's previous high was 58 yards receiving. ... Seattle benched CB
Brandon Browner
in the first half, but he played his normal role in the second half.
Copyright by STATS LLC and The Associated Press
Photo Wire
SEATTLE, WA - OCTOBER 13: Holder Chris Maragos #42 of the Seattle Seahawks muffs the snap on a field goal attempt...
(Photo by Otto Greule Jr/Getty Images)
Team Stat Comparison
| | TEN | SEA |
| --- | --- | --- |
| 1st Downs | 13 | 24 |
| Passing 1st downs | 8 | 10 |
| Rushing 1st downs | 3 | 11 |
| 1st downs from penalties | 2 | 3 |
| 3rd down efficiency | 4-12 | 5-13 |
| 4th down efficiency | 1-2 | 1-1 |
| Total Plays | 52 | 66 |
| Total Yards | 223 | 404 |
| Yards per play | 4.3 | 6.1 |
| Total Drives | 10 | 10 |
| Passing | 157 | 253 |
| Comp-Att | 17-29 | 23-31 |
| Yards per pass | 4.9 | 7.7 |
| Interceptions thrown | 2 | 0 |
| Sacks-Yards Lost | 3-14 | 2-4 |
| Rushing | 66 | 151 |
| Rushing Attempts | 20 | 33 |
| Yards per rush | 3.3 | 4.6 |
| Red Zone (Made-Att) | 0-1 | 2-5 |
| Penalties | 7-44 | 6-65 |
| Turnovers | 2 | 2 |
| Fumbles lost | 0 | 2 |
| Interceptions thrown | 2 | 0 |
| Defensive / Special Teams TDs | 1 | 0 |
| Possession | 26:38 | 33:22 |
Passing Leaders
TEN
C/ATT
YDS
AVG
TD
INT
SACKS
Fitzpatrick
17/29
171
5.9
0
2
3-14

SEA
C/ATT
YDS
AVG
TD
INT
SACKS
Wilson
23/31
257
8.3
0
0
2-4
Scoring Summary
FIRST QUARTER
TEN
SEA
FG
5:21
Rob Bironas 38 Yard Field Goal is Good

Drive info: 9 plays, 72 yds, 4:43

3
0
SECOND QUARTER
TEN
SEA
TD
2:46
Marshawn Lynch 1 Yard Run (Steven Hauschka Kick is Good)

Drive info: 12 plays, 74 yds, 6:42

3
7
TD
0:02
Jason Mccourty 77 Yard Fumble Return (Rob Bironas Kick is Good)

Drive info: 6 plays, 15 yds, 0:54

10
7
THIRD QUARTER
TEN
SEA
FG
4:31
Steven Hauschka 31 Yard Field Goal is Good

Drive info: 12 plays, 75 yds, 6:26

10
10
FOURTH QUARTER
TEN
SEA
FG
11:26
Steven Hauschka 29 Yard Field Goal is Good

Drive info: 7 plays, 69 yds, 3:37

10
13
TD
7:37
Marshawn Lynch 3 Yard Run (Steven Hauschka Kick is Good)

Drive info: 7 plays, 59 yds, 3:42

10
20
FG
2:21
Rob Bironas 25 Yard Field Goal is Good

Drive info: 14 plays, 69 yds, 5:15

13
20
Research Notes
Russell Wilson
was 13-of-17 for 189 yards on play-action passes Sunday. Wilson averaged 11.1 yards per attempt after play-action fakes (4.9 yards per attempt on all other passes).
Marshawn Lynch
had 21 rushes for 77 yards and four catches for 78 yards on Sunday, his first career game with at least 75 rushing and 75 receiving yards. Lynch joined
Jamaal Charles
(Week 3 vs Eagles) and
Reggie Bush
(Week 1 vs Vikings) as the only players to reach those marks this season.
ESPN Stats & Information