1:00 PM ET, October 20, 2013
Georgia Dome, Atlanta, GA
Top Performers
Passing: M. Ryan (ATL) - 273 YDS, 3 TD
Rushing: D. Martin (TB) - 11 CAR, 47 YDS
Receiving: H. Douglas (ATL) - 7 REC, 149 YDS, 1 TD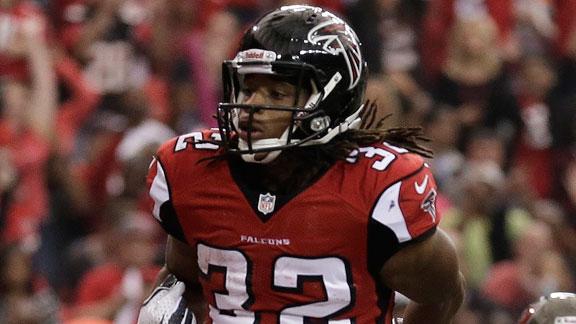 Sunday Blitz: Buccaneers-Falcons Recap
Sunday Blitz: Buccaneers-Falcons Recap
VIDEO PLAYLIST
ATLANTA -- Harry Douglas made the most of his long-awaited opportunity to be more than a complement to star receivers Julio Jones and Roddy White in Atlanta's offense.
Douglas had seven receptions for a career-best 149 yards, including a 37-yard touchdown catch, to lead the Falcons to a 31-20 win over the Tampa Bay Buccaneers on Sunday.
More Buccaneers-Falcons coverage

Harry Douglas promised he wouldn't try to be Superman. Well, one could have mistaken his red jersey for a red cape Sunday afternoon, writes Vaughn McClure. Blog
• Rapid reaction | Locker Room Buzz
---

The evidence and a lot of Tampa Bay fans say coach Greg Schiano should be fired immediately. Pat Yasinkas says it's not that time. At least not yet. Blog
• Why Schiano went for the FG
• Rapid reaction | Locker Room Buzz
Matt Ryan also threw two touchdown passes to Jacquizz Rodgers as the Falcons (2-4) snapped a three-game losing streak.
Douglas flourished as Ryan's No. 1 target with Jones out for the season with a foot injury and White inactive for the first time in his nine-year career due to hamstring and ankle injuries.
"I'm the type of person that I never shy away from it," Douglas said. "Julio went down. Roddy wasn't playing. I wanted the challenge. I've always been like that my whole life."
Ryan completed 20 of 26 passes for 273 yards with three touchdowns and no interceptions.
Ryan said he expected a big game from Douglas, a fifth-year receiver who has never reached 500 yards receiving or had more than one touchdown catch in a season.
"I don't think anyone in our locker room was surprised by his play," Ryan said. "It's what he's capable of doing. You may not know that about him because we've had those other guys."
Atlanta managed only 18 yards rushing as running back Steven Jackson missed his fourth straight game with a hamstring injury.
The loss left the Buccaneers (0-6) still looking for their first win.
"Nobody wants to be in this situation," said Tampa Bay defensive end Adrian Clayborn. "We've got to deal with it."
Trailing 31-17, the Buccaneers held the ball for 18 plays and over 9 minutes in a marathon fourth-quarter drive that produced a first down at the Falcons 5. Four penalties on the possession, including a facemask call against Jackson that pushed the Bucs back to the 15, helped force Tampa Bay to settle for Rian Lindell's 41-yard field goal with 5 minutes remaining.
Lindell added his third field goal of the game, from 36 yards, with 2 minutes remaining. The Falcons ran out the clock after recovering an onside kick.
Tampa Bay running back Doug Martin left the game early in the third quarter with a shoulder injury and did not return. Martin had 11 carries for 47 yards before he was injured while attempting to catch a 16-yard pass near the left sideline.
A side judge threw a penalty flag for an apparent unnecessary roughness on Falcons safety William Moore, but referee Walt Anderson withdrew the flag.
Martin lay on his back for several minutes before walking off the field under his own power. He said X-rays "look fine" and the shoulder is not separated.
"We're still evaluating what it is," Martin said. He said he is "not sure yet" if he would play in Thursday night's game against Carolina. "Just have to hope for the best," he said.
Moore sacked Mike Glennon to force a fumble on Tampa Bay's first possession. Safety Thomas DeCoud returned the fumble recovery 30 yards for a touchdown.
Glennon, making his first road start, completed 26 of 44 passes for 256 yards and two touchdowns to Vincent Jackson.
"He went on the road and showed he can handle the pressure on the road," said Tampa Bay receiver Mike Williams of Glennon. "As a team, we've got to help him and make more plays for him."
Jackson, targeted on 22 passes, had 10 catches for 138 yards, including touchdown receptions of 59 yards in the second quarter and 1 yard in the third quarter.
Jackson's second scoring catch was Tampa Bay's first third-quarter touchdown this season. Entering the game, the Buccaneers had only 13 second-half points.
Tampa Bay was called for 11 penalties for 103 yards.
Following DeCoud's touchdown, the Falcons stretched their lead to 14-0 on Ryan's first touchdown pass to Rodgers, a 19-yarder early in the second quarter. Douglas added a 37-yard touchdown catch in the second quarter as the Falcons led 24-7 at halftime.
After Tampa Bay cut the lead to 24-17 on Jackson's second touchdown catch, the Falcons answered with an 80-yard touchdown drive which ended with Rodgers' 8-yard catch over the middle.
Game notes
Falcons defensive coordinator Mike Nolan worked the game from sideline instead of the press box level, where he had been stationed this season. ... Tampa Bay moved center
Jeremy Zuttah
to left guard where he started for
Carl Nicks
, who was out after undergoing surgery for MRSA infection.
Ted Larsen
started at center and drew a personal foul for unnecessary roughness in the second quarter. ... The returned fumble recovery was DeCoud's first career touchdown.
Copyright by STATS LLC and The Associated Press
Photo Wire
ATLANTA, GA - OCTOBER 20: Jacquizz Rodgers #32 of the Atlanta Falcons runs with a catch for a touchdown against...
(Photo by Scott Cunningham/Getty Images)
Team Stat Comparison
| | TB | ATL |
| --- | --- | --- |
| 1st Downs | 23 | 15 |
| Passing 1st downs | 13 | 11 |
| Rushing 1st downs | 5 | 1 |
| 1st downs from Penalties | 5 | 3 |
| 3rd down efficiency | 5-17 | 3-9 |
| 4th down efficiency | 3-3 | 0-0 |
| Total Plays | 75 | 44 |
| Total Yards | 337 | 291 |
| Yards per play | 4.5 | 6.6 |
| Total Drives | 11 | 9 |
| Passing | 226 | 273 |
| Comp - Att | 26-44 | 20-26 |
| Yards per pass | 5.1 | 10.5 |
| Interceptions thrown | 0 | 0 |
| Sacks - Yards Lost | 3-30 | 0-0 |
| Rushing | 111 | 18 |
| Rushing Attempts | 28 | 18 |
| Yards per rush | 4.0 | 1.0 |
| Red Zone (Made-Att) | 1-4 | 2-3 |
| Penalties | 11-103 | 9-101 |
| Turnovers | 1 | 1 |
| Fumbles lost | 1 | 1 |
| Interceptions thrown | 0 | 0 |
| Defensive / Special Teams TDs | 0 | 1 |
| Possession | 37:49 | 22:11 |
Scoring Summary
FIRST QUARTER
TB
ATL
TD
11:54
Thomas DeCoud 30 Yd Fumble Return (Matt Bryant Kick)
0
7
SECOND QUARTER
TB
ATL
TD
13:23
Jacquizz Rodgers 19 Yd Pass From Matt Ryan (Matt Bryant Kick)
0
14
TD
11:54
Vincent Jackson 59 Yd Pass From Mike Glennon (Rian Lindell Kick)
7
14
FG
07:38
Matt Bryant 23 Yd
7
17
TD
05:32
Harry Douglas 37 Yd Pass From Matt Ryan (Matt Bryant Kick)
7
24
FG
00:00
Rian Lindell 36 Yd
10
24
THIRD QUARTER
TB
ATL
TD
09:03
Vincent Jackson 1 Yd Pass From Mike Glennon (Rian Lindell Kick)
17
24
FOURTH QUARTER
TB
ATL
TD
14:06
Jacquizz Rodgers 8 Yd Pass From Matt Ryan (Matt Bryant Kick)
17
31
FG
05:00
Rian Lindell 41 Yd
20
31
FG
01:55
Rian Lindell 35 Yd
23
31
Research Notes
Vincent Jackson
was targeted 22 times in Sunday's loss, tied for the second-most targets in a game since the start of 2006.
Mike Glennon
was 10-of-22 targeting Jackson Sunday (11-of-25 in first two games).
Matt Ryan
's top two targets Sunday were
Harry Douglas
and
Jacquizz Rodgers
. Douglas was targeted seven times for just the fourth time in his career with Ryan and Rodgers was targeted a career-high nine times. Ryan was 15-of-16 targeting the duo (7-of-7 to Douglas) including all three touchdowns.
ESPN Stats & Information