1:00 PM ET, October 20, 2013
MetLife Stadium, East Rutherford, NJ
Top Performers
Passing: G. Smith (NYJ) - 233 YDS, 1 TD, 1 INT
Rushing: C. Ivory (NYJ) - 34 CAR, 104 YDS
Receiving: R. Gronkowski (NE) - 8 REC, 114 YDS
EAST RUTHERFORD, N.J. -- Rex Ryan was fired up. Bill Belichick was ticked off.
Everyone else was, well, a bit confused.
After a newly instituted rule gave New England a penalty and Nick Folk another chance, he booted a 42-yard field goal with 5:07 left in overtime to give the New York Jets a 30-27 victory against the Patriots on Sunday.
More Patriots-Jets coverage

The Jets have overcome their growing pains and obvious deficiencies to bring you this: a meaningful NFL season in New York, Rich Cimini writes. Blog
---

Like many, Jets QB Geno Smith grew up idolizing Tom Brady. Unlike most, Smith actually managed to outplay the Patriots star, Ian O'Connor writes. Story
---

While a new rule and a never-before-called penalty was crucial to Sunday's loss, the Patriots have more to worry about, writes Mike Reiss. Blog
• Radio: Mike & Mike | Cris Carter
• Williamson: Jets ahead of schedule


• SportsNation: Are the Jets for real?
"I was like, 'You know what? It's about time we got a break,'" Ryan said, smiling. "That's really what I was thinking. It just worked out."
Folk was wide left on a 56-yarder, but the miss was negated when New England's Chris Jones was called for unsportsmanlike conduct on a 15-yard penalty that never had before been called in an NFL game.
Referee Jerome Boger explained in a pool report that Jones was called for pushing his teammate "into the opponents' formation." Umpire Tony Michalek threw his flag "almost instantaneously as he observed the action," Boger said. "We just enforced it as he called it."
Belichick disagreed with the application of the rule.
"You can't push in the second level," Belichick said. "I didn't think we did that."
New York (4-3), given new life, ran the ball three times to set up Folk's winner and send the green towel-waving fans at MetLife Stadium into a frenzy.
"It was something that we talked about probably in camp and stuff, and it just skipped out of my mind," Jones said. "It was my mistake and nobody else's. I've just got to man up to it and fix it next time."
Folk thought the Patriots (5-2) might have been called for 12 men on the field. So did a few other Jets.
"I think I heard the whole stadium saying, 'Please be on them,'" Ryan said.
Then Folk won it.
"Folk Hero was the man he always is, kicking game-winner for us," Jets defensive lineman Muhammad Wilkerson said. "It was a great win across the board."
It also kept Folk's consecutive kicks streak intact, giving him 16 straight to start the season.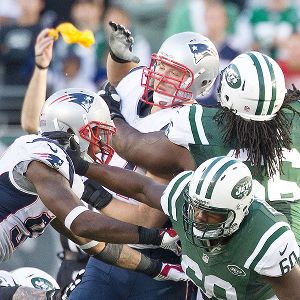 Matthew J. Lee/The Boston Globe/Getty Image
A penalty on Chris Jones, middle, gave the Jets new life in an eventual overtime win against the Patriots.
"Yeah, we're not going to talk about that right now," he said, smiling.
Geno Smith threw a touchdown pass to Jeremy Kerley and ran for another as the Jets topped Tom Brady and the Patriots, who tied it at 27 with 16 seconds left in regulation on Stephen Gostkowski's 44-yard field goal.
New England had defeated New York in six straight regular-season meetings, and saw its 12-game winning streak against AFC East opponents end.
"Everyone has to look at themselves and do a better job," Brady said, "because what we're doing now isn't good enough."
Brady opened overtime with a 16-yard pass to Rob Gronkowski, making his season debut. But the Jets stopped forced New England to punt.
Gronkowski almost made a one-handed grab late in regulation when he had a clear lane into the end zone. Gronkowski, who missed the first six games after having offseason surgery on his back and broken left forearm, had eight catches for 114 yards.
"I'm still mad about that one," Gronkowski said.
Brady threw a 17-yard TD pass to Kenbrell Thompkins with 5 seconds left to beat previously unbeaten New Orleans last week -- leaving defensive coordinator Rob Ryan grimacing on the sideline. This time, Rob's twin brother walked off the field celebrating a win.
It was the second time in three games Brady was held without a touchdown pass, both losses. Brady finished 22 of 46 for 228 yards and had an interception returned 23 yards for a touchdown by Antonio Allen.
"That was huge," Smith said.
Smith, who threw three fourth-quarter interceptions in a Week 2 loss at New England, was 17 of 33 for 233 yards. He had a first-quarter interception returned 79 yards for a touchdown by rookie Logan Ryan that appeared to set the tone for an ominous afternoon for Smith.
Smith rebounded and gave the Jets a 24-21 lead in the third quarter on an 8-yard run that left the crowd chanting "GEE-NO! GEE-NO!"
"I'm never going to crumble," Smith said. "No matter what happens. You know, that's just not in me."
On third-and-14 from the 24, Smith took off left and was met by Marquice Cole, who slammed into the quarterback. But Smith reached out as he was going down and got the first down.
He again had all receivers tied up two plays later when he sprinted to his right, faked out Cole with a nice shake move and dived into the corner of the end zone.
The Jets, in a 21-10 hole, opened the second half by immediately putting pressure on Brady and getting a score out of it. Brady threw for Gronkowski and Allen stepped in front. He did a diving somersault into the end zone just 33 seconds into the third quarter.
Stevan Ridley had given the Patriots a 21-10 lead with a 17-yard run on which he bounced outside right tackle and scored untouched. The drive was set up by a 38-yard punt return by Julian Edelman.
Game notes
Brandon Bolden
had a 1-yard TD run for the Patriots. ... Kerley caught eight passes, six of them for first downs on third-down plays. ... Chris Jones and
Chandler Jones
each had two sacks for the Patriots. ... Logan Ryan's INT marked the 34th straight game in which New England has forced a turnover, the longest active streak in the NFL.
Copyright by STATS LLC and The Associated Press
Photo Wire
EAST RUTHERFORD, NJ - OCTOBER 20: Quarterback Geno Smith #7 of the New York Jets warms up before the game against...
(Photo by Ron Antonelli/Getty Images)
Team Stat Comparison
| | NE | NYJ |
| --- | --- | --- |
| 1st Downs | 21 | 27 |
| Passing 1st downs | 12 | 13 |
| Rushing 1st downs | 6 | 11 |
| 1st downs from penalties | 3 | 3 |
| 3rd down efficiency | 1-12 | 11-21 |
| 4th down efficiency | 1-1 | 0-0 |
| Total Plays | 70 | 89 |
| Total Yards | 295 | 383 |
| Yards per play | 4.2 | 4.3 |
| Total Drives | 13 | 14 |
| Passing | 205 | 206 |
| Comp-Att | 22-46 | 17-33 |
| Yards per pass | 4.1 | 5.6 |
| Interceptions thrown | 1 | 1 |
| Sacks-Yards Lost | 4-23 | 4-27 |
| Rushing | 90 | 177 |
| Rushing Attempts | 20 | 52 |
| Yards per rush | 4.5 | 3.4 |
| Red Zone (Made-Att) | 2-2 | 2-4 |
| Penalties | 7-100 | 9-45 |
| Turnovers | 1 | 1 |
| Fumbles lost | 0 | 0 |
| Interceptions thrown | 1 | 1 |
| Defensive / Special Teams TDs | 1 | 1 |
| Possession | 23:40 | 46:13 |
Scoring Summary
FIRST QUARTER
NE
NYJ
TD
9:48
Jeremy Kerley 12 Yard Pass From Geno Smith (Nick Folk Kick is Good)

Drive info: 12 plays, 80 yds, 5:17

0
7
TD
6:01
Brandon Bolden 1 Yard Run (Stephen Gostkowski Kick is Good)

Drive info: 10 plays, 80 yds, 3:45

7
7
TD
1:45
Logan Ryan 79 Yard Interception Return (Stephen Gostkowski Kick is Good)

Drive info: 8 plays, 60 yds, 4:26

14
7
SECOND QUARTER
NE
NYJ
FG
11:15
Nick Folk 37 Yard Field Goal is Good

Drive info: 12 plays, 61 yds, 5:21

14
10
TD
5:21
Stevan Ridley 17 Yard Run (Stephen Gostkowski Kick is Good)

Drive info: 6 plays, 28 yds, 2:34

21
10
THIRD QUARTER
NE
NYJ
TD
14:36
Antonio Allen 23 Yard Interception Return (Nick Folk Kick is Good)

Drive info: 2 plays, -6 yds, 0:33

21
17
TD
4:42
Geno Smith 8 Yard Run (Nick Folk Kick is Good)

Drive info: 8 plays, 52 yds, 3:36

21
24
FG
1:34
Nick Folk 37 Yard Field Goal is Good

Drive info: 5 plays, 19 yds, 1:31

21
27
FOURTH QUARTER
NE
NYJ
FG
13:02
Stephen Gostkowski 39 Yard Field Goal is Good

Drive info: 10 plays, 62 yds, 3:32

24
27
FG
0:19
Stephen Gostkowski 44 Yard Field Goal is Good

Drive info: 12 plays, 66 yds, 1:54

27
27
OVERTIME
NE
NYJ
FG
5:12
Nick Folk 42 Yard Field Goal is Good

Drive info: 14 plays, 56 yds, 8:48

27
30
Research Notes
Tom Brady
posted a Total QBR of 27.3 in two games against the Jets this season, his lowest against New York in any season since 2006. Brady completed less than 50 percent of his passes in both games against the Jets this year, after completing less than 50 percent of passes in one of his previous 22 games against New York entering this season (2009 Week 2).
[+]
Geno Smith
attempted 16 passes more than 10 yards downfield Sunday without an interception, after throwing three in 15 attempts in Week 2 against the Patriots. Smith has only one interception on those passes in wins this season (five in losses).
[+]
Rob Gronkowski
was targeted a career-high 17 times Sunday, but had only eight receptions. It was just the third time since Gronkowski joined the team that he and
Tom Brady
failed to complete at least half of their attempts in a game. Four of Brady's passes to Gronkowski were either defended or intercepted, three of which by safety
Antonio Allen
. Allen had no pass breakups entering the game.
ESPN Stats & Information