8:25 PM ET, October 31, 2013
Sun Life Stadium, Miami, FL
Dolphins win on Cameron Wake's safety sack of Andy Dalton in OT
MIAMI GARDENS, Fla. -- With the Miami Dolphins needing any kind of score to end a four-game losing streak, two points were plenty.
Cameron Wake sacked Andy Dalton for a safety with 6:38 left in overtime, and Miami beat the Cincinnati Bengals 22-20 on Thursday night.
On third-and-10 from his 8, Dalton retreated to the goal line and was tackled by Wake coming up the middle for the third overtime safety in NFL history.
More Dolphins-Bengals Coverage

Thanks to a defensive-driven win punctuated by Cameron Wake's safety sack, the Dolphins' season has new life, James Walker writes. Blog
---

A hard-fought loss at Miami won't derail the Bengals, who have already proved their worth as legit contenders, Coley Harvey writes. Blog
• Radio: Anthony Munoz weighs in
• Stats & Info: Keys to victory
The officials immediately signaled the score, which was upheld following a replay review.
"You just have to do whatever you can to get to the quarterback," Wake said. "It couldn't have come at a better time. How much better could it have been than to have a D-lineman seal the deal?"
The Pro Bowl end totaled three sacks, and Cincinnati committed four turnovers that might have meant a difference of 17 points.
Bengals coach Marvin Lewis disputed the safety call in his postgame news conference, saying the "ball was out of the end zone."
"But I don't get it, I don't know," Lewis said. "That's a quick look at the board. They got a little better resolution to look at it than I do."
NFL vice president of officiating Dean Blandino, speaking later in an interview with NFL Network, confirmed the call was correct.
"We had a great look at it, a look right down the goal line," Blandino said. "And when Wake first makes contact with Dalton, the ball is breaking the plane of the goal line. If any part of that ball is breaking the plane when the contact occurs, and he's driven back into the end zone, that's a safety."
The Dolphins (4-4) won for the first time since their 3-0 start and snapped a four-game winning streak by the Bengals (6-3).
"You never want to lose four games in a row," Miami coach Joe Philbin said, "and we had an excellent football team coming in town. It was time for us to step up, and we had to make a decision -- what are we going to be? And I thought they answered the bell pretty well tonight."
Rare Ending
The Dolphins became the third team in NFL history to win a game in overtime on a safety:
Season
Final Score
2013
Dolphins 22, Bengals 20
2004
Bears 23, Titans 21
1989
Vikings 19, Rams 17
-- Elias Sports Bureau
The Bengals still enjoy a two-game lead in the AFC North, but their ranks are rapidly thinning. Defensive tackle Geno Atkins left the game in the second quarter with a knee injury, and Lewis said the injury appeared to involve the All-Pro's ACL, which could be season-ending. A Bengals source told ESPN's Bob Holtzman that Atkins tore his ACL but will have an MRI on Friday to confirm the diagnosis. Atkins was on crutches after the game.
Pro Bowl left tackle Andrew Whitworth (right knee) and backup linebacker Michael Boley (hamstring) missed the game.
The teams traded punts to start overtime. After Cincinnati's Terence Newman was called for a 38-yard pass interference penalty, the Bengals dug in and forced another punt that pinned them deep, setting up the safety by Wake.
"My eyes were downfield, and he was there pretty quick," Dalton said, adding he thought he was out of the end zone.
According to STATS, Minnesota's Mike Merriweather had the first NFL overtime safety in 1989 against the Los Angeles Rams, and Chicago's Adewale Ogunleye had the second against Tennessee in 2004.
"I don't think anyone expected the game to end on a safety," Miami quarterback Ryan Tannehill said.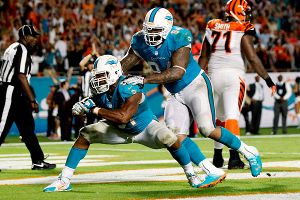 Robert Mayer/USA TODAY Sports
Cameron Wake, left, celebrates his game-winning safety sack of Bengals quarterback Andy Dalton.
The Bengals lost despite totaling 28 first downs and 465 yards while holding Miami to three third-down conversions. They could have tried a 56-yard field goal in overtime but punted instead.
"We had a chance, maybe," Lewis said, "but we felt better about pinning them down."
Lewis made another decision that backfired, at the end of the first half. When the Bengals started from their 15 with no timeouts and 45 seconds left, he decided against running out the clock.
His aggressive approach backfired when Dalton's pass was intercepted by Dimitri Patterson, setting up a 36-yard field goal by Caleb Sturgis to put Miami up 10-3 at halftime.
Mike Nugent kicked a 54-yard field goal with 1:24 remaining in regulation to put the Bengals ahead, but Miami answered with a 50-yard drive, and Sturgis made a 44-yard field goal with 11 seconds left to force overtime.
Brent Grimes returned an interception 94 yards for a touchdown to put the Dolphins up 17-3 midway through the third quarter, but they squandered a two-touchdown, second-half lead for the second time in five days. On Sunday in a loss at New England, they were outscored 24-0 in the final 24 minutes.
SportsNation: Miami's big finish

The Dolphins used a rare walk-off safety to beat the Bengals. Are they a playoff threat? What to make of Cincy? Vote! »
Cincinnati's Giovani Bernard scored on an electrifying 35-yard touchdown run that covered perhaps twice that much ground to tie it in the third quarter. He started right, doubled back left, weaved up the sideline, cut back across the middle and somersaulted into the end zone, leaving Dolphins sprawled in his wake along the way.
The run took 16 seconds. At least four defenders had shots at him, including Grimes, who missed twice -- once in the backfield as the play unfolded.
Cincinnati's Marvin Jones was kept out of the end zone four days after he caught four touchdown passes. Dalton's 50-yard touchdown pass to Jones was negated by a holding call against Jermaine Gresham as the Bengals sputtered four days after scoring 49 points in beating the New York Jets.
The Bengals drove 64 yards for a field goal in the second quarter to take a 3-0 lead and mounted an 80-yard drive for a touchdown in the third quarter. But Grimes' interception represented a potential 14-point swing, because the Bengals were at the Miami 10.
Game notes

Bernard bruised his ribs in the fourth quarter, but the injury wasn't believed to be serious. ... Miami G Richie Incognito left the game in the second quarter with a neck injury, and CB Nolan Carroll suffered a concussion, also in the second quarter. ... The Dolphins improved to 6-0 on Halloween.
Information from The Associated Press was used in this report.
Copyright by STATS LLC and The Associated Press
Photo Wire
MIAMI GARDENS, FL - OCTOBER 31: A fan poses for a photograph on Halloween prior to the game between the Miami...
(Photo by Chris Trotman/Getty Images)
Team Stat Comparison
| | CIN | MIA |
| --- | --- | --- |
| 1st Downs | 28 | 15 |
| Passing 1st downs | 17 | 7 |
| Rushing 1st downs | 10 | 7 |
| 1st downs from Penalties | 1 | 1 |
| 3rd down efficiency | 10-20 | 3-14 |
| 4th down efficiency | 1-1 | 0-0 |
| Total Plays | 93 | 61 |
| Total Yards | 465 | 345 |
| Yards per play | 5.0 | 5.7 |
| Total Drives | 15 | 13 |
| Passing | 302 | 188 |
| Comp - Att | 32-53 | 20-28 |
| Yards per pass | 5.7 | 6.7 |
| Interceptions thrown | 3 | 0 |
| Sacks - Yards Lost | 5-36 | 3-20 |
| Rushing | 163 | 157 |
| Rushing Attempts | 35 | 30 |
| Yards per rush | 4.7 | 5.2 |
| Red Zone (Made-Att) | 1-3 | 1-3 |
| Penalties | 3-63 | 2-25 |
| Turnovers | 4 | 1 |
| Fumbles lost | 1 | 1 |
| Interceptions thrown | 3 | 0 |
| Defensive / Special Teams TDs | 0 | 1 |
| Possession | 40:02 | 28:20 |
Scoring Summary
SECOND QUARTER
CIN
MIA
FG
11:56
Mike Nugent 31 Yd
3
0
TD
02:39
Ryan Tannehill 1 Yd Run (Caleb Sturgis Kick)
3
7
FG
00:06
Caleb Sturgis 36 Yd
3
10
THIRD QUARTER
CIN
MIA
TD
07:37
Brent Grimes 94 Yd Interception Return (Caleb Sturgis Kick)
3
17
TD
02:10
Giovani Bernard 3 Yd Run (Mike Nugent Kick)
10
17
FOURTH QUARTER
CIN
MIA
TD
12:37
Giovani Bernard 35 Yd Run (Mike Nugent Kick)
17
17
FG
01:24
Mike Nugent 54 Yd
20
17
FG
00:11
Caleb Sturgis 44 Yd
20
20
OVERTIME
CIN
MIA
SF
06:38
Andy Dalton Sacked by Cameron Wake In End Zone
20
22
Research Notes
Geno Atkins
has been a force to be reckoned with since he became the Bengals starting defensive tackle in the 2011 season. He leads all defensive tackles in sacks and forced fumbles during that span, while playing the third-most snaps. Geno Atkins had 12.5 sacks last season, the most by a DT since
La'Roi Glover
in 2000.
[+]
Andy Dalton
was 3-for-11 passing when the Dolphins rushed a defensive back, throwing three interceptions and getting sacked for the "walkoff safety." Since 2009, only
David Garrard
has thrown as many interceptions in those situations (Week 2, 2010 vs Chargers).
[+]
The Dolphins ran for a season-high 157 yards, including 85 yards after contact on Thursday. Entering the game, the Bengals had allowed 33.9 yards after contact, ninth-fewest in the league. -
Lamar Miller
's 57 yards after contact (on 16 rushes) against the Bengals was the most Cincinnati has allowed in a game since Week 5 of the 2011 season (
Maurice Jones-Drew
, 60 yards after contact on 19 rushes).
[+]
Andy Dalton
was 4-for-11 for 78 yards and an interception on throws of at least 15 yards downfield Thursday. During the Bengals' previous four games, all wins, Dalton led all qualified quarterbacks, completing 65.2% of such throws.
[+]
-
Ryan Tannehill
was 6-for-8 (75%) for 82 yards targeting
Mike Wallace
Thursday, also drawing a crucial 38-yard pass interference call in overtime. Over the previous four games, all losses, Tannehill was 18-for-42 (42%) for 246 yards and two interceptions targeting Wallace. - The Bengals dropped five of Dalton's throws on Thursday, their most in a game since Week 11 of the 2007 season. -
A.J. Green
had a career-high 19 targets Thursday, catching 11 balls. He gained 94 of his 128 receiving yards on third downs, his career-high on such situation. -
Giovani Bernard
averaged 7.4 yards after contact per rush, including 39 yards after contact on his 35-yard pitch in the third quarter.
142 rush yds is the Dolphins most in a 1st half since Week 17 2002 vs the Patriots
Andy Dalton
is 15-of-23 (65.2%) passing 15-plus yards downfield during the Bengals' four-game win streak. The league average completion percentage on those passes is 41.0%.
[+]
Brent Grimes
: 1st career defensive touchdown (92-yd INT), longest INT return for TD by Dolphins since
Brock Marion
, 2001 Dolphins vs Bills- 100 yards
- Adds number of games in column With at least 300 passing yards, three TD passes and a 100 passer rating on Thursday Night Football at Miami,
Andy Dalton
will join
Peyton Manning
,
Aaron Rodgers
and Pro Football Hall of Famer
Steve Young
as the only players in NFL history to register four such consecutive games.
[+]
Ryan Tannehill
has been sacked a NFL-worst 32 times this season, and it's not as if he's holding on to the ball too long. Tannehill ranks 8th out of 33 qualified QBs in average time before pass (3.3 seconds) but only
Terrelle Pryor
has been sacked on a higher percentage of his dropbacks. Pryor, by comparison, averages 4.2 seconds per pass, which ranks last in the NFL.
[+]
A.J. Green
is the 1st Bengals receiver with 4 straight 100-yd receiving games since
Carl Pickens
in 1994 (ELIAS).
ESPN Stats & Information