8:30 PM ET, November 28, 2013
M&T Bank Stadium, Baltimore, MD
BALTIMORE -- A game between the Pittsburgh Steelers and Baltimore Ravens usually features hard hits, flying helmets and a pivotal play in the final minutes.
The clash between these AFC North rivals Thursday night had all that -- and so much more.
A coach on the field during a kick return, two touchdowns erased by replay and an inexplicable botched field goal were among the highlights and lowlights in Baltimore's 22-20 Thanksgiving victory.
More Ravens-Steelers Coverage

The Ravens looked good for parts of their big win over the Steelers, but they have work to do before being in playoff form, Jamison Hensley writes. Blog
---

There was no quit in the Steelers, but a passive early strategy and a failed 2-point conversion at the end sent them to a painful loss, Scott Brown writes. Blog
• Stats & Info: Keys to victory
• Photo Gallery: NFL Week 13
Justin Tucker kicked five field goals, and Baltimore snuffed a conversion pass with 1:03 left to avenge last month's loss to its division rival.
After Pittsburgh scored on a 1-yard touchdown pass from Ben Roethlisberger to Jerricho Cotchery to make it 22-20, Roethlisberger's 2-point conversion pass slipped through the hands of Emmanuel Sanders, who was screened by Chykie Brown.
"Ben gave me a good ball," Sanders said. "It hit my hands, and I've got to make the play. It's not on him. It's on me."
The ensuing onside kick didn't travel the required 10 yards, and that left Baltimore to merely run out the clock to end Pittsburgh's three-game winning streak.
"It's never over when you play the Steelers; it's never over when you play the Ravens. That's why these games are so great," Baltimore coach John Harbaugh said.
The victory provided the Ravens (6-6) with their first winning streak since September, and pushed the defending Super Bowl champions ahead of the Steelers (5-7) and four other teams in the race for the final wild-card slot in the AFC.
"We're in control of our destiny," Harbaugh said. "I feel like we're a really good football team; we need to go out and prove it."
It was the fifth straight game between the teams decided by three points or fewer.
Pittsburgh appeared to score twice in the closing minutes, but on each occasion, the touchdown was overturned by a replay. On the first one, tight end Heath Miller was ruled down inside the 1. On the second, running back Le'Veon Bell lost his helmet on a crushing tackle by Jimmy Smith, and the ball was ruled dead just short of the goal line.
The game was delayed while Bell and Smith lay on the ground. Two plays later, Roethlisberger hit a wide-open Cotchery on fourth down.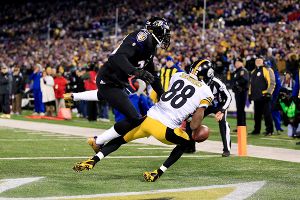 Rob Carr/Getty Images
The Steelers' rally faltered when Emmanuel Sanders dropped a 2-point conversion attempt.
Tucker connected on kicks of 43, 34, 38, 45 and 48 yards after Joe Flacco threw a first-quarter touchdown pass to Torrey Smith.
Flacco went 24-for-35 for 251 yards.
"There were so many opportunities for us to go out there and get points and win, just big, and put the game away, and we didn't do it," Flacco said. "In the back of your mind, you're thinking, 'Man, this is going to catch up to us.'"
Roethlisberger was 28-for-44 for 257 yards and two TDs.
Baltimore didn't get a sack and didn't force a turnover but played well enough to bottle up Roethlisberger and the Steelers for the majority of the game.
Down 19-7, the Steelers mounted a 60-yard drive aided by two penalties and got a 1-yard touchdown run by Bell to close to 19-14 with 9:32 to go. It was only the second rushing TD allowed by the Ravens this season.
Tucker answered with a field goal, but Roethlisberger mounted a 79-yard drive to set the stage for the hectic finish.
The Ravens opened the second half with a 52-yard drive that ended in a field goal for a 13-0 lead. Smith caught two passes on third down to keep the drive alive.
Pittsburgh answered with an 80-yard march that began with a 21-yard completion from Roethlisberger to Miller and included a 43-yard run by Bell to the Baltimore 8. On third down, Sanders got free in the end zone for an 8-yard score -- only the fourth touchdown allowed by the Ravens in six home games.
Jacoby Jones took the ensuing kickoff 73 yards to the Pittsburgh 27, setting up a 38-yard field goal that made it 16-7. Jones sprinted down the left side and nearly ran into Steelers coach Mike Tomlin, who stepped out of the way at the last second.
"I always watch the returns on the JumboTron. It provides a better perspective for me," Tomlin said. "I lost my placement as he broke free and saw at the last second how close I was to the field of play."
Jones said: "I don't blame other people's actions. I still should have scored."
After a Pittsburgh punt, Flacco escaped pressure to complete a 34-yard pass to Jones, and Tucker put the Ravens up by 12 with 13:59 remaining.
That would be Baltimore's final score, and it proved to be just enough for a much-needed victory.
Baltimore limited the Steelers to 98 yards in taking a 10-0 halftime lead.
Baltimore moved 71 yards on its first drive to take a 7-0 lead on a 7-yard touchdown pass to Smith. The play came after Smith hauled in a 54-yard pass from Flacco to the Pittsburgh 1.
There were three scuffles after the whistle in the first quarter, but peace was restored before things got out of hand.
Pittsburgh's third drive ended with a curious, aborted field goal try. Shaun Suisham was poised to kick a 50-yarder, but his approach began well before the snap and he didn't follow through. Holder Mat McBriar flipped an impromptu lateral to Suisham, who was tackled for a 12-yard loss.
"Our timing was really off," Suisham said.
The Ravens then took advantage of a 26-yard pass interference call against Ike Taylor to go up 10-0.
Game notes
The Steelers reported several injuries, including Bell (concussion), DE
Brett Keisel
(foot), G
Kelvin Beachum
(knee), OT
Mike Adams
(ankle), G
David DeCastro
(foot) and OL
Fernando Velasco
(ankle). ... Baltimore's streak of sacks in 22 straight games ended.
Copyright by STATS LLC and The Associated Press
Photo Wire
BALTIMORE, MD - NOVEMBER 28: Ray Rice #27 of the Baltimore Ravens warms up prior to playing an NFL game against...
(Photo by Patrick Smith/Getty Images)
Team Stat Comparison
| | PIT | BAL |
| --- | --- | --- |
| 1st Downs | 22 | 16 |
| Passing 1st downs | 15 | 11 |
| Rushing 1st downs | 5 | 4 |
| 1st downs from penalties | 2 | 1 |
| 3rd down efficiency | 7-13 | 10-17 |
| 4th down efficiency | 1-2 | 0-0 |
| Total Plays | 62 | 62 |
| Total Yards | 329 | 311 |
| Yards per play | 5.3 | 5.0 |
| Total Drives | 8 | 9 |
| Passing | 257 | 237 |
| Comp-Att | 28-44 | 24-35 |
| Yards per pass | 5.8 | 6.4 |
| Interceptions thrown | 0 | 0 |
| Sacks-Yards Lost | 0-0 | 2-14 |
| Rushing | 72 | 74 |
| Rushing Attempts | 18 | 25 |
| Yards per rush | 4.0 | 3.0 |
| Red Zone (Made-Att) | 3-3 | 1-4 |
| Penalties | 4-51 | 9-55 |
| Turnovers | 0 | 0 |
| Fumbles lost | 0 | 0 |
| Interceptions thrown | 0 | 0 |
| Defensive / Special Teams TDs | 0 | 0 |
| Possession | 30:04 | 29:56 |
Passing Leaders
PIT
C/ATT
YDS
AVG
TD
INT
SACKS
Roethlisberger
28/44
257
5.8
2
0
0-0

BAL
C/ATT
YDS
AVG
TD
INT
SACKS
Flacco
24/35
251
7.2
1
0
2-14
Scoring Summary
FIRST QUARTER
PIT
BAL
TD
9:23
Torrey Smith 7 Yard Pass From Joe Flacco (Justin Tucker Kick is Good)

Drive info: 8 plays, 71 yds, 3:06

0
7
SECOND QUARTER
PIT
BAL
FG
3:06
Justin Tucker 43 Yard Field Goal is Good

Drive info: 9 plays, 31 yds, 4:18

0
10
THIRD QUARTER
PIT
BAL
FG
9:26
Justin Tucker 34 Yard Field Goal is Good

Drive info: 13 plays, 52 yds, 5:39

0
13
TD
6:33
Emmanuel Sanders 8 Yard Pass From Ben Roethlisberger (Shaun Suisham Kick is Good)

Drive info: 7 plays, 80 yds, 2:55

7
13
FG
3:54
Justin Tucker 38 Yard Field Goal is Good

Drive info: 5 plays, 7 yds, 2:37

7
16
FOURTH QUARTER
PIT
BAL
FG
14:03
Justin Tucker 45 Yard Field Goal is Good

Drive info: 7 plays, 37 yds, 3:00

7
19
TD
9:36
Le'Veon Bell 1 Yard Run (Shaun Suisham Kick is Good)

Drive info: 10 plays, 60 yds, 4:27

14
19
FG
5:43
Justin Tucker 48 Yard Field Goal is Good

Drive info: 7 plays, 36 yds, 3:55

14
22
TD
1:06
Jerricho Cotchery 1 Yard Pass From Ben Roethlisberger (Ben Roethlisberger Pass to Emmanuel Sanders For Two-Point Conver)

Drive info: 13 plays, 79 yds, 4:34

20
22
Research Notes
¿
Justin Tucker
made a career-high five field goals and has made his last 27 field goal attempts. ¿ The Steelers allowed two completions on passes traveling more than 30 yards downfield for the second time in a game in the last three seasons. ¿ The Ravens allowed their second rushing touchdown of the season. They have still allowed the fewest rushing touchdowns in the league. ¿
Antonio Brown
had five catches for 59 yards, continuing his streak of having at least five receptions and 50 yards in every game this season. He is the only player to accomplish that feat this season.
The Steelers sent five or more pass rushers on eight of
Joe Flacco
's 19 second-half dropbacks (42%), after sending added pressure on only three of his 19 first-half dropbacks (16%). Flacco was 6-of-8 against added pressure in the second half and 7-of-10 (70%) overall, his highest completion percentage against additional pressure this season. Coming into the game, he was completing 52% of his passes against five or more pass rushers, 31st among 38 qualified quarterbacks.
The Steelers sent five or more pass rushers on six of
Joe Flacco
's eight dropbacks (75%) on the Ravens' first drive of the third quarter. The Steelers sent added pressure on three of Flacco's 19 first half dropbacks (16%).
Since 2001, the Ravens are 67-2 at home with a 10-point lead. Their last loss came Week 13 last season against the Steelers.
Ravens kicker
Justin Tucker
is 5-of-5 on field goals...his most field goals made in a game in his career.
The Steelers have allowed two completions on passes traveling more than 30 yards downfield for the second time in the last three seasons
The Ravens have converted 9-of-14 3rd downs through 13:59 remaining in the game. That is their most 3rd-down conversions this season...and they haven't converted more than 50 percent of their 3rd downs in game this season.
The Ravens improve to 5-1 at home this season, but are a dismal 1-5 on the road. They have actually scored more away from Baltimore this season, but their defense has been 2 touchdowns per game better at home.
[+]
With Roethlisberger's touchdown pass to
Emmanuel Sanders
, he becomes the first Steelers player with 20 Pass TD in 5 different seasons. Roethlisberger has 211 career Pass TD, 1 shy of Terry Bradshaw's Steelers record.
ESPN Stats & Information