8:30 PM ET, December 2, 2013
CenturyLink Field, Seattle, WA
SEATTLE -- A couple thousand Seahawks fans were crowded in front of the television stage when Russell Wilson walked out of the locker room still in full uniform.
Instantly, the chant started.
"MVP! MVP!"
Hard to argue against Wilson after a performance like Monday night's.
More Seahawks-Saints Coverage

The Seahawks crushed the Saints and tightened their grip on home-field advantage, which should make the rest of the NFC very afraid, Terry Blount writes. Blog
---

Drew Brees and the Saints got smacked in Seattle, but they don't have time to lick their wounds with the Carolina Panthers looming, Mike Triplett writes. Blog
Wilson threw for 310 yards and three touchdowns, and the Seahawks became the first team to clinch a spot in the NFC playoffs with a 34-7 victory over the New Orleans Saints.
More important than wrapping up a spot in the postseason, the Seahawks (11-1) moved two games ahead of the rest of the NFC in the race for home-field advantage and hold the tiebreakers over New Orleans (9-3) and Carolina (9-3), the two closest pursuers.
The rest of the top teams better get ready to visit the Pacific Northwest in January. After this rout, the road through the NFC playoffs is almost certain to go through Seattle.
"For us to come out in that fashion and to win that game the way that we did was awesome," Wilson said.
Wilson was outstanding, picking apart the Saints' defense. He threw touchdown passes of 2 yards to Zach Miller and 4 yards to Doug Baldwin in the first half as Seattle built a 27-7 lead. Wilson added a pinball 8-yard TD pass to Derrick Coleman in the third quarter.
Wilson completed 22 of 30 passes and finished with a quarterback rating of 139.6. He has 22 regular-season wins in his first two seasons, tied for the most by a second-year QB, and is 14-0 at home.
Michael Bennett had a 22-yard fumble return for a touchdown in the first quarter to give Seattle a 10-0 lead, and the Saints never threatened. It was a dominating performance by the Seahawks, making up for a lackluster effort the last time they were given a national television spotlight, when they were taken to the final yard and final play by St. Louis.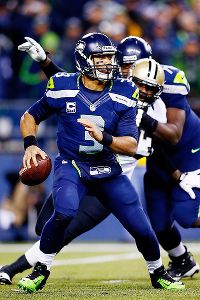 Jonathan Ferrey/Getty Images
Russell Wilson picked apart the Saints for 310 yards and three touchdowns Monday night.
Not this time. The most anticipated game in the NFC this season was a laugher.
Drew Brees and the Saints were stymied the entire night as he lost for the first time on a Monday night after nine straight wins, and they continued the belief New Orleans can't win outdoors late in the season. New Orleans didn't crack 100 yards of total offense until midway through the third quarter. Jimmy Graham was nearly invisible outside of his franchise-record 12th TD catch of the season in the second quarter that pulled the Saints to 17-7.
Brees finished 23-of-38 for 147 yards. Graham had three catches for 42 yards. Darren Sproles led New Orleans with seven catches, many of those checkdowns. The seven points matched the fewest scored by the Saints since Sean Payton became coach in 2006, and the 188 total yards were the fewest in his coaching tenure.
"Lot of things to look at," Payton said. "Lot of things we didn't do well."
It was K.J. Wright's job to shadow Graham, and he hounded the Saints star all night.
"The coaches told me, 'We're going to let you hold (Graham). Just do your job, win on your leverage, trust your guys around you and just play your best game.' That's what I tried to do," Wright said.
The Saints went three-and-out on their first possession, and that was just the start of their struggles. On their next possession, Brees was hit from behind by Cliff Avril and fumbled into the arms of Bennett, who returned it for the touchdown.
SportsNation: Seahawks No. 1?

Seattle hammered the Saints on Monday. Are the Seahawks the best in the NFL? Who wins the Super Bowl? Vote! »
Brees was unable to take advantage of Seattle's depleted secondary. The Seahawks were without Brandon Browner (injury) and Walter Thurmond (suspension) but Byron Maxwell and Jeremy Lane played well in their places.
"We took one in the chin today," Brees said. "We got outplayed today. They played great. They made a lot of plays, and we didn't."
Seattle used the bye week to add wrinkles to its offense. Wilson was a threat not only passing but running, with the zone read again becoming an addition to the playbook. Wilson carried five times in the first half, three of those designed keepers.
But it was his passing that stole the show. Wilson was 14-of-19 in the first half for 226 yards and a rating of 148.1. He found Miller open for a 60-yard catch-and-run early in the second quarter, then capped the drive with a 2-yard touchdown pass to Miller and a 17-0 lead. Wilson later hit Baldwin for 52 yards. Seattle had seven pass completions of 12 or more yards in the first half. The Seahawks finished with 315 first-half yards, the most allowed by the Saints in a first half since 2005 against Minnesota.
Baldwin said Seattle saw a specific blitz package from the Saints on film and that the Seahawks knew they would have chances to go downfield.
"We wanted to be great against the blitz," Wilson said. " ... We knew they were going to bring some pressure and we like the sense of pressure because there is a lot of green grass behind it."
Game notes
Wilson averaged 10.3 yards per pass attempt, while Brees was at 3.9. ... New Orleans was 25th in the NFL in run defense, but held
Marshawn Lynch
to 45 yards rushing on 16 carries.
Copyright by STATS LLC and The Associated Press
Photo Wire
SEATTLE, WA - DECEMBER 02: Quarterback Russell Wilson #3 of the Seattle Seahawks warms up before a game against...
(Photo by Otto Greule Jr/Getty Images)
Team Stat Comparison
| | NO | SEA |
| --- | --- | --- |
| 1st Downs | 12 | 23 |
| Passing 1st downs | 7 | 14 |
| Rushing 1st downs | 2 | 6 |
| 1st downs from penalties | 3 | 3 |
| 3rd down efficiency | 6-15 | 7-14 |
| 4th down efficiency | 0-2 | 1-2 |
| Total Plays | 56 | 69 |
| Total Yards | 188 | 429 |
| Yards per play | 3.4 | 6.2 |
| Total Drives | 11 | 10 |
| Passing | 144 | 302 |
| Comp-Att | 23-38 | 22-30 |
| Yards per pass | 3.7 | 9.7 |
| Interceptions thrown | 0 | 0 |
| Sacks-Yards Lost | 1-3 | 1-8 |
| Rushing | 44 | 127 |
| Rushing Attempts | 17 | 38 |
| Yards per rush | 2.6 | 3.3 |
| Red Zone (Made-Att) | 1-1 | 3-5 |
| Penalties | 7-52 | 8-66 |
| Turnovers | 1 | 0 |
| Fumbles lost | 1 | 0 |
| Interceptions thrown | 0 | 0 |
| Defensive / Special Teams TDs | 0 | 1 |
| Possession | 26:22 | 33:38 |
Scoring Summary
FIRST QUARTER
NO
SEA
FG
7:50
Steven Hauschka 26 Yard Field Goal is Good

Drive info: 11 plays, 61 yds, 5:44

0
3
TD
6:37
Michael Bennett 22 Yard Fumble Return (Steven Hauschka Kick is Good)

Drive info: 3 plays, 2 yds, 1:20

0
10
TD
1:58
Zach Miller 2 Yard Pass From Russell Wilson (Steven Hauschka Kick is Good)

Drive info: 6 plays, 73 yds, 2:58

0
17
SECOND QUARTER
NO
SEA
TD
8:48
Jimmy Graham 2 Yard Pass From Drew Brees (Garrett Hartley Kick is Good)

Drive info: 13 plays, 80 yds, 8:10

7
17
FG
3:42
Steven Hauschka 20 Yard Field Goal is Good

Drive info: 10 plays, 82 yds, 5:04

7
20
TD
0:18
Doug Baldwin 4 Yard Pass From Russell Wilson (Steven Hauschka Kick is Good)

Drive info: 12 plays, 88 yds, 1:52

7
27
THIRD QUARTER
NO
SEA
TD
7:17
Derrick Coleman 8 Yard Pass From Russell Wilson (Steven Hauschka Kick is Good)

Drive info: 8 plays, 79 yds, 3:47

7
34
Research Notes
Russell Wilson
posted a 94.7 Total QBR against the Saints, his 9th game with a Total QBR above 90.0 in the last 2 seasons, and his 3rd straight game above 90.0. He joins a pretty good list, both
Peyton Manning
(97.2) and
Tom Brady
also had Total QBR games above 90.0 this week.
[+]
The last time the Seahawks scored 17+ points in the 1st quarter: Week 3 in 2008 vs Rams (scored 17). The last time the Saints allowed 17+ points in the 1st quarter: Week 1 in 2011 at Packers (allowed 21).
Russell Wilson
and
Drew Brees
each attempted eight passes traveling 15 or more yards downfield Monday. Wilson bettered his 59% completion mark entering the game (best among qualified quarterbacks). Brees, however, didn't complete a deep pass for the second time since 2006. --Drew Brees had completed at least three passes traveling 15+ yards in every game this season.
[+]
Russell Wilson
completed 8-of-9 attempts against five or more pass rushers Monday. The 88.9 completion percentage against added pressure is tied for the worst the Saints have allowed in a game since 2006. --Russell Wilson is tied for the second-best Total QBR against added pressure among qualified quarterbacks (84.3). --Wilson has a 99.9 Total QBR against added pressure in each of his last three games. --Wilson was 3-of-3 for 66 yards and a touchdown when the Saints blitzed a defensive back.
[+]
The 60-yard play from
Russell Wilson
to
Zach Miller
was both the 3rd-longest completion of Wilson's career and the 3rd-longest catch of Miller's career.
- Two of
Russell Wilson
's touchdown passes on Monday came off of play action. Wilson has thrown 10 play-action touchdowns this season, tied for third-most in the league. Wilson's +9 TD-Int differential on play action is tied for second this season (
Nick Foles
+11). - The Seahawks' corners took away the outside of the field from
Drew Brees
. He completed 50% of his passes outside the painted numbers for 42 yards compared with completing 70% of his passes inside the painted numbers for 105 yards and his lone touchdown. -
Jimmy Graham
caught 3-of-9 targets Monday night. Graham's 33% catch rate is the second-lowest of his career (min. 5 targets). Graham caught 0-of-6 targets in Week 6 against the Patriots. -
Pierre Thomas
was held to 21 yards from scrimmage on Monday, including 0 rushing yards. Both are season lows. Thomas was held to 16 yards after the catch, another season low. Thomas leads all running backs in yards after the catch this season. - The Saints loaded the box often to try to take away
Marshawn Lynch
Monday night. Ten of Lynch's 16 rushes came against a loaded box. On those rushes, Lynch averaged 1.3 yards.
The Saints have outscored opponents by an average of 17.3 points per game in New Orleans, second only to the Broncos at Mile High. The Seahawks are right behind them, outscoring opponents by 17 at home. On the road though, both of these teams are not as dominant... Seattle has outscored opponents by 10 fewer points per game on the road while the Saints have outscored opponents by an average of 1 point.
[+]
Russell Wilson
has thrown multiple TD passes in 6 straight games (longest active streak in NFL)
Drew Brees
has been significantly better at home than on the road this season.
[+]
ESPN Stats & Information