4:25 PM ET, December 15, 2013
LP Field, Nashville, TN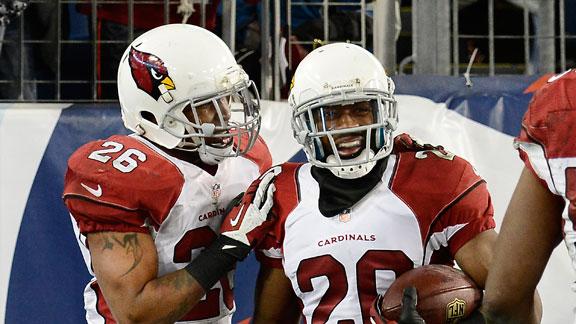 Sunday Blitz: Cardinals-Titans Recap
Sunday Blitz: Cardinals-Titans Recap
VIDEO PLAYLIST
NASHVILLE, Tenn. -- The Arizona Cardinals care only about stacking up wins as they push for a playoff berth in the rugged NFC.
Needing a few extra minutes is no problem at all.
Jay Feely kicked a 41-yard field goal in overtime, and the Cardinals edged the Tennessee Titans 37-34 in overtime after blowing a 17-point lead late in the fourth quarter.
More Cardinals-Titans coverage

With the loss of Tyrann Mathieu to a knee injury, Cardinals cornerback Antoine Cason had his chance to step up. He made the most of it with two interceptions in the Cardinals win, Josh Weinfuss writes. Blog
---

Mike Munchak said he thought about going for a two-point conversion at the end of regulation, but felt the team had fought so hard to come back, putting it all on one play would have been a mistake, writes Paul Kuharsky. Blog
"It's not like the BCS," Feely said. "You don't get style points. You've just got to win a game and move onto the next one and, hopefully, keep winning."
The Cardinals (9-5) won their sixth in seven games. With San Francisco and Carolina winning, they remain a game back of both for a NFC wild-card berth. The Cardinals visit Seattle and then host the 49ers on Dec. 29 in the season finale.
The Titans scored 17 points in the final 3:12 of regulation with no timeouts left to force overtime with Ryan Fitzpatrick throwing two of his four TD passes to Michael Preston. They also recovered an onside kick to set up the tying TD with 10 seconds left in regulation.
They won the toss and drove to the Cardinals 43 before Antoine Cason intercepted his second pass of the game.
"They picked on the wrong guy twice too many times," Arizona coach Bruce Arians said. "Antoine's been waiting his turn. It's great to see him make those plays, especially the touchdown."
The Cardinals picked up three first downs before Arians sent out Feely on third-and-12 for the winning field goal.
Tennessee (5-9) lost its third straight and eighth in 10 games. The Titans also lost their fifth consecutive home game for the first time since moving to Tennessee in 1997.
"When you have a comeback like that you're not supposed to lose a game like that," Fitzpatrick said.
The Cardinals scored 21 straight points in the second half, the last when Cason returned his first interception for a TD and a 34-17 lead.
"We kind of laid down and relaxed, and they kept fighting," Cardinals defensive tackle Darnell Dockett said. "That is a good situation to learn from."
The Titans outgained Arizona 460-360 with Fitzpatrick throwing for 402 yards and Kendall Wright caught 12 passes for 150 yards hours after new president Tommy Smith said he felt they hadn't given up on Mike Munchak with the coach's job security at question.
But Arizona, which lost rookie safety Tyrann Mathieu to a torn ACL last week, sacked Fitzpatrick three times to go along with Cason's interceptions.
Rashard Mendenhall also ran for a pair of 1-yard touchdowns, and Carson Palmer threw for 231 yards and had a 6-yard TD pass to Jake Ballard.
Cason also recovered a botched kickoff when Arizona surprised the Titans with a short kick to open the third quarter, and the Cardinals turned that into a 47-yard field goal by Feely. The Cardinals turned the three turnovers into 13 points in a game with five lead changes.
Arizona also made mistakes. The Cardinals didn't have a single penalty in the first half, but had four giving the Titans first downs on a 16-play drive by Tennessee for a TD and a 17-13 lead in the third quarter.
They also had a chance to kneel out for the win when Larry Fitzgerald also went up high and caught Rob Bironas' onside kick. Fitzgerald lost the ball when hit by Titans running back Jackie Battle. Rookie Daimion Stafford recovered, giving the Titans the chance to score again.
Munchak said he was tempted to go for the win with a 2-point conversion and instead kicked the extra point to set up overtime.
"I thought we had momentum on our side there and I thought we'd win the game," Munchak said.
Tennessee's comeback came with only a few thousand fans still left in the stadium because so many left when they fell behind 34-17.
Game notes
The Cardinals went 4-0 against the AFC South with the win, their first interconference sweep since realignment in 2002. ... Arizona improved to 3-4 on the road this season. ... Cardinals LB
John Abraham
had a half sack, giving him 11 1/2 for the season. ... Munchak deactivated receivers
Justin Hunter
and
Damian Williams
for violating team rules. The rookie Hunter was coming off the best game of his career and had topped 100 yards in two of the past three games. ...
Kenny Britt
played and caught his first pass since Oct. 20. He finished with three catches.
Copyright by STATS LLC and The Associated Press
Photo Wire
NASHVILLE, TN - DECEMBER 15: Rashard Mendenhall #28 of the Arizona Cardinals rushes against the Tennessee Titans...
(Photo by Frederick Breedon/Getty Images)
Team Stat Comparison
| | ARI | TEN |
| --- | --- | --- |
| 1st Downs | 24 | 32 |
| Passing 1st downs | 12 | 23 |
| Rushing 1st downs | 11 | 3 |
| 1st downs from Penalties | 1 | 6 |
| 3rd down efficiency | 6-12 | 7-14 |
| 4th down efficiency | 0-0 | 0-0 |
| Total Plays | 68 | 80 |
| Total Yards | 360 | 460 |
| Yards per play | 5.3 | 5.8 |
| Total Drives | 12 | 12 |
| Passing | 215 | 394 |
| Comp - Att | 20-30 | 36-58 |
| Yards per pass | 7.2 | 6.8 |
| Interceptions thrown | 0 | 2 |
| Sacks - Yards Lost | 2-16 | 3-8 |
| Rushing | 145 | 66 |
| Rushing Attempts | 36 | 19 |
| Yards per rush | 4.0 | 3.5 |
| Red Zone (Made-Att) | 3-4 | 3-4 |
| Penalties | 9-69 | 3-16 |
| Turnovers | 0 | 3 |
| Fumbles lost | 0 | 1 |
| Interceptions thrown | 0 | 2 |
| Defensive / Special Teams TDs | 1 | 0 |
| Possession | 30:58 | 33:44 |
Passing Leaders
ARI
C/ATT
YDS
AVG
TD
INT
SACKS
Palmer
20/30
231
7.7
1
0
2-16

TEN
C/ATT
YDS
AVG
TD
INT
SACKS
Fitzpat...
36/58
402
6.9
4
2
3-8
Scoring Summary
FIRST QUARTER
ARI
TEN
FG
09:34
Rob Bironas 45 Yd
0
3
TD
04:30
Rashard Mendenhall 1 Yd Run (Jay Feely Kick)
7
3
TD
00:00
Chris Johnson 25 Yd Pass From Ryan Fitzpatrick (Rob Bironas Kick)
7
10
SECOND QUARTER
ARI
TEN
FG
07:21
Jay Feely 25 Yd
10
10
THIRD QUARTER
ARI
TEN
FG
13:32
Jay Feely 47 Yd
13
10
TD
06:16
Delanie Walker 1 Yd Pass From Ryan Fitzpatrick (Rob Bironas Kick)
13
17
TD
02:14
Jake Ballard 6 Yd Pass From Carson Palmer (Jay Feely Kick)
20
17
FOURTH QUARTER
ARI
TEN
TD
06:50
Rashard Mendenhall 1 Yd Run (Jay Feely Kick)
27
17
TD
06:13
Antoine Cason 20 Yd Interception Return (Jay Feely Kick)
34
17
TD
03:12
Michael Preston 10 Yd Pass From Ryan Fitzpatrick (Rob Bironas Kick)
34
24
FG
00:47
Rob Bironas 24 Yd
34
27
TD
00:10
Michael Preston 8 Yd Pass From Ryan Fitzpatrick (Rob Bironas Kick)
34
34
OVERTIME
ARI
TEN
FG
10:18
Jay Feely 41 Yd
37
34
Research Notes
Ryan Fitzpatrick
finished 15-of-21 for 184 yards, three touchdowns and an interception when the Cardinals blitzed on Sunday. Arizona's defense entered as the most aggressive unit in the league, but didn't play up to its usual high standard Sunday.
[+]
Carson Palmer
posted an 86.6 Total QBR against the Titans. His Total QBR is 77.6 since Week 8, 2nd-best in the NFL behind
Josh McCown
(Cardinals: 6-1 during that span).
ESPN Stats & Information