4:05 PM ET, December 15, 2013
O.co Coliseum, Oakland, CA
Top Performers
Passing: M. McGloin (OAK) - 297 YDS, 2 TD, 4 INT
Rushing: R. Jennings (OAK) - 23 CAR, 91 YDS, 2 TD
Receiving: J. Charles (KC) - 8 REC, 195 YDS, 4 TD
Jamaal Charles, Alex Smith lead Chiefs past Raiders and into playoffs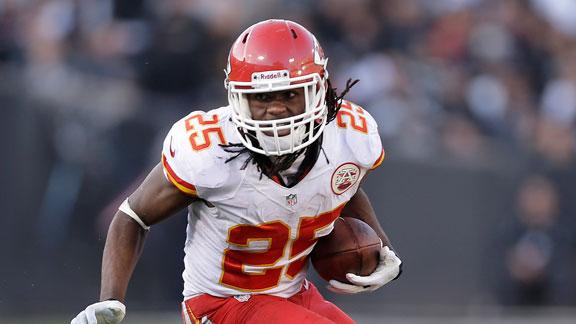 Sunday Blitz: Chiefs-Raiders Recap
Sunday Blitz: Chiefs-Raiders Recap
VIDEO PLAYLIST
OAKLAND, Calif. -- Jamaal Charles turned the Kansas City Chiefs' playoff clinching party into a game-long celebration right from the start.
Charles scored the first of his team record-tying five touchdowns on a 49-yard screen pass on the first play from scrimmage, sending the Chiefs to a 56-31 win over the Oakland Raiders on Sunday that clinched at least a wild-card spot.
"A big part of this team depends on me," Charles said. "Once I'm healthy this offense can go a long way and this team can go a long way."
More Chiefs-Raiders coverage

The Chiefs finished last season 2-14 and endured the loss of teammate Jovan Belcher. This season, behind a new GM, coach and QB, they are 11-3 and in the playoffs, writes Adam Teicher. Story
---

All Raiders owner Mark Davis wanted to see this season was progress. That didn't happen Sunday. Should coach Dennis Allen be on notice, asks Paul Gutierrez. Blog
• Stats & Info: Charles in charge
Alex Smith threw four of his five TD passes to Charles, going 17 for 20 for 287 yards to make the Chiefs the fourth team ever to make the playoffs a year after losing at least 14 games. Kansas City (11-3) is tied for first place in the AFC West with Denver but needs help to win the division because the Broncos swept the season series.
"Anytime you can be a part of the turnaround, it's a special feeling," Smith said. "These guys have worked hard and deserve a ton of credit. It's special to be a part of this."
Matt McGloin threw four interceptions and lost a fumble while sharing time with Terrelle Pryor as Oakland (4-10) allowed the most points in franchise history and lost its fourth straight game. The Raiders had seven turnovers overall.
The performance drew constant boos from a crowd frustrated over 11 straight seasons without a winning record and raise questions about whether the Raiders are showing enough progress in year two under coach Dennis Allen to convince owner Mark Davis to keep him around for a third season.
"We get paid out there to play, we get paid out there to not let these guys light up the scoreboard the way they did," cornerback Tracy Porter said. "They did, in fact, what we didn't want them to do. We have no one to blame but ourselves."
There is not questioning the progress the Chiefs have made in their first year under coach Andy Reid. He took over a team that went 2-14 a year ago in a season troubled by the murder-suicide involving Chiefs linebacker Jovan Belcher, who shot to death the mother of his infant child before turning the gun on himself.
"It's a feeling that you want everyone to have," linebacker Derrick Johnson said. "It's a great feeling. What we went through last year to be in this situation and have an opportunity to do some big things, clinching the playoffs before the season's over, it's great."
The addition of Smith to a talented roster that featured six Pro Bowl players also helped. Charles was one of those Pro Bowlers a year ago but he never had a game quite like this even though he only rushed for 20 yards in eight carries.
K.C.'s Masterpiece
Still with two games to go, the Chiefs have already matched the most wins by a team in a year immediately following a season of two wins or fewer.
| | Wins |
| --- | --- |
| 2013 Chiefs | 11 |
| 2012 Colts | 11 |
| 2008 Dolphins | 11 |
| 1975 Colts | 10 |
| 1963 Raiders | 10 |
-- ESPN Stats & Information
He did most of his work in the passing game, beating blitzes with screen passes and also having success running patterns downfield. He caught eight passes for 195 yards and four touchdowns in the third-most productive receiving day by a running back since the 1970 merger.
"I didn't do much," Smith said. "I mean three screens for touchdowns. I've never been a part of anything like that or seen that."
Charles joined Shaun Alexander, Jerry Rice and Clinton Portis as the only players since the merger to score five touchdowns and gain at least 200 yards from scrimmage in a single game.
"I don't know how anybody can be more valuable to a team and the success that we've had than he has," Reid said.
The Chiefs built a 35-10 lead before the Raiders scored three straight touchdowns to make it a game late in the third quarter. It quickly became a blowout again.
On a third-and-1, Smith found Charles on a wheel route down the sideline for a completion. Charles then cut toward the middle and raced in for the 71-yard score that tied Abner Haynes' team record set in 1961 against the Raiders with five TDs in a game.
The Chiefs put the game away after Taiwan Jones fumbled the ensuing kickoff, setting up a 6-yard TD pass to Sean McGrath that made it 49-21.
Knile Davis' 17-yard run midway through the fourth quarter gave the Chiefs the highest-scoring game in the NFL this season and the most points ever scored against the Raiders, breaking the mark of 55 last reached by Baltimore in 2012.
The Raiders were officially eliminated from the playoff chase for the 11th straight season shortly before kickoff and played like a team going nowhere.
The tone was set right from the start when Quintin Demps returned the opening kick 50 yards and Charles then took a short pass from Smith and raced 49 yards for the score. Charles scored on a 39-yard screen pass on third-and-19 on the next possession.
"We were anticipating screens," Allen said. "We just didn't play them as well as we needed to play them."
Turnovers led to three more touchdowns and Oakland trailed 35-10.
Game notes
Chiefs OL
Eric Fisher
left the game with an injured left shoulder. ... The seven turnovers by Oakland were the most for the team since seven against Miami in 1998.
Copyright by STATS LLC and The Associated Press
Photo Wire
OAKLAND, CA - DECEMBER 15: Alex Smith #11 of the Kansas City Chiefs warms up prior to playing the Oakland Raiders...
(Photo by Thearon W. Henderson/Getty Images)
Team Stat Comparison
| | KC | OAK |
| --- | --- | --- |
| 1st Downs | 19 | 26 |
| Passing 1st downs | 12 | 12 |
| Rushing 1st downs | 5 | 8 |
| 1st downs from Penalties | 2 | 6 |
| 3rd down efficiency | 4-9 | 7-14 |
| 4th down efficiency | 1-1 | 1-1 |
| Total Plays | 51 | 74 |
| Total Yards | 384 | 461 |
| Yards per play | 7.5 | 6.2 |
| Total Drives | 13 | 13 |
| Passing | 306 | 331 |
| Comp - Att | 20-25 | 20-41 |
| Yards per pass | 12.2 | 8.1 |
| Interceptions thrown | 0 | 5 |
| Sacks - Yards Lost | 2-12 | 0-0 |
| Rushing | 78 | 130 |
| Rushing Attempts | 24 | 33 |
| Yards per rush | 3.3 | 3.9 |
| Red Zone (Made-Att) | 4-5 | 4-5 |
| Penalties | 8-91 | 10-90 |
| Turnovers | 1 | 7 |
| Fumbles lost | 1 | 2 |
| Interceptions thrown | 0 | 5 |
| Defensive / Special Teams TDs | 1 | 0 |
| Possession | 25:53 | 34:07 |
Scoring Summary
FIRST QUARTER
KC
OAK
TD
14:38
Jamaal Charles 49 Yd Pass From Alex Smith (Ryan Succop Kick)
7
0
FG
11:05
Sebastian Janikowski 34 Yd
7
3
TD
07:27
Jamaal Charles 39 Yd Pass From Alex Smith (Ryan Succop Kick)
14
3
TD
05:07
Eric Berry 47 Yd Interception Return (Ryan Succop Kick)
21
3
SECOND QUARTER
KC
OAK
TD
14:40
Rashad Jennings 1 Yd Run (Sebastian Janikowski Kick)
21
10
TD
08:59
Jamaal Charles 1 Yd Run (Ryan Succop Kick)
28
10
TD
05:42
Jamaal Charles 16 Yd Pass From Alex Smith (Ryan Succop Kick)
35
10
TD
03:00
Rashad Jennings 1 Yd Run (Sebastian Janikowski Kick)
35
17
THIRD QUARTER
KC
OAK
TD
12:01
Andre Holmes 6 Yd Pass From Matt McGloin (Sebastian Janikowski Kick)
35
24
TD
04:56
Mychal Rivera 14 Yd Pass From Matt McGloin (Sebastian Janikowski Kick)
35
31
TD
03:34
Jamaal Charles 71 Yd Pass From Alex Smith (Ryan Succop Kick)
42
31
TD
01:20
Sean McGrath 6 Yd Pass From Alex Smith (Ryan Succop Kick)
49
31
FOURTH QUARTER
KC
OAK
TD
08:19
Knile Davis 17 Yd Run (Ryan Succop Kick)
56
31
Research Notes
With 2 games remaining, the Chiefs are now 1 win shy of tying the largest increase in wins from one season to the next.
[+]
Chiefs are the SECOND team in NFL history to score 35+ points in the first half in back-to-back games. The other to do it: 2002 Chiefs No other team in the NFL has scored 35 points in the first half of a game even once this season.
-
Jamaal Charles
set a career high in receiving yards Sunday (195), 172 of which came after catch. Charles' 172 yards after catch is the most since the start of 2006 (Stats & Information's data set), and 48 more than any other player in a game this season (
Calvin Johnson
- Week 8 vs Cowboys). - Jamaal Charles' 195 receiving yards is the most by a running back in a game since Week 16 of 1999 (
Marshall Faulk
, 204). - Charles is the first player this season with three touchdowns of at least 35 yards. Charles joins
Doug Martin
,
Darren McFadden
,
Chris Johnson
and
Adrian Peterson
as players with three rushing or receiving touchdowns of that length since the start of 2001.
Alex Smith
Sunday was the only quarterback to even throw three 35-yard touchdown passes in a game this season.
Alex Smith
completed 17-of-20 passes for 287 yards and five touchdowns Sunday, thanks to
Jamaal Charles
catching all eight targets for 195 yards and four touchdowns.
[+]
This is the 3rd time in franchise history the Chiefs have scored 100 combined points in back-to-back games. They went for 56 on Sunday after dropping 45 on the Redskins in Week 14.
[+]
Jamaal Charles
has three touchdowns on screen passes in the first half. He is the first player since 2010 (first year of screen data) to score multiple touchdowns on screens in a game.
The Chiefs are the third team in NFL history to win 11 games the year after winning just 2 or fewer games.
[+]
Jamaal Charles
is the 5th player over the last 50 seasons with 200 yards from scrimmage and 5 touchdowns in a single game.
[+]
ESPN Stats & Information