Miguel Cotto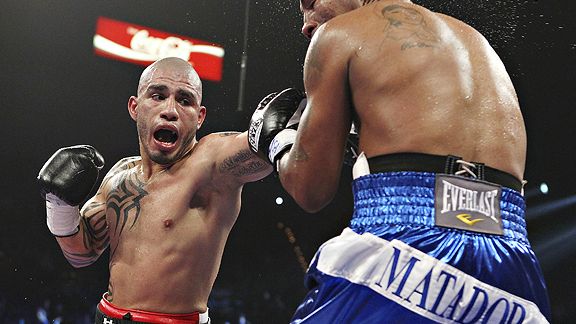 Miguel Cotto is a professional boxer from Puerto Rico who is the former WBA light middleweight champion. A world champion in three different weight classes during his career, Cotto represented his country at the 1999 Pan Am Games and at the 2000 Olympic Games in Sydney. He is the younger brother of boxer Jose Miguel Cotto, and has claimed title belts in light welterweight, welterweight and light middleweight classes.
Early Years
Born on October 29, 1980, in Caguas, Puerto Rico, Miguel Cotto began boxing as a youth and was active along with brother Jose in amateur competitions. By age 16, Cotto had become the Puerto Rican national amateur champion (at 132 pounds) in 1997.
Cotto retained that title in 1998, the year he competed at the Junior World Championships in Buenos Aires, Argentina. The following year, he represented Puerto Rico at the Pan Am Games in Winnipeg, Manitoba.
Cotto moved up to the 139-pound division in 2000, becoming Puerto Rico's amateur champion at that weight and winning the gold medal at the Central American and Caribbean Games that year. He made his country's team that appeared in the 2000 Olympic Games in Sydney, losing to the eventual gold medalist Muhammad Abdullaev in the 139-pound class.
Professional Career
Cotto turned professional in 2001, winning his debut by TKO over Jason Doucet in February of that year. He went on to win five more bouts in 2001, with only two going the distance. The light welterweight continued to impress the following year, winning seven more fights that included knockouts of Joshua Smith and Ubaldo Hernandez in his hometown of Caguas, Puerto Rico.
Taking a 15-0 record into a June 2003 bout against Rocky Martinez, Cotto earned the WBC international light welterweight title with a second-round knockout. He successfully defended that title with TKO wins over a previously-undefeated Carlos Maussa and Victoriano Sosa, before another TKO victory -- over undefeated Kelson Pinto -- gave Cotto the vacant WBO light welterweight belt in September 2004.
Cotto defended that title, and retained his undefeated record, with victories over six opponents in the following two years -- including a TKO win over Abdullaev. Relinquishing his title in late 2006 to move into the welterweight class, Cotto challenged Carlos Quintana for the WBA world welterweight championship in December 2006 at Atlantic City. The Puerto Rican claimed a world belt in a second division when Quintana did not make it out for the sixth round.
His reign as the WBA's top welterweight continued with a TKO of Zab Judah and a decision win over Shane Mosley in 2007. Two fights later, Cotto suffered the first loss of his professional career when Antonio Margarito won by TKO at the MGM Grand in Las Vegas in July 2007.
The 11th-round loss to Margarito led to Cotto's chance at the vacant WBO welterweight belt, and a fifth-round TKO win over Michael Jennings at Madison Square Garden gave the Puerto Rican the title in February 2009. Cotto defended that title four months later against the tough Joshua Clottey, knocking his opponent down once on his way to a split-decision victory.
Cotto then met another multidivision champion -- Manny Pacquiao -- in November 2009, losing his welterweight title via a 12th-round TKO. Following the loss to Pacquiao -- just the second of Cotto's career -- Cotto moved to the light middleweight division and claimed the WBA world title with a ninth-round TKO of Yuri Foreman in June 2010. In March 2011, he outlasted Ricardo Mayorga to earn the WBA's "super world" light middleweight title, then in December he avenged his loss to Margarito, earning a TKO victory with a 10th-round stoppage.
Cotto followed up his win over Margarito with a fight against Floyd Mayweather Jr. Cotto put his WBA Super World light middleweight title on the line, but lost a 12-round decision to the undefeated Mayweather.
Miguel Cotto Career Fight Record (37-3-0, 30 KO)
| Date | Opponent | Res. | Record | Type |
| --- | --- | --- | --- | --- |
| 5/5/2012 | Floyd Mayweather Jr. | Loss | 36-3 | UD, 12 |
| 12/3/2011 | Antonio Margarito | Win | 37-2 | TKO, 10 |
| 3/12/2011 | Ricardo Mayorga | Win | 36-2 | TKO, 12 |
| 6/5/2010 | Yuri Foreman | Win | 35-2 | TKO, 9 |
| 11/14/2009 | Manny Pacquiao | Loss | 34-2 | TKO, 12 |
| 6/13/2009 | Joshua Clottey | Win | 34-1 | SD, 12 |
| 2/21/2009 | Michael Jennings | Win | 33-1 | TKO, 5 |
| 7/26/2008 | Antonio Margarito | Loss | 32-1 | TKO, 11 |
| 4/12/2008 | Alfonso Gómez | Win | 32-0 | RTD, 5 |
| 11/10/2007 | Shane Mosley | Win | 31-0 | UD, 12 |
| 6/9/2007 | Zab Judah | Win | 30-0 | TKO, 11 |
| 3/3/2007 | Oktay Urkal | Win | 29-0 | TKO, 11 |
| 12/2/2006 | Carlos Quintana | Win | 28-0 | RTD, 5 |
| 6/10/2006 | Paul Malignaggi | Win | 27-0 | UD, 12 |
| 3/4/2006 | Gianluca Branco | Win | 26-0 | TKO, 8 |
| 9/24/2005 | Ricardo Torres | Win | 25-0 | KO, 7 |
| 6/11/2005 | Mohammad Abdullaev | Win | 24-0 | TKO, 9 |
| 2/26/2005 | DeMarcus Corley | Win | 23-0 | TKO, 5 |
| 12/11/2004 | Randall Bailey | Win | 22-0 | TKO, 6 |
| 9/11/2004 | Kelson Pinto | Win | 21-0 | TKO, 6 |
| 5/8/2004 | Lovemore N'dou | Win | 20-0 | UD, 12 |
| 2/28/2004 | Victoriano Sosa | Win | 19-0 | TKO, 4 |
| 12/6/2003 | Carlos Maussa | Win | 18-0 | TKO, 8 |
| 9/13/2003 | Demetrio Ceballos | Win | 17-0 | TKO, 7 |
| 6/28/2003 | Rocky Martinez | Win | 16-0 | KO, 2 |
| 4/19/2003 | Joel Perez | Win | 15-0 | KO, 4 |
| 2/1/2003 | Cesar Bazan | Win | 14-0 | TKO, 11 |
| 11/22/2002 | Ubaldo Hernandez | Win | 13-0 | KO, 7 |
| 9/14/2002 | John Brown | Win | Dec-00 | UD, 10 |
| 7/30/2002 | Carlos Alberto Ramirez | Win | Nov-00 | KO, 3 |
| 6/22/2002 | Uganda Justin Juuko | Win | Oct-00 | TKO, 5 |
| 5/3/2002 | Juan Angel Macias | Win | Sep-00 | TKO, 7 |
| 3/1/2002 | Sammy Sparkman | Win | Aug-00 | TKO, 2 |
| 1/11/2002 | Joshua Smith | Win | Jul-00 | TKO, 2 |
| 7/28/2001 | Arturo Rodriguez | Win | Jun-00 | KO, 2 |
| 7/1/2001 | Rudolfo Lunsford | Win | May-00 | TKO, 4 |
| 5/20/2001 | Martin Ramirez | Win | Apr-00 | UD, 4 |
| 4/28/2001 | Waklimi Young | Win | Mar-00 | UD, 4 |
| 3/30/2001 | Jacob Godinez | Win | Feb-00 | TKO, 2 |
| 2/23/2001 | Jason Doucet | Win | Jan-00 | TKO, 1 |
TOP STORY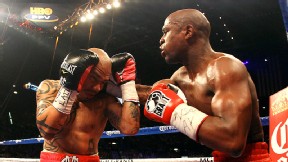 Mayweather still money
Floyd Mayweather Jr. remained undefeated, earning a 12-round decision victory over Miguel Cotto. Recap » Chat Wrap » Undercard »
MIGUEL COTTO QUICK FACTS
Birth date: October 29, 1980
Birthplace: Caguas, Puerto Rico
Turned pro: 2001
Weight class: Light Middleweight
Height: 5-foot-7
Pro fights: 40
Record: 37-3-0
Wins by KO: 30